Project NOSH LA: Conference Series Launches, Educates, Inspires Emerging Brands
Project NOSH hosted its first official strategy and networking conference for emerging natural foods brands at the Skirball Cultural Center in Los Angeles on Thursday, Nov. 5. Featuring upwards of 20 seasoned experts from the space as presenters and panelists, the audience of entrepreneurs were treated to an educational event that dove deep into an accelerating and evolving natural and organic foods world that has become more norm than niche.
Kicking things off was a five-headed state of the market discussion that featured Mary Ellen Lynch (Director of Consumer Insights and Strategic Partnerships at market research firm SPINS), Shane Emmett (CEO of Health Warrior), Subriana Pierce (Managing Partner at food, beverage and supplement consulting firm MetaBrand), Bob Burke (founder of Natural Products Consulting) and longtime natural foods investor and adviser Brad Barnhorn. The first major takeaway: natural and organic foods no longer belong exclusively to the natural channel.
"There's definite migration of purchasing from the natural channel to the conventional channel," said Lynch. "Those consumers stay in the natural channel, but as they see their products start to appear in the conventional channel they're making purchases there."
"Traditional channels are looking for these things," Pierce added. "You can see it in their private label products and in the headers that these products are natural and organic. You can see it in the items they're bringing in."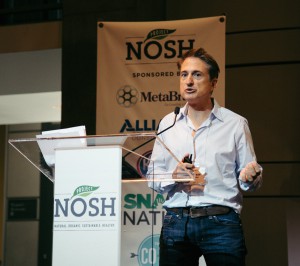 Up next was David Baram, managing partner of VMG Partners, who likened the management of entrepreneurial consumer product brands to his prior work in Hollywood. In doing so, he posed the same question to the event's attendees that he'd posed to the likes of Jonah Hill and Leonardo DiCaprio.
"Who do you want to be when you get older? Who do you want to be five, ten years from now?," Baram asked. "If you can answer that question with clarity, you can build a plan working backwards, step by step, in order to make sure you have a plan in place to get you to that goal."
Eric Stover take a narrower focus than the wide-eyed look of the opening panel's assessment of the space and Baram's words of wisdom aimed at the everyman entrepreneur. The former vice president of sales and merchandising for non-perishables at Sprouts Farmers Markets encouraged upstart brands to go beyond a one-size-fits-all channel strategy and to create retailer-specific strategies within their greater channel strategies to communicate their product's value to each retailer."
"It's worth the time and investment to understand that retailer and how your brand's mission intertwines with their mission," he said.
Paddy Spence, the CEO of stevia-sweetened soda Zevia and former vice president of sales and marketing at Kashi, graced the Project Nosh stage following a brief network break, discussing how brands connect with consumers and perhaps more importantly, how they maintain that connection. Spence pointed to the ability and willingness to adapt, as well as the importance of transparency, an element exemplified in his brand's recent removal of coloring from its products.
"In the old days you created a product and you kept that formula static for a hundred years and you told consumers to like it. If they didn't like it, you advertised it until they did," he noted. "The new paradigm is dramatically different. Products need to evolve with their consumers."
Boulder Brands' T.J. McIntyre would take a step-by-step, tactical approach in his presentation aimed at telling entrepreneurs to sell their respective categories to buyers more so than their brands, when looking to cross over from the natural channel and into conventional supermarkets.
"If you're going to sit down with a Kroger or Safeway or Walmart, you need to develop an absolute perspective of your category and be able to explain how you are going to be the growth driver for the category buyer," McIntyre told the audience.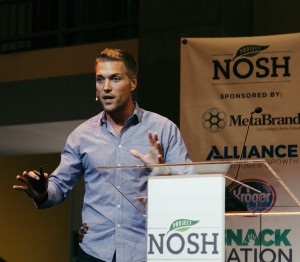 Jeremiah McElwee of Thrive Market and Sean Kelly of Snack Nation followed McIntyre, pivoting from the natural/conventional channel binary to look at alternative retail platforms for natural and organic food products. Then Caue Suplicy of Barnana took the audience into the lunch break with an inspirational account of his own personal entrepreneurial grind, giving away some of the lessons and tricks of the trade he's learned along the way, the most important of which might be "No douchebags."
After adjourning to a lunch in the L.A. sunshine, participants were met with a look at three key private equity funds, with the panel discussing how they go about finding and making successful private equity deals. Dayton Miller (Boulder Food Group), Josh Goldin (Alliance Consumer Growth) and Eric Schnell (MetaBrand Capital) all talked through what they look for in an investment.
A key point covered was understanding the value an investor can bring beyond funding. Because each firm varies in its specialties and areas of expertise, Goldin stressed taking the time to interview and research investors just as much as they are doing with your business. "It's a partnership, it's a marriage." he told attendees, "At the end of the day, you have to want to work with the partner."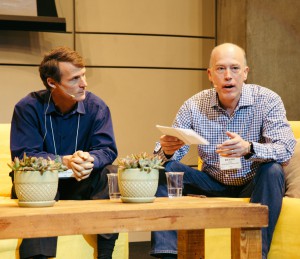 The next panel presented a nuanced range of points of view in regards to how to grow companies in a way that also aligns them for growth. Bob Burke (founder, Natural Products Consulting) spoke about the blunders companies can make from a sales perspective, such as hiring a sales director that's more talk than action, investing too much in marketing collateral, and not carefully thinking about your distribution plan of attack or making sure your product is perfect. But in order to make sure sales can occur, operations needs to be aligned to make sure inventory is available, said Jeff Grogg (Managing Director, JPG Resources), who represented the production end of the discussion.
In the second half of the panel, Greg Fleishman (CEO, Purely Righteous Brands) went over how robust planning can help alleviate crises and burning funds over mistakes. While Fleishman stressed marketing measurement tools, Brad Barnhorn spoke to finances, and how to use tools measuring financial success to make sure that everyone in the company is aligned in the same direction and has a 360 degree level of understanding of where the company needs to go.
After one more break, participants saw three food industry thought leaders each give their take on how to go from incubator to acquisition, and then come back together for a joint discussion. John Haugen of the 301 INC incubator within General Mills spoke to why he and General Mills see small businesses as the future of the food industry.
"I've been asked to share strategic thoughts on incubation," Haugen said. "If you take one thing away from it, is big companies aren't very good at it." But, Haugen went on to explain, where small companies struggle, big companies can shine in helping with areas such as supply chain, distribution and channel development.
Paul Nardone, CEO of PopCorners, sees the most common challenge to companies trying to grow as what he calls "mile-wide and inch deep syndrome." In that, Nardone explained, "companies doing a lot of things good, but very few things great." Instead he espoused taking the time to really thoughtfully grow and move through channels and product lines — that approach, he said, can create a final exit to a strategic acquirer.
Before the three speakers came together to chat, Michael Sands, EVP of Snacks B&G Foods, went through how to go undertake the selling process when a company is ready for acquisition. "An educated seller is the best seller," Sands said.
Two powerful female food industry leaders closed the day. First, Tracy Miedema went through some of the numerous trends she's seeing in her role as VP of Brand Development and Innovation at Presence Marketing. Miedema says she's looking to: Low sugar products with high functionality and flavor, the evolution of grain-free and gluten-free, plant-based snacks, and the removal of "nutritionally vapid" ingredients.
Then the CEO of Hail Merry, Sarah Palisi Chapin, ended the conference with an inspiring lecture: while the challenges may look insurmountable, she said, in the end, all food brands must shoot for the moon and believe in their own missions and spirit.