Beckon Releases First-Ever Lactose-Free Flavor with Upcycled Mix-ins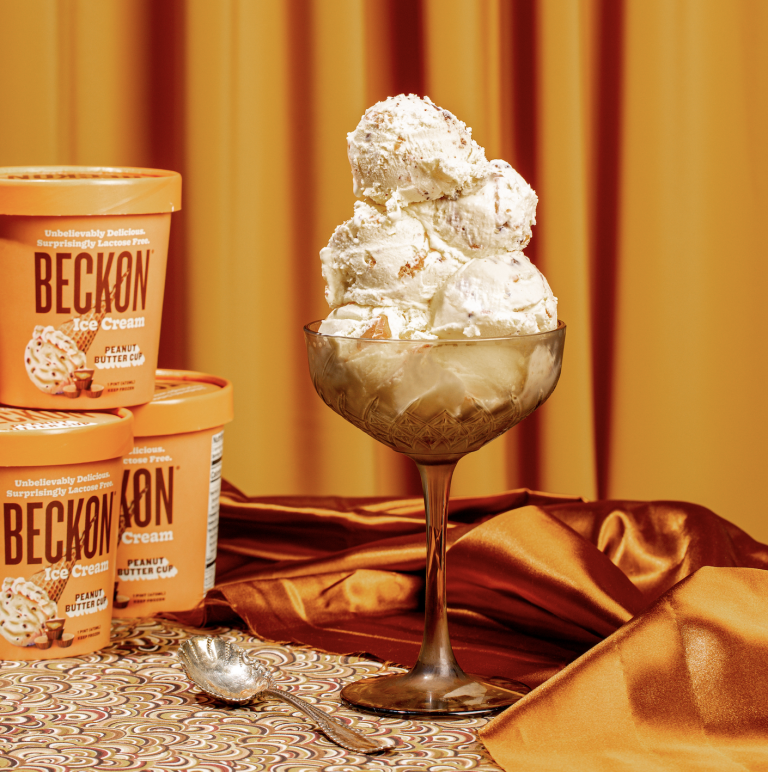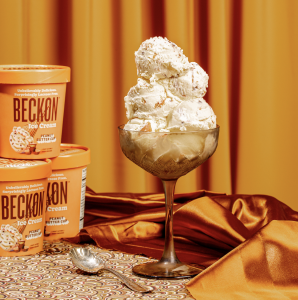 BOSTON, Mass. — Beckon, the Boston-based women-owned ice cream company, is calling people back to REAL ice cream with their delicious new lactose-free dairy ice cream flavors: Peanut Butter Cup and Dark Chocolate Brownie – one of which includes an ingredient that is as sustainable as it is tasty!  Launching just before Earth Day 2021, Beckon's new Peanut Butter Cup flavor is made using broken peanut butter cups upcycled from UNREAL, another local Boston brand reinventing classic indulgent snacks to be much more responsible, simple, clean, and delicious.
"We had received tons of requests for a Peanut Butter flavor but it can be hard to find mix-ins that meet our strict ingredient standards," said Beckon co-founder, Katy Flannery, "We knew that UNREAL shared our values and made a delicious peanut butter cup using dark chocolate, which is naturally lactose-free, but the rest was sourcing serendipity."  Flannery and the Beckon team reached out to friend and UNREAL CEO, Kevin McCarthy and what started as a simple R&D inquiry led to a sustainable supply-chain synergy.
Beckon's new Peanut Butter Cup flavor has enabled UNREAL to tap into their core values in a new and creative way. "All food manufacturing processing yields some level of imperfect products and most of these items turn into food waste of animal feed," said McCarthy, "[…] It's amazing to put these perfectly delicious UNREAL cups to great use with another mission-based company in Beckon!" Using the brand's broken peanut butter cups in Beckon's new flavor is the first time Beckon has utilized upcycled ingredients, and Beckon will be keeping a lookout for more opportunities to utilize upcycled ingredients in the future.
Upcycling is the process of reusing discarded objects or material to create something of even greater value. In this case, Beckon is using broken peanut butter cups to create a delicious new flavor. According to the Upcycled Food Association, up to 40% of food is wasted in the US, and that's a big problem for society and the planet. Upcycled food prevents this problem by creating new, high-quality products from otherwise wasted – but perfectly tasty – ingredients.  Whole Foods Market even named Upcycled Foods on it's "Top 10 Food Trends for 2021."
"This new flavor is a reminder that, even though something doesn't look perfect, it can still taste great…especially in ice cream", said Flannery's co-founder, Gwen Burlingame. Beckon's new Peanut Butter Cup is made from the brand's classic vanilla base mixed with the upcycled pieces of dark chocolate peanut butter cups and a peanut butter ribbon throughout.  Also launching this month is Beckon Dark Chocolate Brownie, an indulgent chocolate base, reminiscent of the brownie batter we all ate as kids, but with a creamy texture and the brownie pieces already mixed in!  Both flavors will be available in a 16 oz pint on beckonicecream.com, at Whole Foods Market nationwide and at other select retailers across the country at an SRP of $5.99. Peanut Butter Cup will be available in a 32 oz quart exclusively at Sprouts Farmers Market at an SRP of $8.99 and on beckonicecream.com, as part of the brand's collections.
ABOUT BECKON ICE CREAM 
Beckon is calling people back to REAL ice cream that is unbelievably delicious and surprisingly lactose-free. Founded on the belief that no one should have to miss out on premium ice cream, co-founders Katy (lactose-intolerant) and Gwen (sympathetic sweet tooth) created the first-ever clean label premium lactose-free dairy ice cream on the market. With the real milk, the added lactase enzyme, no gums, corn syrup, or artificial stabilizers, Beckon is bringing back the joy of real ice cream to include the 25% of Americans who are lactose intolerant so that everyone can enjoy the creamy, drool-worthy treats they grew up loving without any compromises. The line includes seven classic flavors: Dark Chocolate Brownie, Peanut Butter Cup (upcycled with UNREAL peanut butter cups), Vanilla, Sea Salt Chocolate Chip (a serendipitous accident), Mint Chip, Chocolate Chip Cookie Dough, Cookies & Sweet Cream, Chocolate, and Espresso. Beckon is available nationwide at Whole Foods Market, Sprouts, and other select retailers throughout the country, as well as on beckonicecream.com.  Flavors are available in 16oz pints (SRP $5.99) and 32oz quarts ($8.99).
For More Information:
https://beckonicecream.com/