Sophie's Kitchen Launches New & Improved Plant-Based "Toona"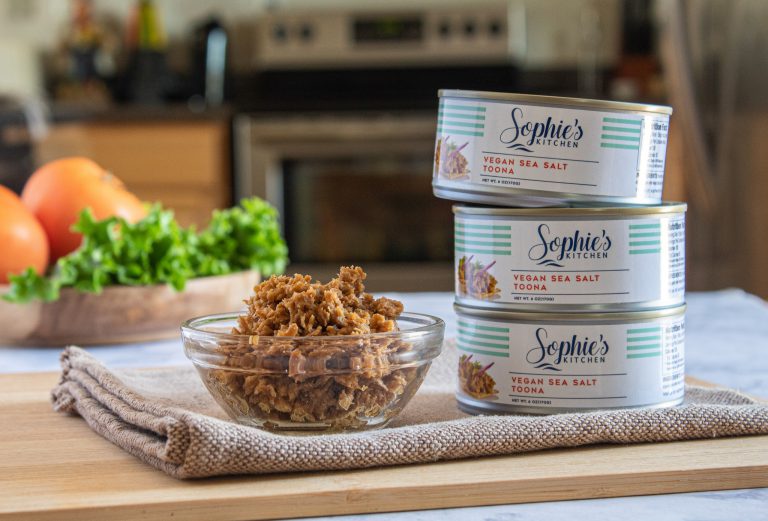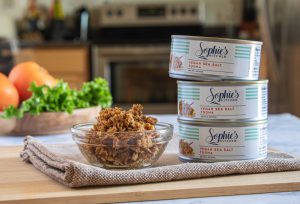 Sophie's Kitchen, the pioneering plant-based seafood producer, announces the launch of its new and improved canned Plant-Based Toona. With a pea protein base, the brand's new Plant-Based Toona formula is completely vegan and replicates the taste, shred-able texture, smell, look, and color of its animal counterpart. Debuting in its two classic flavors—Sea Salt and Black Pepper—the Plant-Based Toona is soy-free, gluten-free, and non-GMO which sets it apart from competitors. The new 6 oz cans will be rolling out at specialty retailers nationwide, as well as at select stores of large national chains such as Stop & Shops and Wegman's. Additionally, the new Toona is available on Amazon. Additional retailers across the U.S. will continue to be added.The MSRP is $5.49/6 oz can.
Tasty AF (As Fish)
Originally debuting on the market in 2010, the brand's Plant-Based Toona offered a revolutionary, first-of-its kind seafood alternative. It now boasts a more vibrant packaging, as well as a more natural texture and taste than its earlier version.It is shelf stable and high in protein, which adds ease to pantry cooking and simplifies meal prep. It is right at home as avegan swap for easy meals such as tuna salads, melts, and casseroles, and can be included as a core protein in an emergency preparedness kit. Already a key player in the plant-based seafood space, the Toona is a new and improved addition to the Sophie's Kitchen line of existing products including Vegan Smoked Salmon, Vegan Crab Cakes, Vegan Breaded Shrimp, and Vegan Fish Fillets.
Pioneering Plant-Based Seafood
As the plant-based industry continues to grow, with meat alternatives becoming widely available to consumers, Sophie's Kitchen leads the way for plant-based seafood, just as Beyond Meat and Impossible Foods pave the way for beef. Sophie's Kitchen seafood swaps not only taste good, but are protein packed and good for you.Sophie's Kitchen is rapidly winning shelf space from conventional products because of the brand's dedicated following, and a world of people looking for alternatives to animal-based products. Leading Sophie's Kitchen to continue its rapid growth is CEO Miles Woodruff (full bio linked here). Woodruff has doubled sales annually, tripled in 2019, and is profoundly committed to changing food systems at their core to become more sustainable. The demand for Sophie's Kitchen continues to increase year after year. Woodruff forecasts that Sophie's Kitchen sales will again double in 2020, making the brand a growing consumer favorite.
CEO Miles Woodruff notes, "At Sophie's Kitchen, our goal is to create vegan seafood alternatives that taste so good, you want to eat them every day. We have developed this new Toona formula to mimic the shredded texture of real tuna, and we are excited to have a product that our community can get behind as we challenge the status quo of the seafood industry. The new Toona is low maintenance. It's storable and can be kept in the pantry just like Tuna, for the times that you need it. Anyone considering reducing the amount of meat they consume can easily incorporate this into their life, one meal at a time. We are excited to share even more flavors in the future."
About Sophie's Kitchen
Sophie's Kitchen is a global leader in plant-based foods. It is the only major brand to offer plant-based seafood that is soy-free, gluten-free, and non-GMO. All of the Sophie's Kitchen products are 100% plant-based, low in calories, and high in protein and fiber. With the largest selection of plant-based seafood, products include frozen, refrigerated, and pantry-stable products such as Plant-Based Toona (Black Pepper, Sea Salt), Breaded Vegan Shrimp, Vegan Crab Cakes, Vegan Fish Fillets and Vegan Smoked Salmon. Headed by CEO Miles Woodruff, the brand's mission is to make consuming plant-based seafood easy. It offers products that consumers want, are profitable for investors and retailers, and are good for people and the planet.