Seven Sundays Launches Grain Free Sunflower Cereal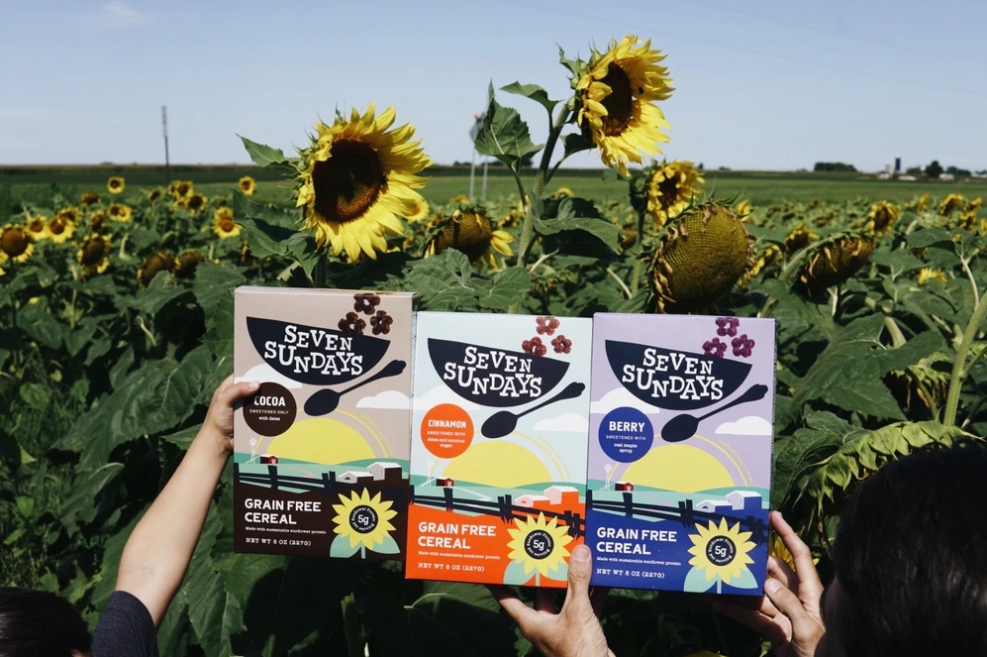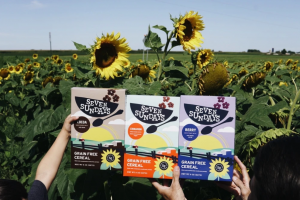 MINNEAPOLIS— Seven Sundays was started with one goal – clean up the breakfast aisle. This Minneapolis-based food company is proud to announce the launch of its Grain Free Sunflower Cereal in three flavors – Real Cinnamon, Real Cocoa and Real Berry, with a first-of-its kind ingredient, sustainable sunflower protein.
The Seven Sundays Sustainable Sunflower Protein is not just a sunflower seed. When making Sunflower Oil, producers are typically left with a solid byproduct from the oil pressing process, which has historically been wasted or picked up by local farmers for animal feed. With some additional milling, sifting, testing, and convincing, Seven Sundays upcycled this protein and fiber rich byproduct into a quality food-grade sunflower flour of their own. With the help of a local, family-owned cereal processor in central Minnesota, the Seven Sundays Sunflower cereal was born with a short list of good-for-you ingredients that pack a strong crunch and subtly sweet taste and is rolling out in Whole Foods this month.
As a Certified B Corporation, Seven Sundays Founder and CEO, Hannah Barnstable believes in their responsibility to be transparent and do their absolute best to create a breakfast option that is healthy, delicious and considers the whole supply chain from farm to shelf. "We have dedicated ourselves to finding ingredient solutions that benefit both the environment and the consumer," says Founder and CEO of Seven Sundays, Hannah Barnstable. "After a trip to our friends at Smudes Farm, we quickly realized that we could create a product that helps reduce food waste and gives consumers a healthier option in the cereal aisle, which has been historically filled with empty calories, long lists of highly processed, low cost ingredients, refined sugars, artificial and natural flavors, grains, gluten and nuts. Reaching for cereal in the morning doesn't need to look the way it used to. Organic, protein-rich and plant-based options from recognizable and nutritious ingredients that you can actually pronounce is our vision for the new standard of "a healthy way to start the day. That is the charge we are leading."
The Seven Sundays Sunflower Cereal ($7) is available in Whole Foods nationwide and on sevensundays.com.
About Seven Sundays
Seven Sundays is a Minneapolis-based food company that was started with one goal in mind – clean up the breakfast aisle. This is achieved by sourcing plant-based, nutrient dense ingredients that are good for the health of our soils, our farmers, our consumers, and ultimately, our planet. Each Seven Sundays product offers the best possible breakfast experience by delivering amazing taste, maximum nutritional value and minimal environmental impact. Originally sold at a local farmers market, Seven Sundays' products are now available in over 5,000 grocery stores nationwide, including Whole Foods, Sprouts, Kroger, Safeway and select Costco club stores. To learn more, please visit www.sevensundays.com.
For More Information:
https://www.sevensundays.com/collections/boxed-cereal