Salada Tea Introduces Five New Soothing Flavors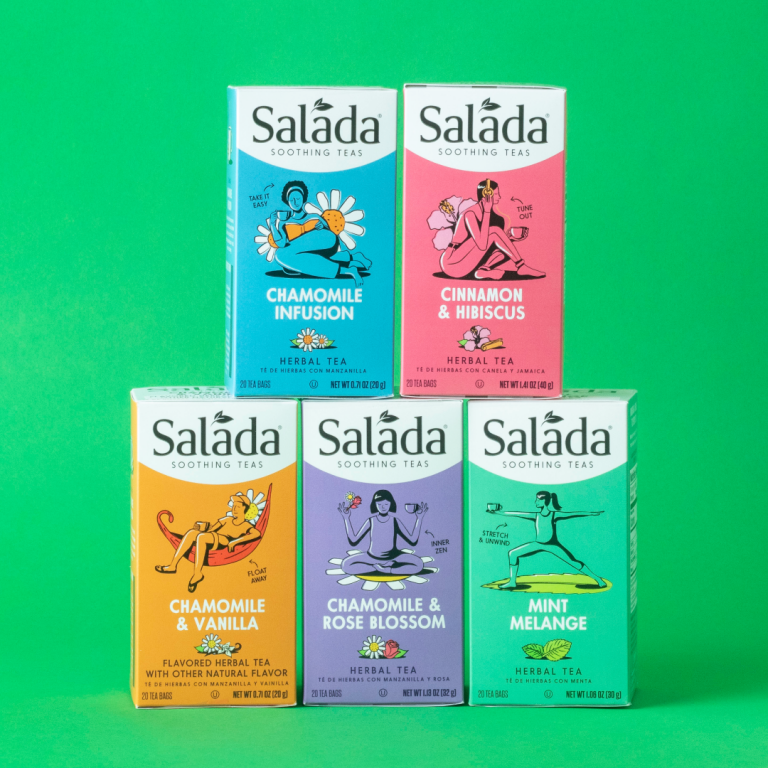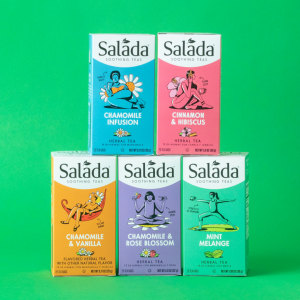 Salada Tea is bringing a smile to every day with a new line of caffeine-free herbal teas, Salada Soothing Teas. With no added sweeteners, artificial flavors or caffeine, these blends provide naturally refreshing combinations of chamomile, hibiscus and mint and are available in five delicious varieties:
About the New Flavors:
Chamomile & Rose Blossom: A calming blend of gentle rose blossom and sweet chamomile to help you exhale stress with every sip.
Chamomile & Vanilla: Indulge in a moment of calm and quiet with soothing chamomile and rich vanilla.
Chamomile Infusion: Breathe in, breathe out and say hello to our comforting chamomile tisane – crisp, delicate, and calming.
Cinnamon & Hibiscus: Cozy up with toasty cinnamon and tart, fruity hibiscus – a blissful blend of the best home comforts.
Mint Mélange: Hit refresh with a crisp blend of smooth, delicate mint – tingly on the tongue, tender on the tummy.
Salada Soothing Teas were created to help you take on the day. This line of teas combines select ingredients to help with relaxation, calming, comforting, restoring and soothing.
"We're excited to bring this NEW line of tea to life," said Ryan Thayil, E-commerce Marketing Manager. "Salada Soothing Teas was designed to take your me-time to the next level. Whether you are looking for relaxation or comfort, these tea blends are a small reminder that taking care of yourself doesn't need to be a full-time job; it can be as mellow and refreshing as a cup of tea."
The new line is available for order at www.salada.com. Each box of Salada Soothing Teas contains 20 tea bags that are individually wrapped for freshness and is convenient for taking on-the-go for work or play.
About Salada Tea
With more than 120 years of experience, Salada's passion has been creating tea blends that taste great and contribute to a balanced and healthy lifestyle. Salada offers a variety of black, green, matcha and fruit infused teas. For more information, including recipes and special offers, visit: www.salada.com and connect with the brand on Facebook, Twitter, Instagram and Pinterest: @saladatea.
For More Information:
https://salada.com/collections/soothing-teas