Maya Kaimal Launches Everyday Chana Chickpea Curry Line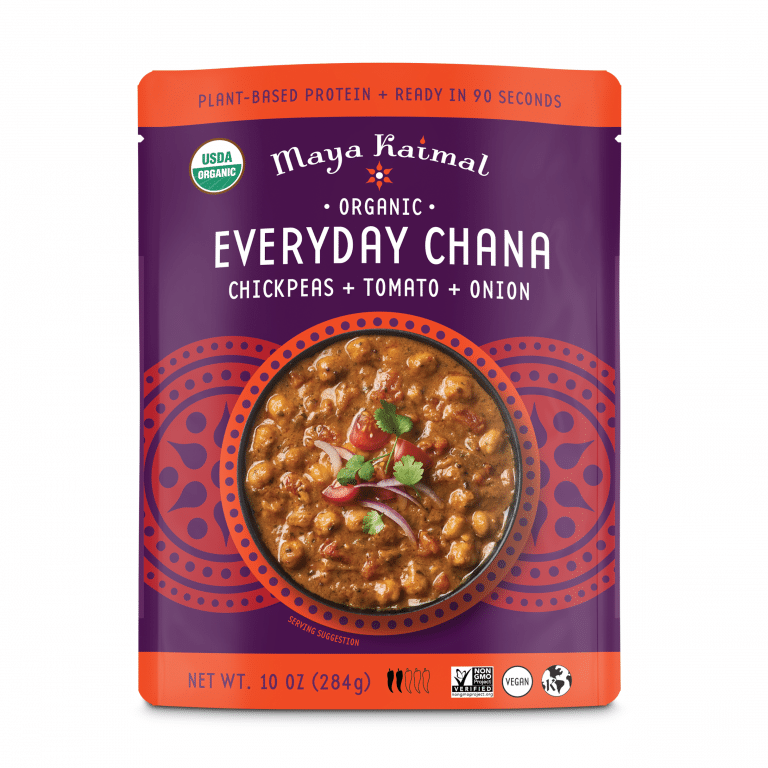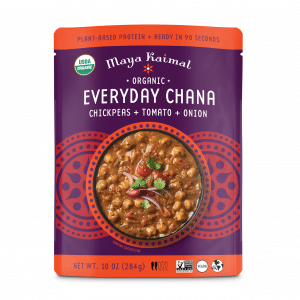 RHINEBECK, N.Y.—As the plant-based and ready-to-eat movements continue to gain momentum, Maya KaimalFoods, the award-winning specialty food company is right on time with the launch of their newline of four chickpea curries called Everyday Chana, debuting at this years' EXPO West, booth#5494. Chana—the Indian word for chickpeas—is celebrated in these flavor-packed entreesthat are Certified Organic, non-GMO, and vegan.
"There are so many wonderful chickpea dishes in Indian cuisine, and I wanted to shine a light on some of my favorites," shares founder Maya Kaimal. "Given the success of our lentil-based Everyday Dal, it made sense to extend the line to include chickpea-based meal options. It's clear that consumers are eating more plants and exploring Indian and international flavors, so it's my job to make those foods delicious and convenient."
Available in four flavors: Chickpeas, Tomato and Onion; Chickpeas, Coconut and Kale; Black Chickpeas, Coconut and Green Chili; Black Chickpeas, Tamarind & Sweet Potato, this line reflects the fine-tuned flavors, delightful ingredient combinations, and carefully crafted spice blends that distinguish Maya Kaimal products. Two varieties are made with popular tan chickpeas, while two highlight rich-tasting black chickpeas—common in Indian cooking but less familiar to North Americans.
Each 10oz microwavable pouch serves two, and can be enjoyed on its own, paired with a grain, or served as a side dish. Heat in 90 seconds, without the fuss and time-consuming preparation typically needed to make delicious Indian food. Pouches retail for approximately $4.99 each.
Maya Kaimal's Organic Everyday Chana joins the robust collection of Indian Simmer Sauces, Everyday Dal and Surekha Rice. Available soon nationally at Sprouts, Amazon and other gourmet retailers, Everyday Chana is Certified Organic, non-GMO, Kosher, Vegan and Vegetarian.
Maya Kaimal Foods has the #1 best-selling Indian simmer sauce, and the #2 best-selling entree in the Natural and Specialty channel.
About Maya Kaimal Foods
Maya Kaimal Foods is a leading kitchen-crafted food brand known for its award-winning Indian simmer sauces, dals, rice and condiments. Ranked #1 in the category, Maya Kaimal simmer sauces paved the way for its growing line of products, including Everyday Dal, Surekha Rice, and condiments. Founded by Maya Kaimal, winner of IACP Julia Child First Book Award for her cookbook Curried Favors, the brand stands out thanks to time-honored cooking techniques and recipes acquired by Kaimal's South Indian father. Not only does Maya Kaimal deliver convenient, flavor-packed products, but all ingredients are clean and carefully sourced, authentically capturing the complex flavors of India with a modern, crave-able twist. Maya Kaimal Foods is available at natural, specialty and conventional stores nationwide including Whole Foods, Amazon, Costco and more.
For more information, visit http://www.mayakaimal.com/. Stay connected to Maya Kaimal Foods on social media! Instagram (https://www.instagram.com/mayakaimalfoods/), Facebook (https://www.facebook.com/MayaKaimal/), Twitter (https://twitter.com/MayaKaimalFoods), Pinterest ( https://www.pinterest.com/mayakaimalfoods/) and LinkedIn (https://www.linkedin.com/company/2073139/admin/).