Wissotzky Tea Launches Nana Mint Tea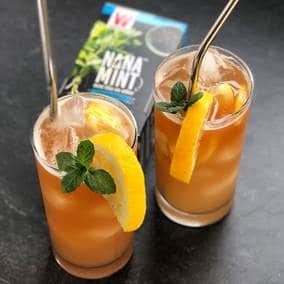 BAYONNE, N.J.– American tea drinkers haven't had news this revolutionary since the Boston Tea Party: Nana Mint is here. This slightly and naturally sweet cultivar of Mentha spicata, found only in the Mediterranean region has long been prized by Israelis, Moroccans, and other nearby Middle Eastern cultures.
Now Wissotzky Tea is introducing this exotic mint closer to home with a full line of carefully-crafted Simply Nana Teas – incomparable to other teas.
That's exciting news for American tea drinkers looking for the Next Big Thing. And since the Nana Mint trend is just beginning to move the needle in the U.S. tea category – which is more than ready for a caffeinated jolt – it's a great time for retailers to get in on the buzz.
So, what is Nana Tea? Nana is unlike any other variety of mint. Reminiscent of the sun-drenched warmth of its Mediterranean origins, it unleashes a subtle layer of earthiness and invigorating minty flavor in every tantalizing cup. Nana Tea is sure to awaken the spirit whether served hot or icy cold.
Consumers can get "Nanafied" in a variety of delicious, all-natural ways:
Simply Nana Mint Black Tea
Simply Nana Mint Green Tea
Simply Nana Mint Herbal Lemon Tea
Simply Nana Mint Herbal Ginger Tea
Simply Nana Mint Herbal Chamomile Tea
In addition, Wissotzky is providing multi-tiered support to drive the Nana Tea revolution. Promotions include digital advertising, shopper marketing, social media, influencer marketing, demos, and a presence on Amazon.
Family-owned since 1849, Wissotzky is beloved throughout the world for its superior blends of the highest quality teas and infusions. Every bag of Wissotzky Tea contains 100% natural tea and hand-selected herbs and spices for a full-bodied, GMO-free, certified kosher tea drinking experience.
About Kayco and Kayco Beyond
Kayco is one of the largest manufacturers and suppliers of kosher foods. Its expanded Kayco Beyond Division sources and distributes new products to the general market beyond kosher to meet the demands of consumers looking for optional products that are healthful, convenient and/or for restricted diets and lifestyles. These brands include Wissotzky Tea, Dorot, Absolutely Gluten Free, Beetology, Mighty Sesame, Tuscanini Foods and new Wonder Melon. They are headquartered in Bayonne, NJ. (Kayco.com)