Veggies Made Great by Garden Lites Launches Two New Frittata Flavors at Costco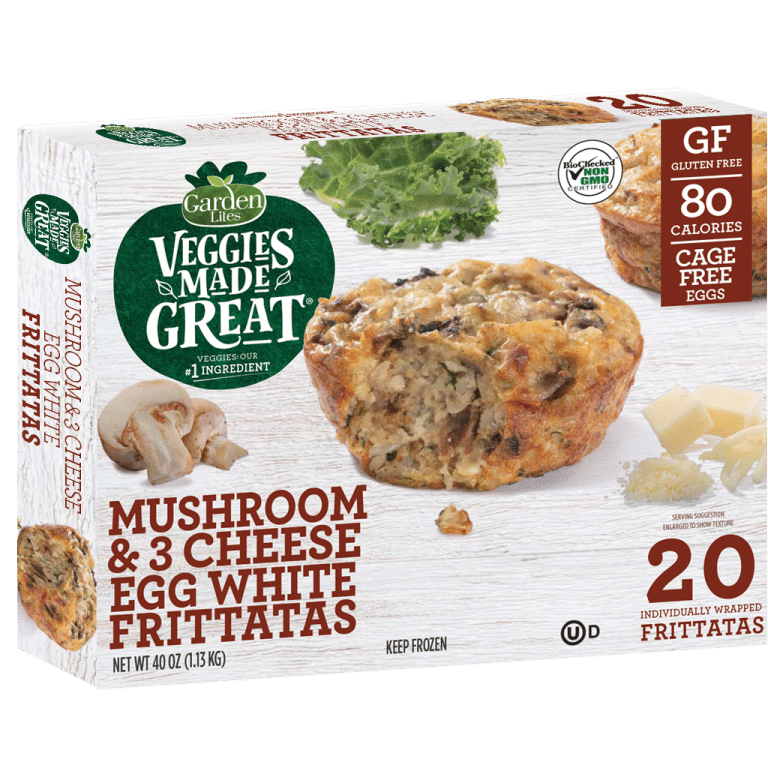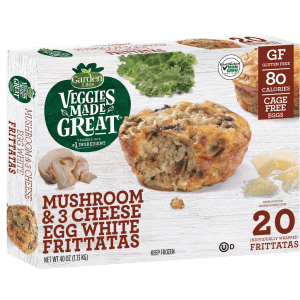 RAHWAY, N.J.– Veggies Made Great by Garden Lites, the leader in unique veggie-rich foods, brings two new flavors of Frittatas to Costco stores: Broccoli Cheddar Frittatas and Mushroom & 3 Cheese Egg White Frittatas. These two new flavors join the incredibly successful Spinach Egg White Frittata and Veggie Bacon, Potato & Egg Frittata. Veggies Made Great Frittatas are expected to keep pace with the no. 1 selling product Superfood Veggie Cakes, and are set to exceed $15M in annual sales in 2019, in their first year in the market.
Veggies Made Great Frittatas made with cage free eggs meet the growing consumer demand for healthy plant based food, making them the perfect breakfast; nutritious, delicious, and convenient. They are a wonderful alternative to your typical breakfast, offering veggie-rich, high protein and clean ingredients that are quick and easy to prepare in a microwave or toaster oven. Like all the items from Veggies Made Great, veggies are the no. 1 ingredient, they are gluten free and remarkably delicious.
Consumers can find these 20 count Frittatas in the freezer section at Costco stores over the next several months and sample them for free at participating Costcos from May 8-May 11 and May 30-June 2. For participating locations, please visit veggiesmadegreat.com/storelocator.
Veggies Made Great by Garden Lites continues to innovate as they grow and adapt their delicious line of veggie-rich foods. Broccoli Cheddar Frittatas are only 90 calories, 5 grams of protein, and gluten free. The Mushroom & 3 Cheese Egg White Frittatas are only 80 calories, 5 grams of protein and gluten free.
Andy Reichgut, executive VP of Garden Lites, said: "We're thrilled to bring two new flavors of Frittatas to this already wildly popular and powerful breakfast category line! These new Veggies Made Great products continue our mission to create the highest quality, remarkably delicious and nutritionally smart veggie-rich foods that are ready to eat and available everywhere.
Other Veggies Made Great products include the very popular and remarkably delicious Muffins and the best-selling Superfood Veggie Cakes. The Muffins are made with fresh zucchini and carrots and include flavors such as Blueberry Oat, Double Chocolate, Banana Chocolate Chip and Cranberry Orange. Muffins can be found in the freezer section of Costco. Superfood Veggie Cakes are packed with nutrient-rich superfood veggies like kale and cauliflower and make a great breakfast, snack or side dish, and are available in the Costco refrigerated section.
All Veggies Made Great products can be found nationwide, including distribution in Costco, Kroger, Target, Shop Rite, Publix, Stop & Shop, Giant, Meijer, HEB, Ralph's, Fry's, The Fresh Market, and many more retailers. For coupons and information on where to buy, please visit veggiesmadegreat.com/storelocator.
About Veggies Made by Great Garden Lites
Veggies Made Great by Garden Lites is a New Classic Cooking, LLC brand based in Avenel and Rahway, NJ. Since 2008, Veggies Made Great by Garden Lites has raised the bar in healthy foods by delivering surprisingly delicious veggie-rich foods. Garden Lites is the recipient of numerous awards, including; Women's Health Top Health Picks; Cooking Light – The Healthiest Frozen Foods in the Supermarket: Breakfast; Grocery Headquarters Trailblazer Award; Parents Magazine 25 Best Frozen Food for Families; Gluten Free Digest Chocolate Muffins; 2015 Pioneers of Better For You: Refrigerated and Frozen Foods and Runner's World Editor's Pick.