The Osso Good Company Adds Vegan Mushroom and Veggie Broths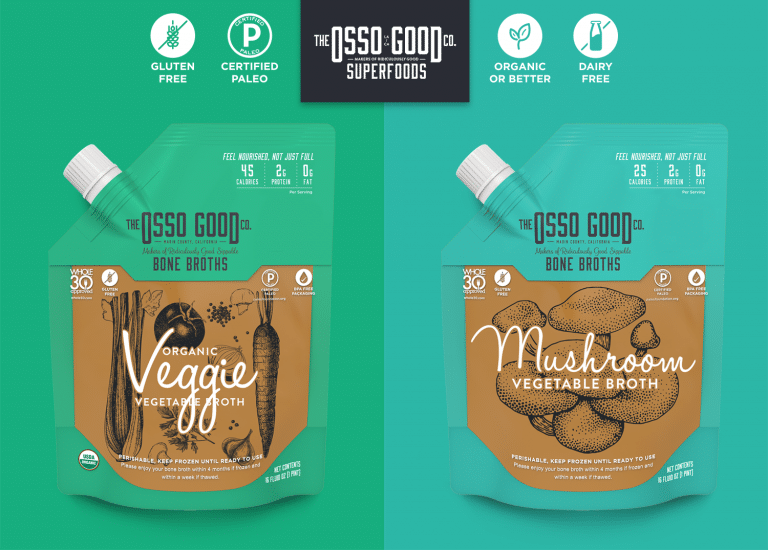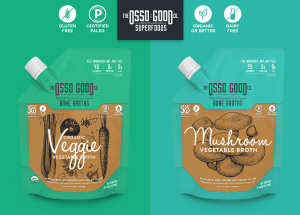 LOS ANGELES– The Osso Good Company, maker of ridiculously good, sippable bone broths and soups, announces its latest offerings: an Organic Vegetable Broth and Mushroom Vegetable Broth as part of its line of collagen-rich and nutrient-dense superfoods.
"Our goal is to bring consumers everywhere the benefits of real, delicious broth and soups and we're always continuing to explore new recipes and ways to create nutrient dense, collagen rich foods that are nourishing and taste delicious," said Meredith Cochran, co-founder and CEO, The Osso Good Company. "Many of our customers were looking for a plant-based broth option. Our new organic veggie and mushroom broths were created for them, as well as the vegan and vegetarian community."
Osso Good's new Mushroom and Veggie soups are made with blends of organic vegetables and herbs, are paleo-friendly, gluten and dairy-free and contain no salt, sugar or artificial flavors. Sold in BPA-free, frozen, 16 oz. stand-up pouches.
Organic Veggie Broth (SRP $7.99 per pouch): This certified organic and paleo broth is loaded with carrot, onion, celery, tomato, shiitake, garlic, parsley, thyme, rosemary, bay leaf, and peppercorn. This veggie broth is sweet without any added sugars or salt. It makes for a great addition to any vegan recipe for added umami or sip it straight from a mug!
Mushroom Vegetable Broth (SRP $8.99 per pouch): Made with organic veggies, this paleo certified broth is steeped with collagen production boosting kelp for an added punch. Loaded with portobello, shiitake, and reishi mushrooms, each sip is full of plant-based superfoods.
Osso Good's product offerings now include: five varieties of paleo soups, 14 broth varieties, several of which are infused with traditional Chinese herbs that benefit the body, mind and spirit in different ways;  7-day and 3-day bone broth cleanses to reboot and heal the gut and to promote healthy eating habits and the bone broth diet plan and cookbook, "The 7 Day Bone Broth Diet Plan." For store locations or purchase online at: www.ossogoodbones.com/products.
Recently opened The Osso Good Café, located at 8036 West Third Street in Los Angeles, offers the brand's top selling bone broths and soups, as well as its first-of-its-kind bone broth waffles, smoothies,"blendies," and frozen pouches.
About The Osso Good Company 
The Osso Good Company makes ridiculously good, sippable bone broths and paleo soups that are responsibly raised, grass-fed and made with organic ingredients. Each bone broth and soup variety is aWhole30 Approved, paleo-friendly, gluten-free and made without added antibiotics or artificial flavors. The Osso Good Co. was founded by Meredith Cochran, Jazz Hilmer and Toran Hilmer, who each believe in the "food as medicine" methodology and that bone broth can greatly contribute to overall health. All ingredients are sourced from small, family run farms in Northern California and Oregon that raise their animals with responsible practices. The Osso Good Co. also proudly donates one percent of all net sales to local charities and sponsorships. The Osso Good Co. is also a brand within the Venice Brands portfolio. For more information, please visit www.ossogoodbones.com, like us on Facebook and follow us on Instagram.