Smart Flour Launches Three Meat Pizza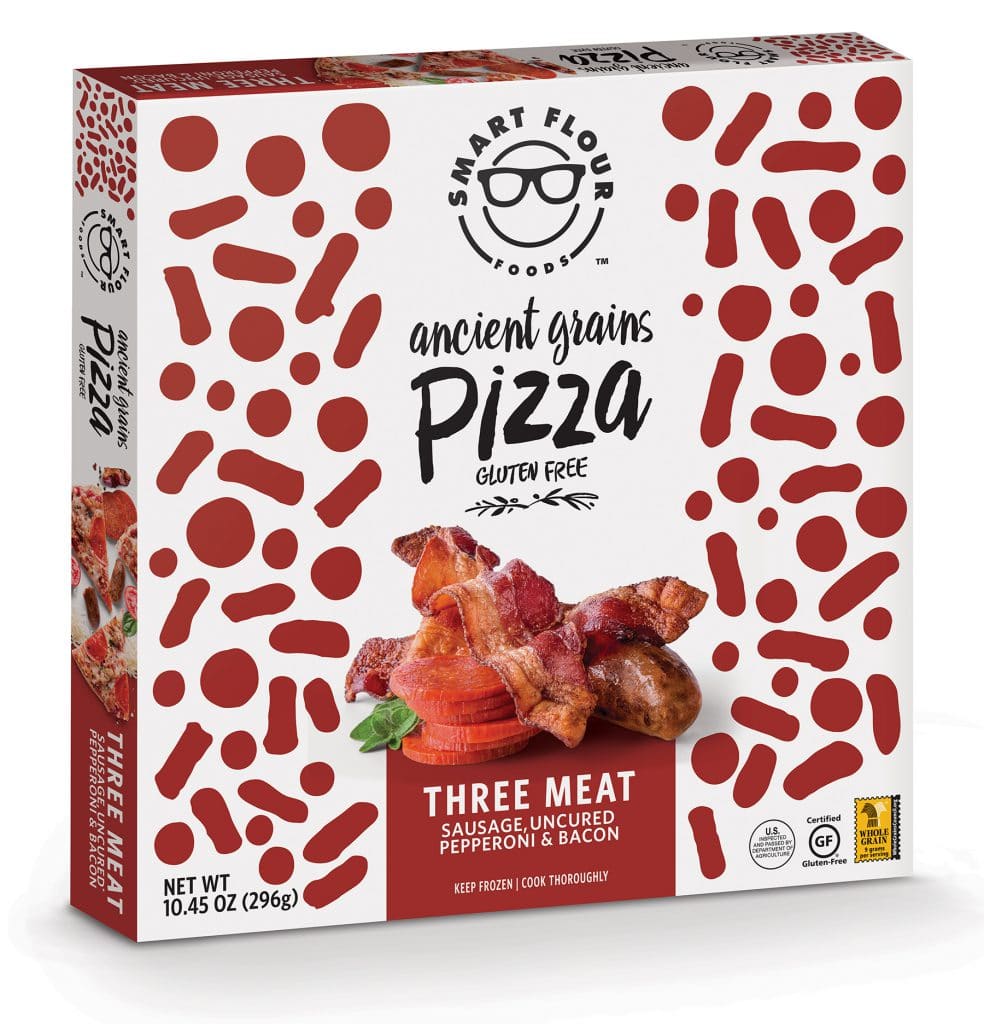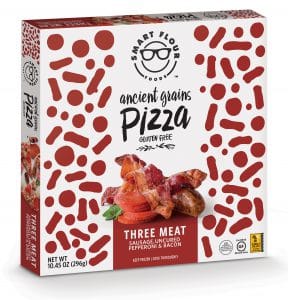 AUSTIN, Texas– Smart Flour is adding a Three Meat Pizza to its lineup of ancient-grain, certified gluten-free pizzas. Designed for the ultimate meat lover, the new culinary-inspired flavor pairs sweet Italian sausage with spicy uncured pepperoni and mouthwatering bacon for a pie that's sure to satisfy the taste buds. Topped with a robust, traditional tomato sauce and an indulgent blend of hormone-free, low-moisture and part-skim mozzarella, provolone, parmesan and romano cheeses, the pizza is made with minimally processed meats and simple ingredients, so there's nothing to hold you back from digging right in.
Like all of Smart Flour's frozen pizzas, the new variety starts with a thin and crispy, Non-GMO Project Verified crust made with the brand's unique, ancient-grain blend of sorghum, amaranth and teff. These naturally gluten-free ancient grains give the pizza a delicious whole-grain taste and texture, plus a healthy boost of fiber, protein, calcium, vitamins and minerals. In keeping with Smart Flour's commitment to clean ingredients, the pizza is also completely free of preservatives, artificial colors and flavors, along with rice flour and many of the common allergens, including gluten, wheat, nuts, tree nuts, soy and eggs.
Said Charlie Pace, founder and CEO of Smart Flour: "With our new Three Meat Pizza, we're bringing high-quality, incredibly delicious meats to a clean and allergy-friendly pizza. This is a taste experience not to be missed, and thanks to its gluten-free and clean ingredient list, even those with dietary restrictions don't have to."
Smart Flour's new Three Meat Pizza is currently available to retailers nationwide and will be in select Target stores and HEB stores this May for an SRP of $6.99-$7.99 per 10 oz. pizza. Email info@smartflourfoods.com for more information.
About Smart Flour
Smart Flour's success in foodservice and launch into retail in late 2013 has been instrumental in transforming the gluten-free market and overall perception of gluten-free foods. Made with the power of ancient grains for elevated nutrition, the company's culinary-inspired, better-for-you and certified gluten-free offerings have shown the world that gluten-free products don't need to sacrifice delicious taste and can be good for you too. The brand's lineup includes: Pizza and crusts for grocery, along with crusts, flatbread, hoagie rolls, hamburger buns, pancake & waffle mix and dessert bars for foodservice customers. For more information, visit www.smartflourfoods.com and find @smartflourfoods on Facebook and Instagram.