Seven Sundays To Expand Muesli Line With Two New Mixes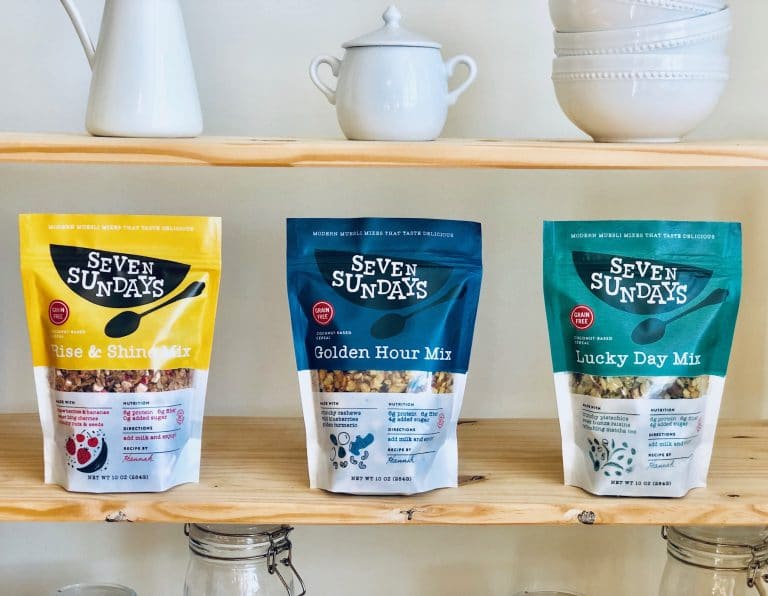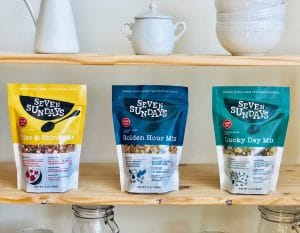 MINNEAPOLIS— Seven Sundays, the leading brand of muesli cereal in the U.S., expands its paleo and keto-friendly muesli line with the launch of two new superfood-packed mixes. Building from the successful launch of Rise & Shine, the company's first grain free muesli blend, two brand new flavors are set to debut at Expo West 2019.
One of two new blends to hit the market, Golden Hour, is a vibrant golden paleo-friendly blend made with a base of toasted cashews and coconut, naturally sweetened with wild blueberries and golden raisins, mixed with antioxidant-rich turmeric.
The second new mix set to launch is Lucky Day, a bright green crunchy mix with pistachios and sliced almonds, luscious golden-green raisins, rejuvenating matcha tea and organic wildflower honey.
The original flavor in Seven Sundays' grain-free line, the Rise & Shine blend, includes nutrient dense superfoods like toasted coconut, almonds, pecans, chia seeds, pumpkin seeds, sesame seeds, Bing cherries, freeze dried berries and bananas and real vanilla. The banana and berry mix's popularity among paleo consumers—and beyond—is what led Seven Sundays' founder, Hannah Barnstable, to explore the expansion of the company's grain-free muesli line.
"We are all about ingredients," explained Barnstable, "and we've used this launch into grain free muesli to explore innovative new ones – such as matcha tea, pistachios and freeze-dried fruits – things you don't typically see in the cereal aisle. The crunchy-chewy texture is as good with milk as it is as a snack right out of the bag. Unlike most grain free cereals, these come without all the added sugar and oil."
The paleo and keto-friendly grain free mixes from Seven Sundays are a convenient and healthy solution for breakfast or snacking for the growing number of consumers focused on reducing or removing grains and sugar from their diet. The Rise & Shine blend is currently available at Sprouts stores, on Amazon and other natural and specialty retailers nationwide. The new flavors will be hitting shelves in April.
Seven Sundays is the leading Modern Muesli cereal brand in the U.S. The only product in the cereal aisle that has no added sugar and made with clean and simple ingredients like sustainable whole grains, superseeds, fruits and nuts, Seven Sundays mueslis are serving a major unmet consumer demand and bringing consumers back to the breakfast aisle. In addition to Seven Sundays' new innovative Paleo muesli line, the company also offers vegan, gluten free and grab-and-go products. Seven Sundays' products are available in over 4,000 grocery stores nationwide, including Sprouts, Kroger, Safeway and select Costco club stores. To learn more about the muesli movement, please visit www.sevensundays.com, Instagram, Facebook and Twitter.