Pamela's Products To Sample New Products at Expo West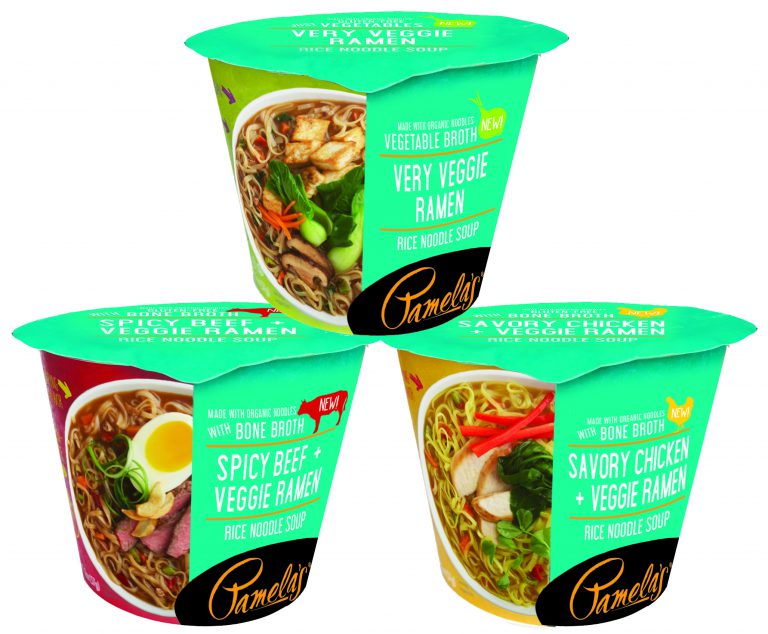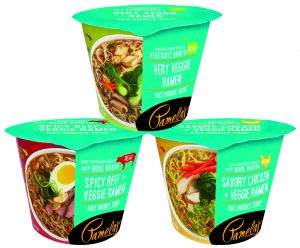 UKIAH, Calif.— Celebrating over 30 years of being a gluten-free groundbreaker, founder Pamela Giusto-Sorrells will be serving her number one best-selling gluten-free pancakes and sampling new products at this year's Expo West. Pamela's Products was founded in 1988, and is known for delicious, gluten-free foods, including a full line of baking mixes, cookies, snack bars and more. Pamela herself develops every product recipe and carefully selects each ingredient used to make all the products.
New Gluten-Free Ramen Line Made with Bone Broth
Pamela's new line of Gluten-Free Ramen comes in three flavors: Spicy Beef + Veggie, Savory Chicken + Veggie, and Vegan Very Veggie. Pamela's Ramens are made with real vegetables, gluten-free and organic rice noodles, nutrient-rich beef or chicken bone broth, and a flavorful vegetable broth in the vegan variety. The rich and nutritious broth packets and tasty veggies give these gluten-free noodles a punch of flavor for the most delicious meal time. Pamela wants everyone to be able to enjoy a delicious, easy-to-make, and comforting meal, regardless of dietary restrictions with these three new items.
The new ramen will be available August 2019 with a suggested retail price of $3.39 per each 2 oz. pack on Amazon.com and at participating retailers.
More Gluten-Free Comfort Foods
If you have had Pamela's pasta meals before, you already know they satisfy every comfort food craving and you wouldn't guess they are gluten-free based on taste alone. Pamela's Pasta Meals are currently available in Mac N' Cheese, Spicy Mac N' Cheese, Creamy Alfredo and Creamy Mushroom, made with Pamela's own certified organic gluten-free pastas and real cheeses. New to the line are two new Mac N' Cheese product: Vegan Mac and White Cheddar. Like the others, these pasta meals contain 10 grams of protein or more per serving prepared, and are made with organic ingredients sourced from trusted farmers who grow non-GMO crops. The Vegan Mac will satisfy cravings for cheese with a rich and creamy sauce made from a delicious combination of ingredients like pumpkin and sweet potato powders.
These new pasta meals will be available starting May 2019 with a suggested retail price of $3.79 for a 5 oz. box. The Vegan Mac N' Cheese will also be available in a family-size 10 oz. box, with a suggested retail price of $5.99. All of these products will be available on Amazon.com and at participating retailers.
Gluten-Free Grahams Now with Chocolate Chips
Snacks, s'mores and pies are just some of the ways to enjoy Pamela's line of Gluten-Free Grahams available in honey, chocolate and cinnamon. Because chocolate makes everything better, you will now be able to get Pamela's Grahams in a new chocolate chip flavor.
The new Chocolate Chip Grahams will be available July 2019 in a 7.5 oz. box with a suggested retail price of $4.99, and can be found on Amazon.com and at participating retailers.
Visit Pamela's at Booth #905
Visit Pamela's booth #905 at Natural Products Expo West at the Anaheim Convention Center, March 5–9, 2019 for a pancake breakfast, mac n' cheese or ramen lunch and an afternoon graham cracker treat. Don't miss the chance to see what's new at Pamela's, and meet Pamela Giusto-Sorrells herself, who will be hard at work serving up the best gluten-free foods.
About Pamela's Products
Since 1988, Pamela's Products has been making the best-tasting gluten-free foods on the market. As a third-generation baker, Pamela Giusto-Sorrells has been personally crafting each recipe for her gluten-free products, including the number one best-selling gluten-free pancake mix, other baking mixes, cookies, snack bars, pasta and more. Pamela's Products can be found in natural food and grocery stores throughout the U.S. and Canada, as well as on Amazon.com. For additional information about Pamela's Products, including recipes, baking and allergy information, visit PamelasProducts.com.