Nando's Introduces PERinaise Spicy Mayo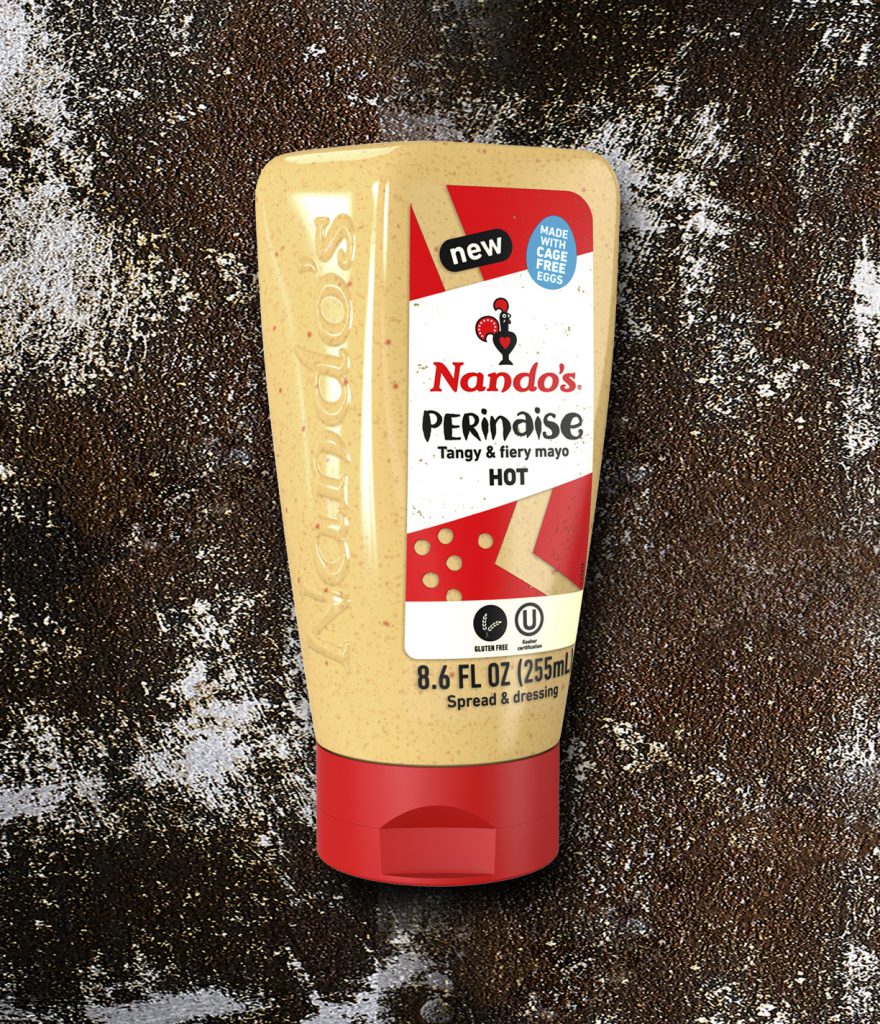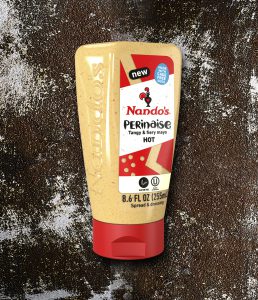 WASHINGTON– Famed South African–born restaurant chain, Nando's, known for its signature PERi-PERi sauce, debuts PERinaise. With Nando's PERi-PERi recognized as the most popular sauce from England to Australia to South Africa, Nando's new PERinaise comes to select U.S. grocery stores to offer the famous flavor in condiment form.
Made with a blend of African Bird's Eye Chili, sun-ripened lemons, fresh herbs, exotic spices and cage-free eggs, Nando's PERinaise, offers heat-seekers and sauce-lovers alike a PERi-PERi blended mayo full of flavor. Nando's PERinaise is gluten-free, kosher and made with no artificial flavors or colors.
Ahead of the spicy flavored mayo trend for over two decades with its signature PERinaise in Nando's restaurants worldwide, Nando's, now due to popular demand, has (squeeze) bottled its famous condiment in three unique flavors, including:
Hot PERinaise: Heat Level – Hot
Original PERinaise: Heat Level – Medium
Lemon & Herb PERinaise: Heat Level – Mild
With the flavored mayo segment on the rise and spicy mayo a hot trend for 2019, the U.S. release of Nando's PERi-PERi infused mayos brings a unique hot sauce flavor to capitalize on the increasing consumer interest and demand for international flavors.
Nando's PERinaise hits U.S. grocery shelves this Spring 2019, with a suggested retail price of $3.99 – $4.99 in select Kroger, Harris Teeter and Safeway stores. It will also be available online at Amazon.com.
For more information on Nando's PERi-PERi, visit www.nandos.com.
About Nando's Peri-Peri
The first Nando's restaurant opened its doors just outside of Johannesburg, South Africa and has since spread its flame to 1,200+ restaurants in 23 countries on five continents. Originating in the heart of South Africa in 1987, Nando's PERi-PERi embodies the zest and vibrancy of the African Spirit, bringing fire to your food with the main ingredient, African Bird's Eye Chili, combined with a squeeze of lemon and kick of garlic. Though not a traditional hot sauce, Nando's PERi-PERi is the number one category leader for hot sauce sales in South Africa, the UK and Australia, and has been making headway in the U.S. since 2003 with its five distinct sauces: Lemon & Herb, Garlic, Medium, Hot and XX Hot. All of Nando's PERi-PERi sauces are made with all natural ingredients and no artificial flavoring. For more information on Nando's PERi-PERi, go to our website www.nandosperiperi.com or visit @NandosUSA on Facebook, Twitter and Instagram.