Modern Table Debuts Veggie Pasta Line with Beet Rotini Launch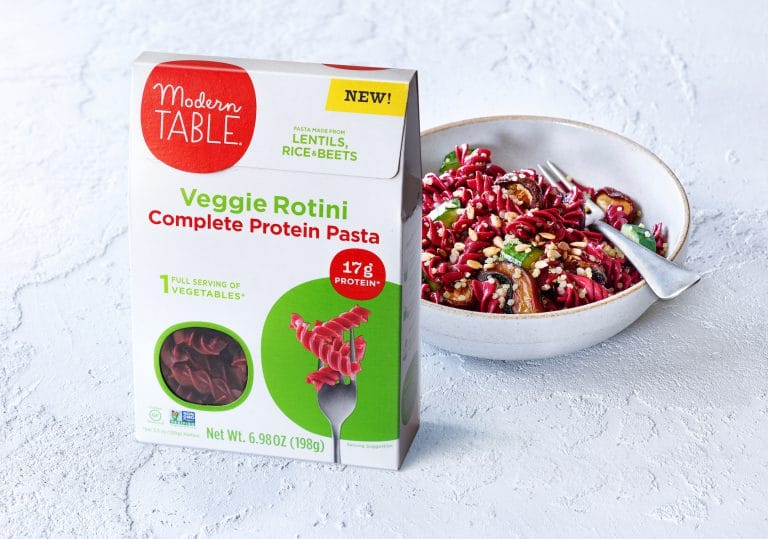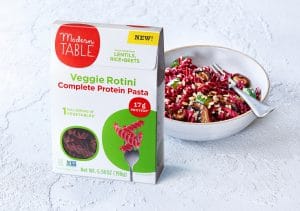 WALNUT CREEK, Calif.— Modern Table, maker of delicious, high protein pastas, announces its new veggie pasta line with the launch of Beet Rotini made from a unique blend of red lentils, white rice and beets.
"After reformulating our pasta in 2017 we were excited to apply our improved blending technique to new, delicious and nutritious ingredients, like beets, to create our new veggie pasta line," said Beth Hammond, head of marketing and innovation at Modern Table. "But it was important to take our time and get it right."
With zero artificial preservatives, each 7 oz. box of Modern Table's new Beet Rotini boasts one full serving of vegetables, 17 grams of complete plant protein and 5 grams of fiber per 3.5 ounces serving. The new veggie pasta is gluten-free and Non GMO Project Certified and cooks in 10 minutes or less.
"With the demand for plant-based food alternatives at an all-time-high, the timing couldn't be better to announce our new Beet Rotini," continued Hammond. "Our customers are looking for a variety of options for their pasta experience and we think this new veggie pasta, with its incredible taste and genuine pasta texture, is a wonderful option."
Brimming with complete plant protein and packed with veggies, Modern Table's newest pasta is now available nationally at Whole Foods Market for $3.49 MSRP.
For more information please visit moderntable.com.
About Modern Table

At Modern Table, our mission is to make everyday foods work harder for you with the power of plant protein. We believe meals should always be delicious and nutritious, which is why our pastas are made with lentils, rice and peas or beets, containing all nine of the essential amino acids your body needs. And because it's plant-based, you avoid things like the cholesterol or saturated fat found in animal protein sources. Whether you're a busy body or a body in training, we know you'll the convergence of good health, delicious flavor and unparalleled convenience. All Modern Table products are GMO-free, gluten-free and soy-free with no artificial preservatives or colors and are available online at moderntable.com and nationally at Whole Foods, Wegmans, Safeway, Amazon and more.