Lake Champlain Chocolates Launches Almond Five Star Bar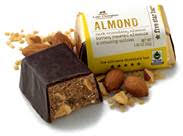 BURLINGTON, Vt.— Say hello to the Almond Five Star Bar, the newest member of Lake Champlain Chocolates' best-selling Five Star Bar line. This new bar is the ultimate treat for almond lovers with smooth almond butter surrounding roasted almonds and crispy quinoa, all wrapped in dark chocolate.
"While indulgence is still a huge driver for chocolate purchasers, consumers are looking for better-for-you options," said Allyson Myers, director of sales and marketing for Lake Champlain Chocolates (LCC). "Using plant-based inclusions like almonds and quinoa appeals to consumers' desire for indulgence paired with healthier ingredients With a total of 16 almonds (7 grams of protein) packed into this chunky bar, it delivers on flavor, protein, a salty-sweet crunch, and rich texture to satiate the most discerning sweet tooth."
According to Innova Market Insights, almonds and almond butter are key trends in the chocolate industry right now, providing products with interesting textures, premium positioning, higher protein and indulgent flavor profiles while using less sugar.
The Almond Five Star Bar rounds out the line that now includes seven irresistibly delicious flavors: Almond, Caramel, Hazelnut, Peanut, Granola, Fruit & Nut and Chocolate Caramel.  The Five Star Bars are still handcrafted in small batches from only the best Fair Trade Certified ingredients at LCC's Burlington, Vermont factory.
"We continue to see the conscious consumerism trend grow as individuals seek to express their values through their purchasing decisions," said Myers.  "Choosing Fair Trade Certified™ products resonates with these consumers and we're proud to offer this certification for one of our best-selling lines."
Taste the new Almond Five star Bar and see the full line at the Sweets and Snacks Expo, Booth#1799, Chicago, Illinois, May 21-23. LCC will be hosting a Five Star Breakfast at the show on May 22.  Stop by for a healthy start to the day and meet the new Five Star Bar! The Almond Five Star Bar has an SRP of $4.00.
All of Lake Champlain Chocolates' products are Kosher-certified, free of preservatives, additives and use non-GMO and fair trade certified ingredients. For more about the Vermont chocolate maker, visit www.lakechamplainchocolates.com.
About Lake Champlain Chocolates
Since 1983, Lake Champlain Chocolates has worked in pursuit of extraordinary chocolate moments. As a pioneer in the American chocolate movement, the Vermont chocolate company strives to create only the best-tasting chocolates imaginable. In the early days this meant sourcing the highest-quality fresh, local ingredients and never using preservatives or artificial flavors. Today, the second-generation, family-owned company's pursuit of the extraordinary continues. As a Certified B Corporation, the company is committed not only to be the best in the world, but to be the best for the world by supporting cacao growing communities and using 100% fair trade certified chocolate, reducing toxins in the environment by sourcing organic ingredients, whenever possible, and continuing to make extraordinary seasonal and everyday chocolates for all to enjoy. Lake Champlain Chocolates are available at their three company-owned stores in Vermont, nationwide at specialty stores and grocers, and online at Amazon and lakechamplainchocolates.com.