Hilary's Launches Higher Protein Veggie Burgers, New Branding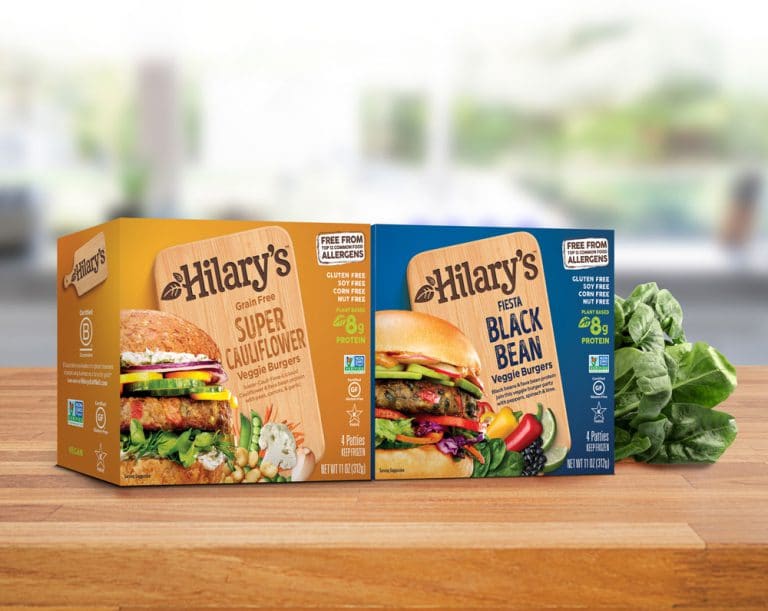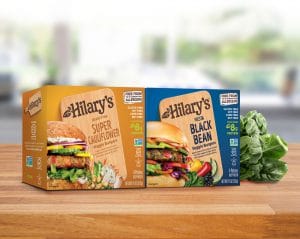 LAWRENCE, Kan.— Hilary's, a leading brand in the plant-based products industry, announced the launch of two enticing new higher protein veggie burger flavors: Grain-Free Super Cauliflower and Fiesta Black Bean. Officially introduced at Natural Products Expo West, the free from common food allergens, whole foods-based patties will be sold in 4-packs, each displaying Hilary's bold new branding. Built upon customer requests for protein-packed options in larger quantities, the launch highlights Hilary's commitment to a responsive business model designed to deliver on customer needs and desires.
Loaded with healthy veggies, both new veggie burgers contain 8 g of plant protein per patty, derived from healthy beans and not from isolates. The Super Cauliflower Veggie Burger is the first grain-free product from the brand and is an exciting addition to the portfolio. As is true of every Hilary's product, both new veggie burgers are free from the top 12 common food allergens, non-GMO project verified, vegan, kosher parve, certified gluten-free and temptingly delicious.
"We're so excited to offer consumers a convenient way to enjoy delicious, whole food, plant-based nutrition without common allergens like gluten, soy, dairy, nuts or corn. Whole veggies and beans already offer balanced nutrition, a boost of fiber, and inherent environmental benefits — why overcomplicate an already good thing?" said Hilary's VP of marketing Becky Harpstrite.
In conjunction with the launch of both products at Expo West, Hilary's is proud to unveil its new flavor-focused branding. "Our new look has more emphasis on the culinary flavors and incredible ingredients in our products," said Harpstrite. "We also improved the communication of our free-from and plant-based attributes, so customers can clearly see at a glance what all our products have to offer."
Hilary's products have long been favored by healthy eaters, allergy sufferers and vegetarians alike for their outstanding flavor and thoughtful ingredients. Veteran and new customers will be thrilled with the company's mindful entree into the higher protein market. By employing the wholesome plant sources for protein rather than animal-derived ingredients, Hilary's is maintaining its commitment to planet- and body-friendly products.
Moreover, each new veggie burger 4-pack has an SRP of $4.99, which means customers get more burger at a lower cost per patty. "During innovation meetings with some key national retailers, interest has been extremely high, with many accounts choosing to bring in the new items in advance of their normal review schedule," said Hilary's SVP of sales Greg Easter.
Both new products will be available on grocery store shelves starting mid-year 2019.
About Hilary's
At Hilary's, we believe tasty, plant-powered nourishment that is always free from common food allergens can be a gateway to pure joy. Made with ingredients that your family can trust, it is our passion to create cravable foods to help you make meals that free from compromise. We care deeply about creating great tasting foods that are completely safe for those who must live a life free from one or more food allergens, as well as those who chose to eat "free from" simply because. As a certified B Corporation, we focus on business practices that create beneficial social and environmental impact, and we believe in providing go-to foods that begin with thriving plants and real, whole ingredients that are always non-GMO, so everyone can enjoy delicious foods with ease.