David's Unforgettable Foods Expanding Distribution to the East Coast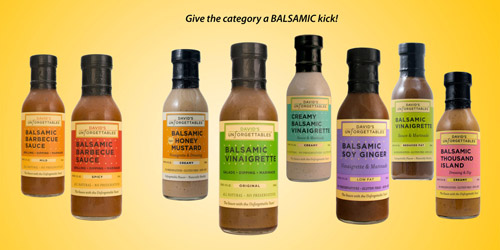 VAN NUYS, Calif— David's Unforgettables (also known as Unforgettable Foods), the line of gluten-free, vegan and non-GMO balsamic-based sauces, dressings and marinades, is pleased to announce its expansion through Davidson's Specialty Foods to the Stop & Shop Supermarket Company in the Northeast. This new relationship with Stop & Shop will enable the Brand to continue its growth on the East Coast, allowing consumers in New York, New Jersey and throughout New England, to experience the Brand's Mission of "Unforgettable Flavor-Naturally Healthy."
David's Unforgettables also recently announced the introduction of two new Balsamic flavors at this year's Fancy Food Show: a Balsamic Lemon-Garlic Vinaigrette, combining finely crafted Balsamic Vinegar with the robust tang of lemon and garlic, joins their family of Balsamic Salad Dressings & Marinades, while a Balsamic Mustard Barbecue Sauce, infusing the Southern mustard tradition with aged Balsamic Vinegar, joins the brand's unique line of Balsamic Barbecue Sauces.
Both of these new Balsamic sauces offer the same "unforgettable flavor" that customers have grown to expect from David's Unforgettables, as well as the same "naturally healthy" profile – preservative free, non-GMO, gluten free and vegan.
About David's Unforgettables
David's Unforgettables originated almost a decade ago at Café Unforgettable Cakes, in Sherman Oaks, California.  The unique flavor profiles of the sauces, combining the complex taste of aged Balsamic Vinegar, with various spice and flavors from around the world – Tamari & Ginger from Asia, the sweetness of 'the Thousand Islands', the smoky taste of Southern Barbecue – continue to build a growing fan base among those who appreciate a savory and healthy choice in fine eating, and enjoy creating unique and unforgettable dishes for their family and friends.  There are now 10 flavors, including the only Balsamic Barbecue sauce in the marketplace.  Having this unique balsamic flavor profile makes the entire line stand out in a very crowded dressings and sauces category. David's Unforgettables continues to work with Encino Financial Resources, Inc., a Master Broker & Business Consulting firm.