Coromega Debuts Coromega Max CBD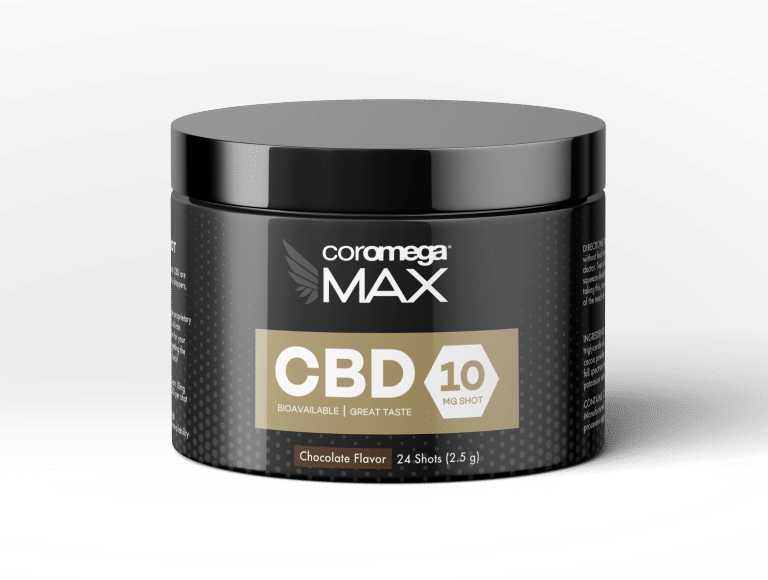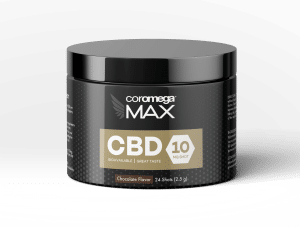 VISTA, Calif.– Coromega, maker of delicious emulsified fish and vegetarian oils designed to provide healthy fats for a healthy life, has announced the debut of Coromega Max CBD, the brand's first cannabidiol (CBD) squeeze shots. A squeezable, broad spectrum oil, Coromega Max CBD is scientifically crafted with CBD oil derived from industrial hemp and  medium-chain triglycerides (MCTs) that packs 10mg of CBD in each individually measured and packaged serving.
"We're incredibly excited to introduce our very first CBD squeeze supplement," said Andrew Aussie, executive VP and COO of Coromega. "Our goal has always been to craft emulsified oil blends that help consumers maximize the benefits of healthy fats, and Coromega Max CBD is no different. We've applied our signature formula and oil expertise to hemp oil, and now consumers can enjoy the benefits of CBD and MCTs in an on-the-go, single-serving, perfectly measured chocolate-flavored squeeze that's more convenient and portable than messy tincture droppers."
Coromega Max CBD's next-generation therapeutic formula is scientifically crafted with CBD oil derived from industrial hemp along with MCTs for clean, fast-burning energy supporting enhanced mental performance, superior to current offerings. Traditional CBD tinctures in dropper bottles can make it very difficult for consumers to accurately measure how much CBD they are taking. Coromega Max CBD is different: each squeeze shot delivers 10mg of broad spectrum CBD oil in a measured serving, critical to managing CBD intake and sought after benefits. High-quality CBD oil from American grown industrial hemp, organic cacao and MCT oil are blended together to create a delicious chocolate flavor, unlike the oily, undesirable taste from dropper bottles. Each individual serving is protected from light and oxygen, which prevents oxidation and degradation.
The CBD oil in Coromega Max CBD is processed using food-grade ethanol extraction from high-grade, industrial hemp grown by reliable, environmentally responsible and passionate farmers in Colorado. The natural ethanol extraction ensures that the CBD oil in Coromega Max CBD is a pure, high-quality oil. Coromega uses a third-party lab to test for purity and potency before, during and after manufacturing and has a Certification of Analysis (COA).
Coromega Max CBD will be available online in April in a 24-count jar of 2.5-gram squeeze shots with retail availability to follow. Coromega Max CBD joins Coromega's robust portfolio of emulsified fish and vegetarian oils, which are available at select vitamin, natural and drug stores nationwide, including Walmart, Vons, Albertsons (and Albertsons banners including Safeway, Shaws, Randall's, Jewel, Vons and more), Whole Foods Market, GNC, Vitamin Shoppe, Vitamin World, Wegmans, HEB, Meijer and online at Amazon.com, iHerb.com, Vitacost.com, Coromega.com and more. For more information about Coromega's innovative squeeze supplements, please visit www.Coromega.com.
About Coromega
Originally formulated by a Norwegian scientist searching for a way to encourage his granddaughter to take her daily dose of fish oil, Coromega was developed after more than 10 years of experimentation. The delicious and innovative emulsion technology gained a United States patent in the early 1990s, and in 1999 Coromega was launched. Today, the company manufactures and distributes a wide range of dietary supplements, including Coromega Max, Women's Health Fish Oil, Be Bright Superfood Oil, Omega-3 Squeezes, Kids Omega-3 Squeezes, Omega-3 Fruit Gummies for kids and adults and Omega-3 Big Squeeze. Learn more about Coromega products at www.Coromega.com, and visit the brand on Facebook, Instagram, Twitter and Pinterest.