Casablanca Market Introduces Two New Flavors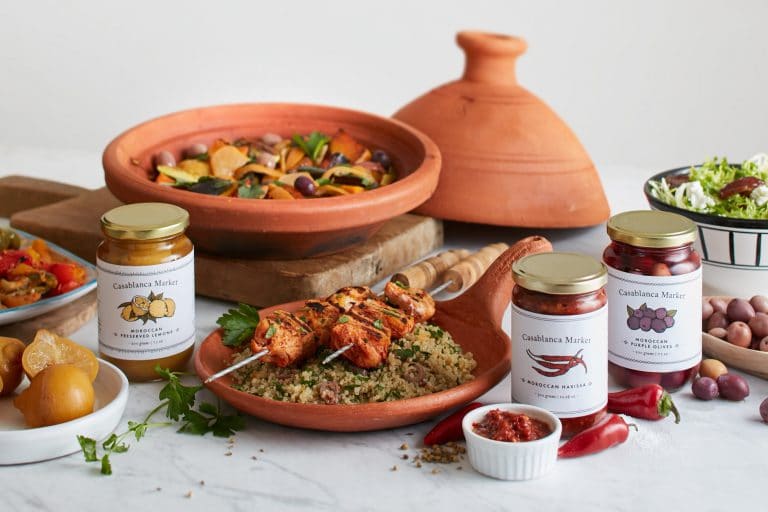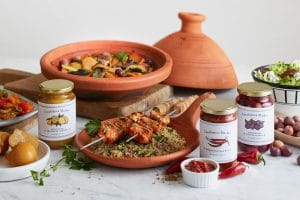 NEWARK, Calif.— In a continuing effort to present even more products with a decidedly Moroccan bent, Casablanca Market, (www.casablancamarket.com) introduces two exciting new flavors.
Made from age-old family recipes and a heritage that dates back to ancient times, Marrakesh Spiced Olives and Casablanca's new Tapenade offer a flavor delight previously unknown to the American market.
Packed in 10 oz. brim-filled jars, the Marrakesh Spiced Olives are a special combination of green pitted-olives, turmeric, Moroccan lemons, salt, and olive oil.
"Where it's grown makes a difference," said Casablanca Market founder and CEO, Katia Essyad. "Even though they are all from the Mediterranean, the Moroccan olives have an entirely different taste than Olives grown in Greece or France — God relishes diversity." When added to salads, pasta, pizza, tagine dishes, or even as an antipasto paring with wine and cheese, they add a uniquely flavored North African pop to the presentation and to the palate.
Preservation of traditional Moroccan flavors and heritage is key. "Our line of products are all hands-on, we use people to put these recipes together as I remember them from my childhood," said Essyad. "These are time-honored, traditional foods that I grew up with and want to share with the people here." She emphasizes that there are no massive machines involved in the production process, no artificial ingredients, no added chemicals or sugars. "It is essentially the ground, the water, and the salt," she said. "The salt has a lot to do with it, we preserve with the salt and a unique blending of citrus fruits." The result are new flavor dimensions that makes foods taste so much better!"
The French influence is heavy in Morocco, as evidenced by Casablanca Market's newest addition, Tapenade. Originating in Provence, France, tapenade is a flavor-packed dark, rich paste that adds a powerful tasty punch to a variety of foods. The French used capers as a key ingredient, the Italians used anchovies. "We add garlic, along with the Moroccan black olives, capers, spices, and extra virgin olive oil," said Essyad. "Our tapenade is a versatile spread that can enhance so many foods, from tuna fish to scrambled eggs, or even dabbed directly on a crisp slice of toasted crostini bread — it makes an added delicious difference to virtually any dish." She offered the tip of adding a little olive oil on the top of the inside of the jar to keep it better in the refrigerator, and added that "because we use fewer ingredients, using our tapenade won't alter your own recipe, it only makes it better."
Paying respect to her heritage, and bringing the flavors and foods of her childhood to a larger American audience are of major importance to Essyad, who stressed the authenticity and honesty of all of the Casablanca products. She understands that in a fast-paced modern society, people want better foods, but simply don't have the time or inclination to make them themselves. "We make a very convenient product for millennials and others, who want the experience of having a good dish, but don't have the time," she said. "They want to be adventurous with their tastes, but don't have the wherewithal. That's what we're doing, coming up with recipes and products that add flavor and accentuate the meal without a lot of effort to make it happen." All Casablanca Market products are non-GMO, vegan, gluten-free, and Kosher. "We're proud and excited to present these new condiments to a discerning public who know and appreciate an honest product that tastes fabulous," she said.
About Casablanca Market
Founded by Katia Essyad over 13 years ago, Casablanca Market is a woman-owned and operated business that became well-known and highly regarded for its selection of handmade Moroccan home décor and kitchenware, and now particularly so for its delectable new food products. Casablanca Market serves as a formal sponsor for a variety of skilled craftsmen and artisans, 80 percent of whom are women. For these craftspeople, our store serves as a secure marketplace to nurture and preserve artistic heritage. To all of our artisans, we pledge to provide a fair market for their goods, and the support they need to continue making their fantastic products and sharing their stories.