Boston's Saltie Girl Launches Saltie Girl Potato Chips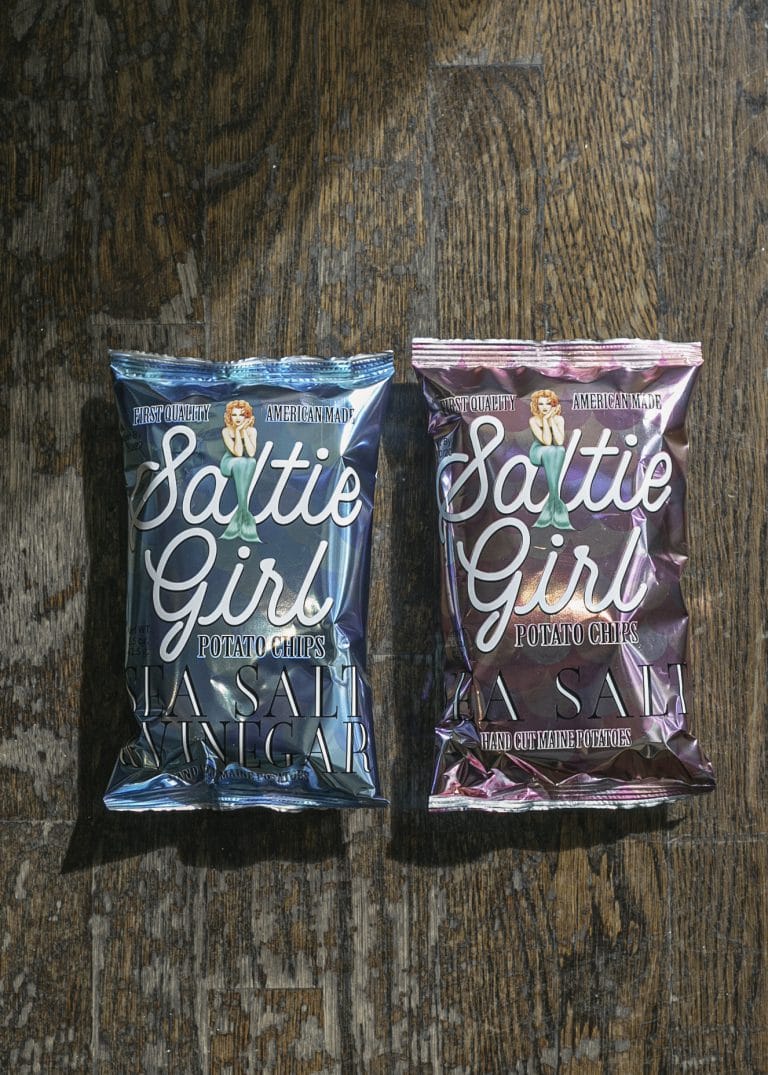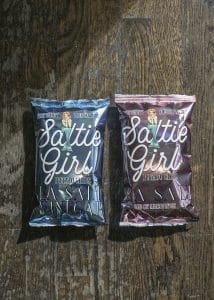 BOSTON— Saltie Girl has officially launched their newest venture, Saltie Girl Potato Chips. The move comes after customers proclamations of love for the crispy side dish served with several items on the menu over the past few years. The chips made with Maine-sourced potatoes will come in two flavors at launch, "Sea Salt," and "Sea Salt & Vinegar," with other flavors soon to join the lineup including "Truffle Parmesan" and "Caviar." The chips will be available for sale online at Saltiegirl.com, in-store at both Saltie Girl Back Bay and Saltie Girl at the Timeout Market for a retail price of $2.50. Larger distribution in New England, the U.S., and internationally is currently in process.
In celebration of the launch, the Saltie Girl chips will also be making their way into special menu integrations at all the Sidell Hospitality restaurants with dishes like: "Spicy Pimento Dip with Chorizo and Ritz Crumb with Saltie Girl Chips for Dipping" available at Met Back Bay, "Smoked Fish Dip with Saltie Girl Chips for Dipping" available at Stephanie's on Newbury and a very special caviar dip presentation at Saltie Girl highlighting the chips and the flavor of the sea.
For more information please visit www.saltiegirl.com.
About Sidell Hospitality
Sidell Hospitality, founded by Kathy Sidell in 2004, is comprised of MET Back Bay, Stephanie's on Newbury,  Saltie Girl in Boston's Back Bay neighborhood and at Timeout Market and The MET Natick in Natick, MA.
MET Back Bay occupies a historic brick townhouse on the corner of Newbury and Dartmouth Street, offering the best of Boston cooking, with a complete and varied dining experience.  If you're in the mood for a quick, casual bite at the bar or a long, festive and elegant dinner for family and friends or an intimate midnight snack in a romantic corner, you'll find the perfect spot at MET Back Bay.  For more information, visit www.metbackbay.com.
The MET Natick is located in the Natick Mall, featuring a casual yet intimate setting for enjoying the MET's innovative approach to classic American cuisine. For more information, visit www.themetnatick.com.
Stephanie's on Newbury is an institution in Boston when it comes to casual dining in the Back Bay. Located on one of Boston's most fashionable streets and close to some of the city's most upscale and popular shops and art galleries, Stephanie's has been serving award-winning "sophisticated comfort food" in a relaxed, inviting atmosphere since 1994. Stephanie's is casual elegance at its best with one of the city's most stylish sidewalk cafés and popular club-like bars overlooking Newbury Street. www.stephaniesonnewbury.com
Saltie Girl, is an intimate seafood bar nestled next to MET Back Bay on Dartmouth Street. Saltie Girl focuses on globally-sustainable iterations of fresh fish & seafood, be it fried, sautéed, raw, house-potted, smoked or tinned. For more information visit www.saltiegirl.com.
Saltie Girl at Timeout Market is the culinary outpost of Saltie Girl serving a paired down menu of Saltie Girls most popular dishes in a communal food market environment. Visit timeout.com/boston/restaurants/saltie-girl-time-out-market.
Kathy Sidell debuted her first book, "WHEN I MET FOOD, Living the American Restaurant Dream," in 2012 and has been featured on the Food Network, The CBS Morning Show, Beat Bobby Flay, NBCand numerous other broadcast, print and digital segments. In 2016 Kathy's "The Jacques Burger," which paid homage to her late father, won Red Robin's "Best of the Bash" Award at the 2016 Amstel Light Burger Bash® in Miami Beach as part of the Food Network & Cooking Channel South Beach Wine & Food Festival presented by FOOD & WINE. In 2019 Kathy appeared on Beat Bobby Flay and launched her first product line "Saltie Girl Potato Chips."
Like what you're reading?
Subscribe to BevNET+NOSH Today
Subscribe today and get access to the leading industry resources in the food &amp beverage industries. News, trends, industry data, expert analysis and much more.
Access all of these benefits:
Unlimited access to all content on BevNET.com and NOSH.com
Exclusive access to hundreds of educational videos
Watch subscriber-only live programs such as Office Hours