Big Spoon Roasters Announces New Packaging With 30% More Nut Butter Per Jar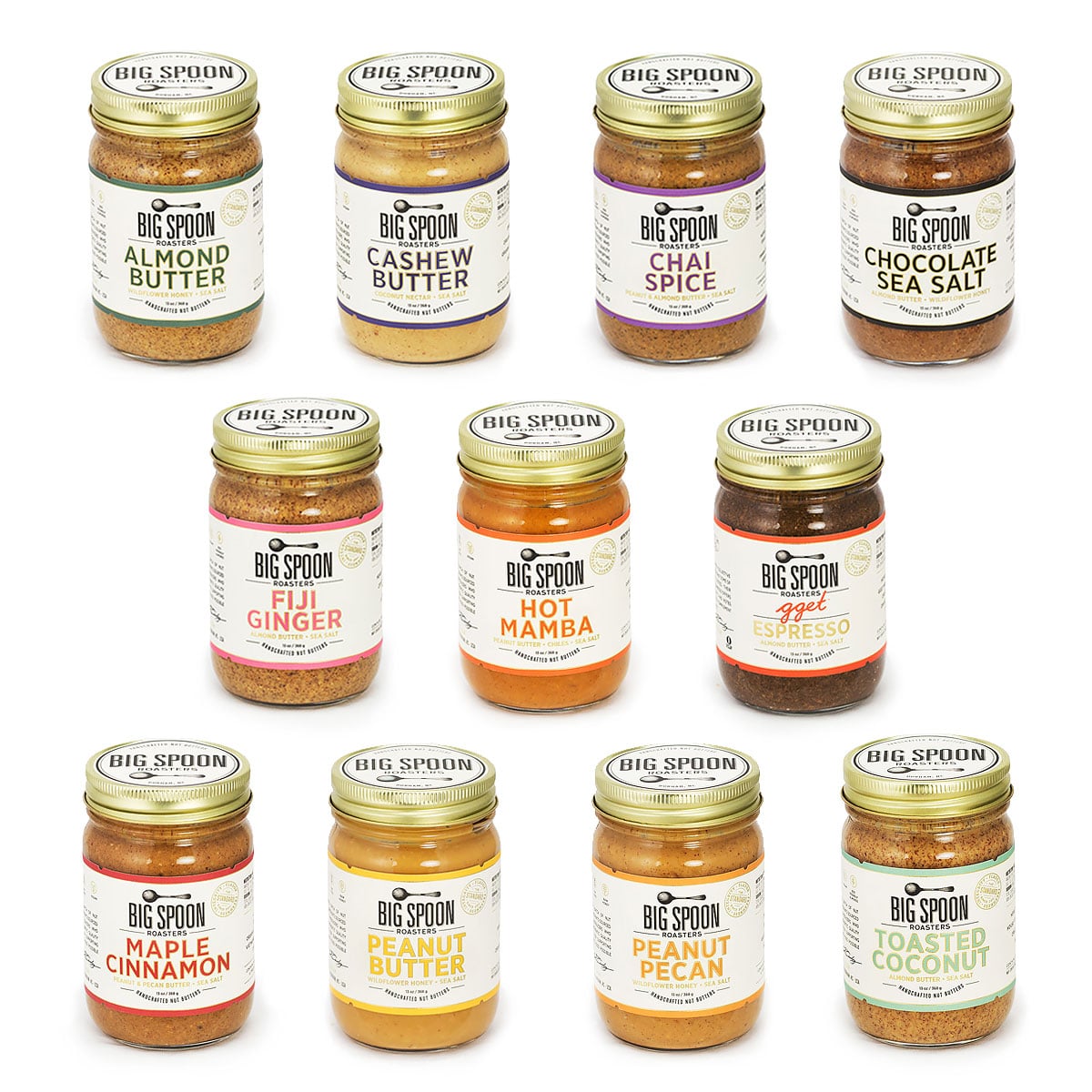 DURHAM, N.C.— Big Spoon Roasters has unveiled a packaging evolution that will add more variety, value, and shelf appeal to their line of small-batch, handcrafted nut butters. The new line offers a fresh assortment of recipes, an updated label design with more descriptive product names, a signature color for each nut butter, and 30% more nut butter per jar – all without a price increase. The change from 10 oz. to 13 oz. jars will also lower the price per ounce of Big Spoon Roasters' nut butters by 22-25% depending on the variety.
Nut butters in the new lineup include:
Almond Butter with Wildflower Honey & Sea Salt
Cashew Butter with Coconut Nectar & Sea Salt
Chai Spice Peanut & Almond Butter with Sea Salt
Chocolate Sea Salt Almond Butter with Wildflower Honey
Go Get Em Tiger Espresso Almond Butter with Sea Salt
Fiji Ginger Almond Butter with Sea Salt
Hot Mamba Peanut Butter with Chiles & Sea Salt
Maple Cinnamon Peanut & Pecan Butter with Sea Salt
Peanut Butter with Wildflower Honey & Sea Salt
Peanut Pecan Butter with Wildflower Honey & Sea Salt
Toasted Coconut Almond Butter with Sea Salt
"In the fall of 2018, the federal government announced new tariffs on glass raw materials from Asia, the primary source for most American glass makers. The new tariffs made our custom glass jars prohibitively expensive and we couldn't find a stock jar of the same size," said Big Spoon Roasters founder and president Mark Overbay. "Since we had to change our packaging, we decided to channel our frustration into a plan that would offer more value and clearer product information to our customers."
The new packaging will also be the first to announce Big Spoon Roasters' membership in the environmentally focused 1% for the Planet family of businesses, which pledges 1% of revenue to environmental causes. Additionally, the new lineup will include a collaborative espresso nut butter with L.A.-based Go Get Em Tiger; a new Cashew Butter blended with coconut nectar, coconut oil, and sea salt; and a new 4-pack sampler of 3 oz. jars featuring bestsellers Chai Spice, Fiji Ginger, Maple Cinnamon and Peanut Butter.
About Big Spoon Roasters
Big Spoon Roasters makes handcrafted nut butters and snack bars from scratch with world-class ingredients sourced directly from local and like-minded producers who share their dedication to authentic quality and sustainability. Big Spoon Roasters believes that food choices matter, and their mission is to build healthier relationships with our planet through delicious, nutritious foods made without compromise.