Barilla Launches New Line of Premium Italian Sauces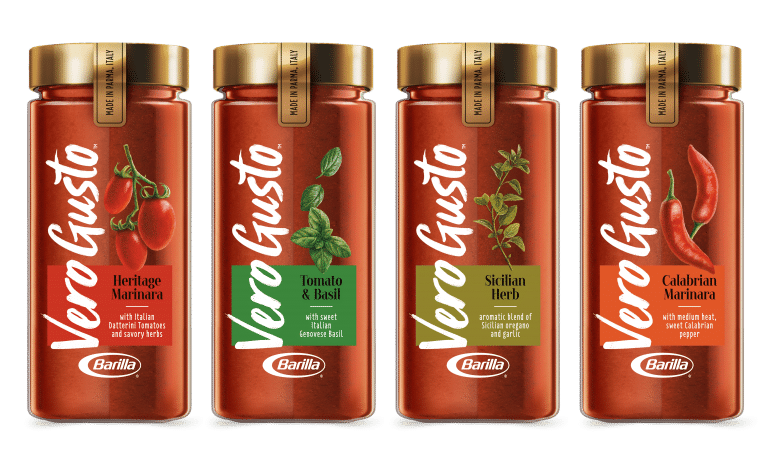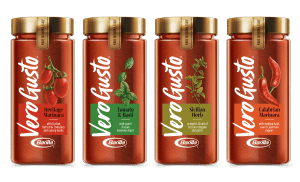 PARMA, Italy— Vero Gusto – a line of new premium Italian sauces from Barilla – is artfully crafted in Italy from the finest Italian-grown ingredients, each selected to provide genuine texture and taste. Translating to "true taste," Vero Gusto features four varieties, each with a signature Italian ingredient sourced from across the region. All varieties contain 100% Italian tomatoes, no artificial ingredients, no preservatives, no paste, no added sugar, no citric acid, no water and is GMO-project verified, kosher and gluten-free.
Vero Gusto Tomato & Basil features Genovese Basil, which is harvested in select areas of Genoa in the rich soil by the Mediterranean Sea
Vero Gusto Heritage Marinara features 100% Italian Datterini Tomatoes, a naturally sweet, juicy, flavor-packed tomato grown in open fields and always sun-ripened sourced from Emilia Romagna and Lombardy regions
Vero Gusto Calabrian Marinara features Calabrian Pepper, a bright aromatic pepper with smoky, spicy and fruity notes that is native to the Mediterranean climate of the Calabrian region of Italy
Vero Gusto Sicilian Herb features Sicilian Oregano, a robust and intense aromatic herb, making it a favorite ingredient of Southern Italian cuisine.
Vero Gusto is best used within five days of opening. Unused portion must be refrigerated after opening. Vero Gusto has a shelf life of 15 months at room temperature.
There are 4.5 servings per container. Each serving is half a cup.
Vero Gusto will be sold at a great value compared to other premium sauces, delivering true Italian taste for just $5.99.
Vero Gusto can be found on Amazon.com and select coastal retailers with plans for national distribution February of 2020.
About Barilla
Barilla is a family company, not listed on the stock exchange, chaired by brothers Guido, Luca and Paolo Barilla. It was founded by their great-grandfather, Pietro Barilla, who opened a bakery in Parma in 1877. Now, Barilla is famous in Italy and throughout the world for the excellence of its food products. With its brands – Barilla, Vero Gusto, Mulino Bianco, Pan di Stelle, Gran Cereale, Harrys, Pavesi, Wasa, Filiz, Yemina and Vesta, Misko, Voiello and Cucina Barilla – it promotes a tasty, joyful and healthy diet, inspired by the Mediterranean Diet and the Italian lifestyle.
When Pietro opened his store more than 140 years ago, his overriding aim was to make good food. Today, that principle has become Barilla's way of doing business: "Good for You, Good for the Planet," a slogan that expresses the daily commitment of the over 8,000 people who work for the company, and of a supply chain that shares its values and passion for quality.
"Good for You" means constantly improving the product offering, encouraging the adoption of healthy lifestyles and facilitating people's access to food.
"Good for the Planet" means promoting sustainable supply chains and reducing CO2 emissions and water consumption.
To learn more: www.barillagroup.com; Twitter: @barillagroup
Like what you're reading?
Subscribe to BevNET+NOSH Today
Subscribe today and get access to the leading industry resources in the food &amp beverage industries. News, trends, industry data, expert analysis and much more.
Access all of these benefits:
Unlimited access to all content on BevNET.com and NOSH.com
Exclusive access to hundreds of educational videos
Watch subscriber-only live programs such as Office Hours