Bakery On Main Introduces Unsweetened Organic Oats & Happiness Oatmeal Cup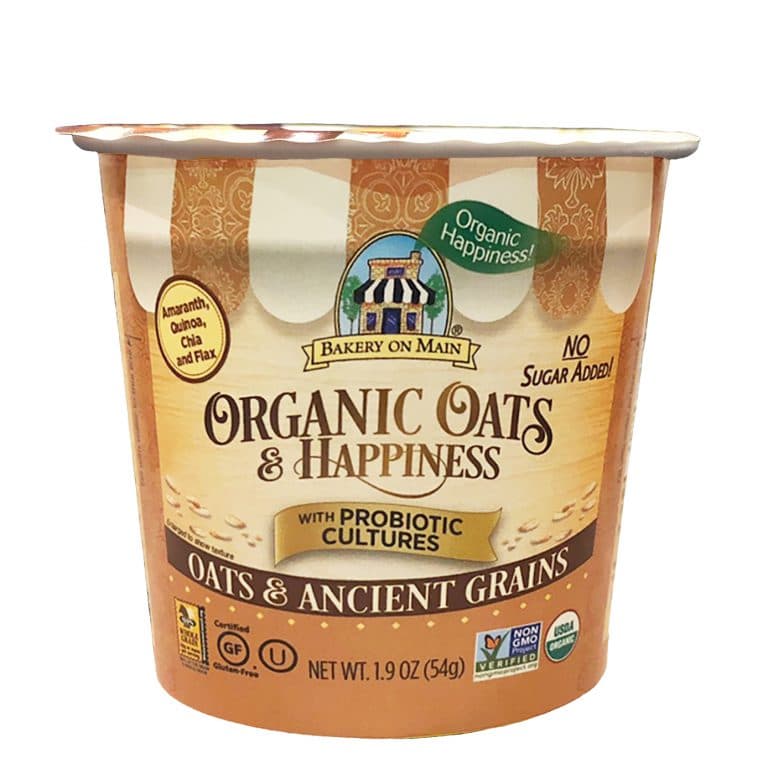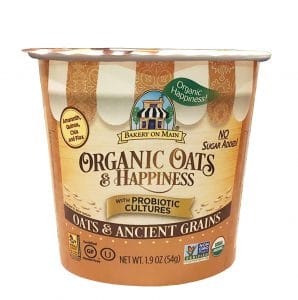 EAST HARTFORD, Conn.– Bakery On Main is expanding their oatmeal cup line to include a new USDA Certified Organic Oats and Ancient Grains, unsweetened option. This new oatmeal cup will be offered in the same convenient, on-the-go, single serve cup packaging to bring a wholesome, no-sugar added option made with premium ingredients and probiotic cultures that support immune health, to your cup set in both Natural and Conventional retailers. With organic oatmeal cup sales on the rise with a 63 percent increase over a 52-week period (as of Sept. 9, 2018 throughout MULO, sourced from SPINS) this new Organic Oats & Happiness Oats & Ancient Grains oatmeal cups will be a strong category addition.
Bakery On Main's 1.9 oz. Oats & Ancient Grains oatmeal cup combines wholesome, organic whole grain oats, organic amaranth, organic quinoa, organic chia seeds and organic flax seeds. This cup offers 50 g of whole grains per serving and probiotic cultures to support immune health. With 580 mg of ALA (36 percent of the 1.6 percent daily value for ALA), Bakery On Main's new Oats & Ancient Grains oatmeal cup is an Excellent Source of ALA. It is also an excellent source of fiber with only 4.5 g of fat per one serving.
Loaded with wholesome and clean ingredients, the convenient, single serve cup packaging and easy preparation by simply filling with water, microwaving and stirring, or by simply adding boiling water, makes these cups perfect for consumers seeking convenience and great taste. This new line extension is currently rolling out at selected retailers across the country and immediately online for an SRP of $2.49 per single 1.9 oz. oatmeal cup.
"Bakery On Main strives to always offer the highest quality products and our Organic Oats & Ancient Grains oatmeal cup is no exception," said founder and president Michael Smulders. "With no sugar, premium organic grains, and the addition of beneficial probiotics, consumers can feel good adding this into their breakfast routine."
Inspired by Michael Smulders' passion for creating clean and wholesome items that taste delicious, Bakery On Main's Organic Oats & Happiness oatmeal cup fits right in with the Bakery On Main family of products. Everything Bakery On Main offers is third-party certified gluten-free, Non-GMO Project Verified, OU Kosher, vegetarian with many vegan options, certified organic for many items and everything is made in Bakery On Main's dedicated gluten-free facility. Created by a fiercely ethical company that prides itself on making products that consumers can trust and enjoy, this new oatmeal cup addition is sure to not disappoint.
About Bakery On Main
Founded in 2003, independently-owned Bakery On Main began creating premium, gluten-free products with a clean ingredient list in the small bakery of a natural foods market on Main Street in Glastonbury, Connecticut. Founder Michael Smulders made it his mission to create products for his celiac customers that were wholesome and delicious. Today, the company continues to bake with the same loving care that was used at the original bakery. State-of-the-art quality controls and in-house gluten-free testing are conducted on every made-to-order product batch. Bakery On Main is proud to be one of the largest Certified Gluten Free (GFCO) and Non-GMO Project Verified facilities in the country. For more information, visit BakeryOnMain.com and find the brand on Facebook and Twitter.