Audrey's Chia Launches Four Chia Cookie Flavors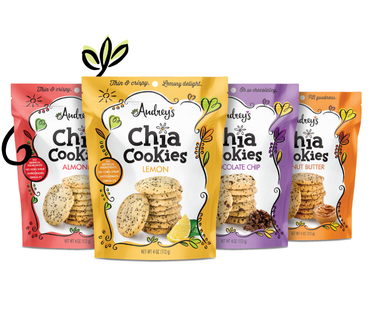 MESA, Ariz.— Mesa-based Audrey's Chia, a snack company committed to offering healthy options for people to treat themselves better, has launched a full line of original chia cookie flavors, a rare find in the all-natural cookie lineup. Audrey's Chia Cookies are now available in Lemon, Almond, Chocolate Chip and Peanut Butter.
"We are very excited to see Audrey's Chia Cookies selling quickly online and making their way onto store shelves," says Audrey Martinez, founder of Audrey's Chia. "The support and excitement from so many in the Mesa community, as well as those across the country, has fueled my passion to get chia seeds into the hands of everyone I know. These cookies are just the most delicious way I can do that, and I'm so happy to hear how much people are enjoying them."
A superfood in its own right, chia seeds are an excellent source of fiber, omega-3 fatty acids and quality protein, while loaded with antioxidants. Each bag of Audrey's Chia Cookies contains one full tablespoon of chia seeds, the most important cookie ingredient according to Audrey, who discovered the mighty chia seed at the age of 50, while training for her first marathon.
"From the first day that I began incorporating chia into my lifestyle, I could tell a difference…a difference in my energy, endurance, clarity of mind, gut health, the list seemed endless," says Audrey. "I suddenly felt as though I could run for days, and I was more determined than ever to find new ways to incorporate these nutrient-dense seeds into my daily routine, as well as the routines of everyone I knew! I wanted to offer people a way to fuel the body and satisfy cravings for a sweet, indulgent treat. The question was how? And then it hit me, my favorite treat: crisp, crunchy cookies.
Audrey's Chia Cookies are created with all-natural, non-GMO ingredients, free from preservatives, dyes and corn syrup. More information can be found at www.audreyschia.com, and they are available for purchase online at Amazon, Vitacost and Kroger SHIP. Arizona customers can find them in store at AJ's Fine Foods, Fry's Food and Drug (January) and several independent stores, with more in-store shopping options coming soon.
About Audrey's Chia
Audrey's Chia was founded in 2017 by Audrey Martinez in Mesa, Arizona. Audrey's Chia provides delicious chia seed snacks made with the highest quality, all-natural ingredients to fuel the body while satisfying cravings for a sweet, indulgent treat.