Zoup! Launches Certified Organic Chicken & Veggie Broth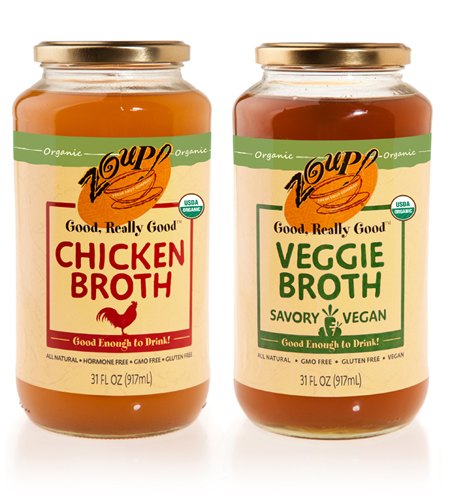 Southfield, MI – Zoup! Good, Really Good™ Broth, which has been breaking the boundaries of taste on retail shelves, is introducing two USDA certified organic broths to its premium lineup. Created by a 20+year soup industry veteran and made using restaurant-quality cooking methods and standards, the new organic broths are kettle cooked in small batches using the freshest and finest organic ingredients.
Available in chicken and veggie varieties, each possesses a richness not often found in pre made broth.The organic chicken broth is complex, yet balanced, with a comforting chicken flavor, while the organic veggie broth is 100% vegan and features savory notes of roasted vegetables. The broths are also low in calories, paleo-friendly/zero-carbs, and completely free of hormones, gluten, GMO's, fat, trans fat and saturated fat. Each serve as a perfect base for hearty soups, casseroles, rice or grain dishes.
Shared Zoup!'s founder and CEO Eric Ersher, "When we first created Zoup!Good, Really Good™ Broth five years ago, our goal was to develop a better-tasting broth that was good enough to drink. We refined the recipe and proudly brought to market a retail broth that offered the taste and quality we felt people deserved. Adding organic varieties to our current lineup of clean-label offerings was a natural next step for us, and the simple ingredients and homemade flavor of these new broths make them unlike anything else you'll find on grocery store shelves."
The differentiated products are packaged in 31 fl oz glass jars to showcase the broth's rich and full-bodied flavor. Zoup! Good, Really Good™ Certified Organic Chicken and Veggie Broths are currently available to retailers nationwide. The SRP is $7.99 per jar.
About Zoup! Fresh Soup Company
Zoup! got its start in the soup business as a fast-casual franchise group of restaurants. The family-friendly locations serve award-winning soups year-round at nearly 100 locations across the U.S. andCanada. Interested in leveraging their industry experience and bringing restaurant-quality taste to the retail market, partners Eric Ersher and the Zoup! team set out to create a super-premium broth lineup made with clean ingredients and a homemade taste that was good enough to drink. F