Yasso Frozen Greek Yogurt Launches Line of Seasonal Flavors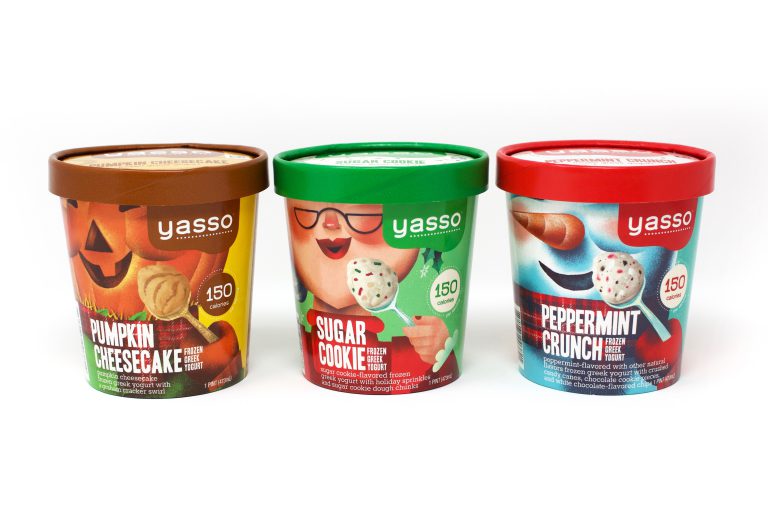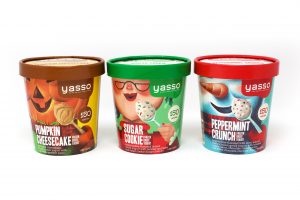 QUINCY, Mass. — Yasso Frozen Greek Yogurt today announced the launch of its first-ever line of limited-edition seasonal flavors all available in the brand's signature stick novelty bars and new pint varieties.
The three new flavors for fall and winter include Pumpkin Cheesecake, Sugar Cookie and Peppermint Crunch, all of which will be available at select retailers nationwide. Pumpkin Cheesecake will hit shelves this month, with Sugar Cookie and Peppermint Crunch following in November, while supplies last.
"The launch of new seasonal flavors is another example of Yasso continuing to bring innovation to the frozen novelty and packaged ice cream category," said Drew Harrington, co-founder and co-CEO of Yasso. "These new items double down on indulgence and provide the nostalgic tastes of the season, but in a format that can be enjoyed frequently and with sensible nutrition" continued Harrington. "We had a lot of fun with their development and feel we'll create an exciting shopping experience through our unique holiday designs."
The seasonal collection brings with it refreshed, creative packaging, conceptualized and designed by Fortnight Collective, that will stand out in the crowded freezer aisle with holiday inspired characters to create an eye-catching and joyful experience for the shopper. Each new flavor boasts 120-150 calories per serving with 5 to 6 grams of protein and no artificial or high-intensity sweeteners like erythritol. Each item will also incorporate Yasso's signature inclusions to bring tasty, indulgent flavor to every bite:
Pumpkin Cheesecake: It's the season's hottest flavor in frozen greek yogurt form. We swirled graham cracker magic in a frozen pillow of creamy pumpkin cheesecake deliciousness. You can have your cheesecake and eat seconds, too!
Peppermint Crunch: Delicious crushed candy canes, chocolate cookie pieces, and white chocolate-flavored chips collide with peppermint frozen greek yogurt in this holiday favorite. Indulge without landing on the naughty list.
Sugar Cookie: Colorful sprinkles and chunks of delicious sugar cookie dough are caught in a frozen cloud of sugar cookie frozen greek yogurt. Every day can feel like Christmas morning!
This launch follows the brand's recent release of its line of pints in March 2018. Yasso chose to expand with these new seasonal iterations based on 2017 IRI data that showed increasing incremental sales and consistent popularity of these holiday varieties. In novelties, pumpkin flavor sales have seen a 187% increase year over year, and in both novelties and packaged ice cream, cookie flavors have seen a 4% uptick. As for the popularity of peppermint, these flavors were valued at $4.5 million.
To get your hands on the latest from Yasso, visit the freezer doors of your nearest retailer and tag @yasso if you share your seasonal finds! To learn more, please visit www.yasso.com/products/seasonals.
About Yasso
Kindergarten friends turned entrepreneurs, founders Drew Harrington and Amanda Klane set out on a mission to create desserts that deliver on everyday indulgence with great taste, quality ingredients and superb nutritionals. Since hitting store shelves in 2011 as the first to market frozen Greek yogurt, Yasso quickly became one of the fastest-growing dessert brands in the world, disrupting the brand ranks of deeply entrenched competitors and attracting a loyal following of brand enthusiasts. Yasso currently offers 16 flavors of stick bars and 8 brand new pints, all of which can be found at major grocery and club stores nationwide. To find your local retailers and to learn more about Yasso, please visit www.yasso.com and follow @yasso.