Whirlybird Granola Debuts Packaging for On-The-Go Consumer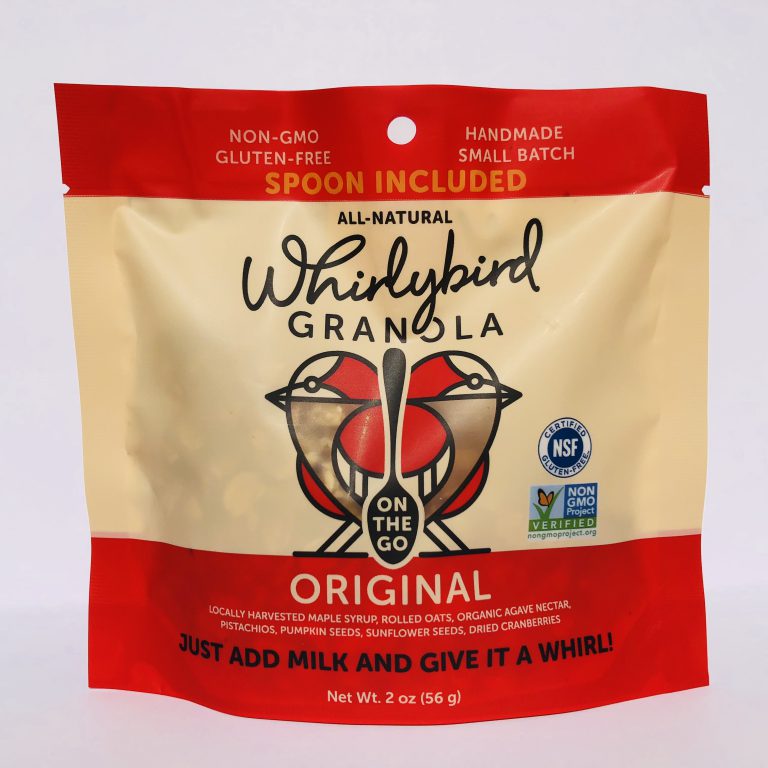 CINCINNATI — Whirlybird Granola, a Cincinnati-based company focused on a transparent and authentic approach to granola, has announced an innovation in packaging. Soon to be available online and in select retailers at an SRP of $2.49 for each two-ounce package, the brand reveals a convenient two-ounce package for the grab-and-go consumer. Included is a collapsible spoon that invites consumers to use the package as a bowl. Today's on-the-go shoppers can rely on the single-serve package as an efficient solution to their quick breakfast and snacking needs as Whirlybird once again aims to serve the market with a healthy alternative to what is currently on grocery shelves.
Whirlybird Granola's newest addition to its branded line of products was conceived from consumers' daily challenge to supplement their diets with nutritionally sound foods, all the while serving their busier than ever lifestyles. In an effort to be a major catalyst towards a solution, the new two-ounce package offers convenience, health, satiety and innovation. Adapting with and for shoppers, the collapsible spoon is a feature health-minded consumers will appreciate as they continue to navigate a world that moves faster than ever before.
"Whirlybird's mission itself speaks to our passion for providing shoppers with health without sacrificing taste. The grab-and-go package allows us to make our way into the hands of even more consumers looking for a solution to their everyday nutritional challenges," said founder, Christy White. "We're excited to bring this innovation and expansion of the Whirlybird Granola product line to current fans of the brand, while also expanding our reach to future and potential brand lovers."
An annual growth rate of 10.4 percent between 2006 and 2014 launches the supermarket fresh prepared foods segment into the food industry's group of highest performing subdivisions, according to recent studies. The category is primed for growth and innovation, especially as consumers begin to vocalize their desire for increased options that serve their needs for convenience and speed, as well as bold flavor and nutritional transparency. Furthermore, consumers are looking for full-disclosure in all ingredients and ethically sourced and processed foods. With Non-GMO Project Verified, Vegan Certified and USDA Organic ingredients, the Whirlybird Granola brand serves just that need. The two-ounce package specifically, with spoon included, taps into this emerging need.
About Whirlybird Granola
Whirlybird Granola is dedicated to using only the highest quality ingredients, free from any artificial ingredients, high fructose corn syrup, or additives. Each small batch is sweeten with Ohio pure maple syrup and organic agave nectar. Whirlybird Granola never uses canola oil and only relies on extra virgin olive oil to provide all of the nutrients without the genetically modified organisms.
https://www.facebook.com/whirlybirdgranola
https://www.instagram.com/whirlybirdgranola/