The Vine Releases 'Simply Marinara'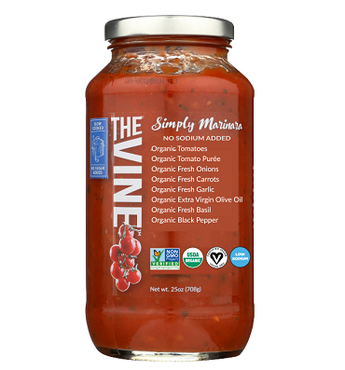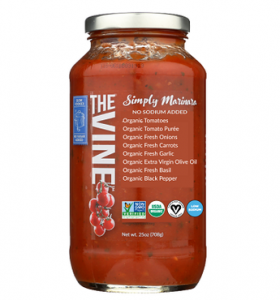 MANHASSET, N.Y. — The Vine, is an all-organic, low sodium brand, bringing you a multitude of flavor profiles without compromising on healthful nutrition. With their lines of pasta sauces, salsas, and ketchups, their products are sure to please.
The new addition to their line is their 'Simply Marinara'. Free of any added sodium, this smooth marinara has only the sodium naturally occurring in the fresh tomatoes, onions, and carrots used in the recipe. It is certified organic, non-GMO, vegan, dairy-free, gluten free, and low sodium. Additionally, it is free of any added sugars, preservatives, and fillers. With hints of organic black pepper and basil, this sauce is a wonderful pairing with any pasta dish. Additionally, it can be used as a lighter pizza sauce or enjoyed with chicken, turkey, or a meat of your choice. Using only the freshest ingredients in our products allows The Vine to be proud of our products, as well as ensure that their products are going to contribute to the health and well-being of their customers.
In addition to the Simply Marinara, The Vine offers an array of other marinaras, including: Butternut Squash, Original, Vegan, and Calabrian. Be sure to check out their Instagram @foodsofthevine for ideas on recipes.
About The Vine
The Vine begain in 2014 out of a small kitchen in Long Island. Eve Durante, Founder and CEO, wanted to re-vamp family recipes, and what started as a hobby soon became a hit amongst local family and friends. Since its' inception as a marinara sauce company, The Vine has now grown to sell a line of salsas and a ketchup. All products are certified Organic, Non-GMO, dairy free, gluten free, and low sodium. All products are vegan, except for the ketchup, which is sweetened with honey. They are available at retailers across the country including: Fairway, King's, Balducci's, Ingles, Grace's Market, Central Market, Amazon and more!
www.foodsofthevine.com