TRUWOMEN Launches Female-Powered Nutrition Brand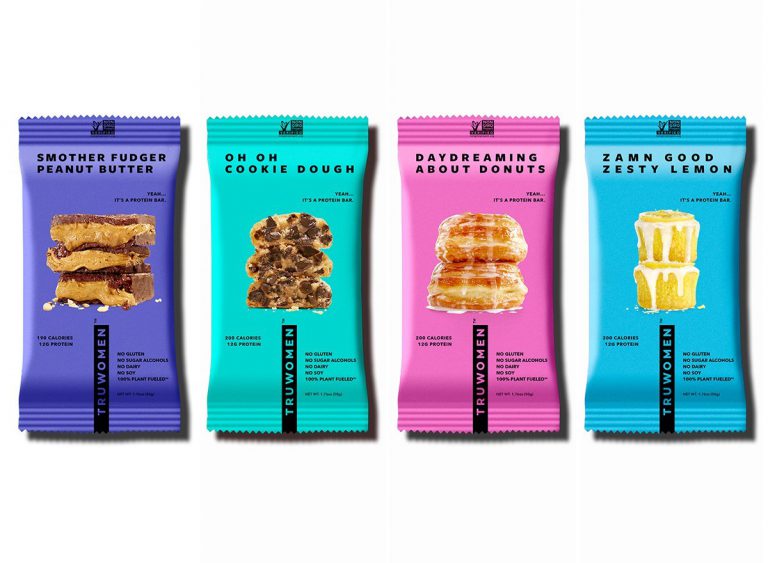 LOS ANGELES — TRUWOMEN, an LA-based nutrition company, is making its official debut with the launch of its first product offerings, TRUWOMEN bars and powders. Inspired by the spirit of dessert, the playful lineup of four flavorful bars and two powders are made with plant fueled, protein-packed and clean ingredients. Introducing a first-of-its-kind food category called "indulgent nutrition," TRUWOMEN is dedicated to encouraging women to treat themselves in healthy, nutritious ways that promote positive self-image and self-care while satisfying cravings for decadent taste. Beyond its tasty bars and powders, TRUWOMEN brings its perspective of women-centric product design to its business practices by prioritizing female-led or -owned vendors and partners.
In a world where "healthy" and "good taste" rarely go hand-in-hand, TRUWOMEN boldly sets out to bring consumers a brand that celebrates amazing flavor and nutrition instead of calorie counting, dieting and body image stereotypes. The company wants to move the industry away from shaming terms like "thinking thin," "slimming fast" and "being perfect." TRUWOMEN understands women often put needs before wants, and aims to marry the two with products that give women the nutrition they need and taste they crave.
After talking to female consumers in 2016, TRUWOMEN bars and powders were created to satisfy the flavor craving of a treat like a candy bar, cake or cookie without the empty calories and junk. The first offering of fun, drool-worthy flavors include Daydreaming About Donuts, Oh Oh Cookie Dough, Smother Fudger Peanut Butter and Zamn Good Zesty Lemon protein bars and Va Va Voom Vanillaand You're Mocha Me Cocoa protein powders. Based on what women recommended, the products are made with simple, premium ingredients straight from nature like cassava flour, almonds, brown rice, lemon, sunflower, cashew and chocolate. With 12 grams of protein in each bar and 15 grams of protein in each seving of powder, TRUWOMEN provides the healthy fuel your body craves without compromising on taste. The products are certified gluten-free, dairy- and soy-free, and are plant fueled (vegan), made with non-GMO ingredients and do not contain any bloat-causing sugar alcohols.
"When it comes to creating healthy bars with lots of protein, no one thought tasting good was an option," said Karyn Gayle, Vice President of TRUWOMEN. "Food is meant to be enjoyed and TRUWOMEN allows you to feel good about what you're eating. The DNA of our brand is driven by a female-first approach to everything we do— from the design of the bars to our women-powered business model and support of female-led partners. Our name is reflected in our products, team and infrastructure to prioritize and elevate women all over the world."
The promise of TRUWOMEN to be fun, honest and confident with its consumers by delivering flavor-first indulgent nutrition extends to its business model by partnering with female-founded or -led companies in order to help build the brand. For example, the TRUWOMEN manufacturing facility is run by two families with female leadership and products will be packed by the Women's Bean Project, who hires at-risk women – victims of domestic violence, recovering addicts and women who have been incarcerated. Many of TRUWOMEN's other partners, from its lawyers to its ad agency to its PR team, are female-led, female-founded or have significant representation at the table. These are real examples of how the brand is prioritizing and making an economic impact in the lives of women and the communities those women support.
"We do not buy into the myth that there is only one leadership seat at the table for a woman or for a person of color," said Rafferty Jackson, President at TRUWOMEN. "We are consciously creating a better table, of women and diverse talent, for decision making to deliver better products to our consumers."
"When we asked women what they wanted, they told us about their nutritional needs, but great taste didn't come up until we asked them. Not because they didn't want it – but because they didn't think they could have it," said Karyn Gayle, Vice President at TRUWOMEN. "Yes, we make products that are good for you. But the key is starting from a place of flavor, not numbers on a nutrition panel. We use real food in our bars and powders – ingredients that I grew up with, like cassava, brown rice, almonds and split peas – ingredients my grandmother would recognize and that our bodies know how to process. TRUWOMEN reminds us simpler is better."
Experienced business and marketing executives Rafferty Jackson (President) and Karyn Gayle (VP of Marketing) are leading the company's development. TRUWOMEN has received investment and guidance from former CMO of Beats by Dr. Dre and VP of Marketing at Apple, Omar Johnson.
With further product offerings on the horizon, TRUWOMEN's goal is to inspire other companies to embrace a new model for reaching and impacting female consumers. TRUWOMEN products are now available for purchase online at Amazon.com and TRUWOMEN.com.