Tony's Chocolonely Launches Limited Edition Bars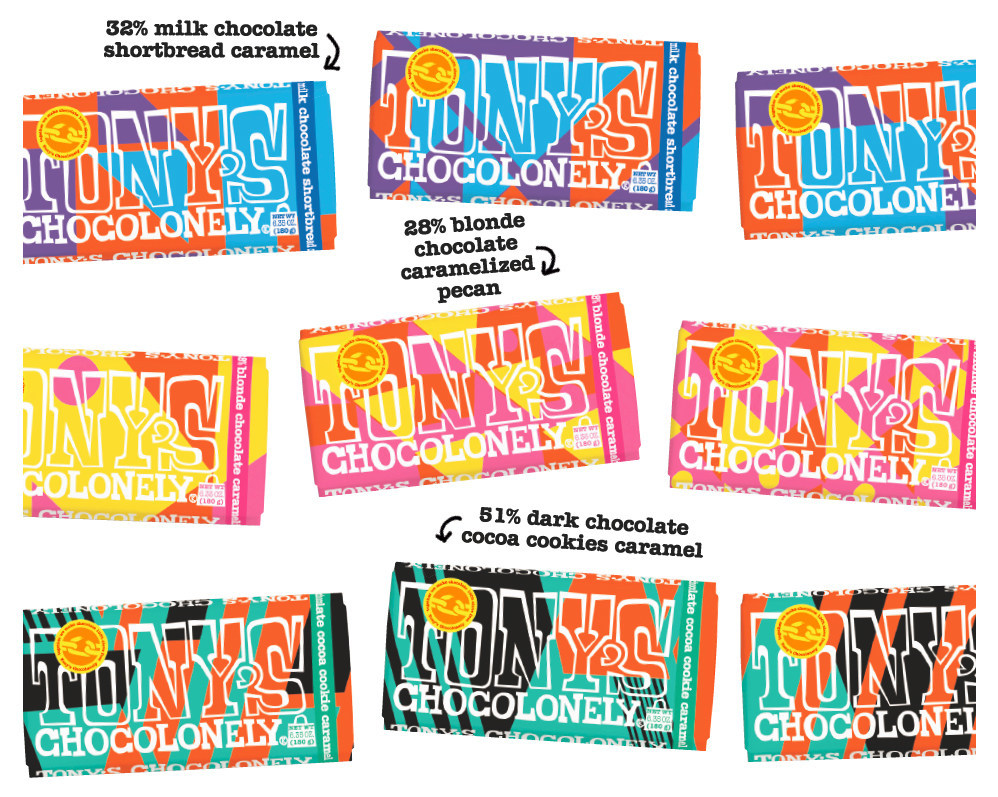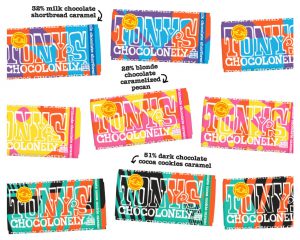 PORTLAND, Ore. — For the first time ever, Tony's Chocolonely, a B-Corp certified company making 100 percent slave free chocolate, is bringing its Limited Edition bars to the USA in three delicious flavors. Available while supplies last online and in select retailers beginning today, the Limited Edition bars celebrate all things caramel, unique and playful design and of course, chocolate made with the mission to ban modern slavery and exploitation in the cocoa industry.
Tony's first launched its Limited Edition bars concept in 2011 in the Netherlands to help smaller retailers have a competitive edge by offering special products. Released only once per year, the Limited Edition bars come in three delicious flavors that share a common theme, each in a specially designed wrapper. The first set of Limited Edition bars in the US is all about caramel. The colorful wrappers are based on three patterns inspired by African design, each and every bar completely unique thanks to an algorithm that created more than 50,000 one-of-a-kind designs.
Caramelicious – Limited Edition Flavors:
28% Blonde Chocolate Caramelized Pecan
Lucky you! You're holding one of our 3 Limited Edition bars. This blonde chocolate bar is a tasty mix of our white and dark chocolates with caramelized pecans. Sweeet!
32% Milk Chocolate Shortbread Caramel

This Limited Edition taste like one in a millionaire's shortbread! Shortbread bits and chewy caramel in our famous creamy milk chocolate.

51% Dark Chocolate Cocoa Cookies Caramel

This Limited Edition goes out to all the cookie lovers out there. Dark chocolate with pieces of caramel and cocoa cookies made from our very own cocoa powder.
The Limited Edition bars are available beginning today at New Seasons, Cost Plus World Market, The Fresh Market, select independent retailers and online at Tonyschocolonely.com for $5.99 per bar.
Serious Partners with AFRIEK
Tony's and AFRIEK, a Dutch fashion label that aims to change the bias of Africa by selling high-end fashion from Rwanda and equal collaboration with their partners, have teamed up to create one-of-a-kind totes in celebration of the Limited Edition launch. Like the wrappers, the bags will come in three totally unique prints corresponding to the three wrapper designs. Inside the bag is a label with the name of the bag maker and a place to put the owners name, this gesture refers to the equality between maker and owner. The bags will be available exclusively online at Tonyschocolonely.com with the three Limited Edition bars for $24.99 + shipping and handling.
Serious friends
Tony's vision is 100 percent slave-free chocolate. Not just their own chocolate, but all chocolate worldwide. They can't do it alone, so they need all the help they can get. Wanna see what you can do to help? Tony's invites everyone to join their mission and become serious friends on their website tonyschocolonely.com.
About Tony's Chocolonely
Tony's Chocolonely was founded to ban modern slavery and exploitation in the cocoa industry. They're not an average company. But a chocolate company that wants to solve a social problem in the world. Since its founding by the makers of the Dutch television program 'Keuringsdienst van Waarde' in 2005, Tony's Chocolonely has been fighting for slave-free chocolate. They not only want to make their own chocolate 100% slave free, but all chocolate worldwide. They buy the cocoa beans directly from partner cooperatives in Ghana and Ivory Coast and work closely with them. This is how they set the example that chocolate can be made differently. And so, they inspire others to follow them. And you can participate too. The more people choose slave-free chocolate and share Tony's story, the sooner 100% slave-free chocolate becomes the norm.
TONY'S CHOCOLONELY. CRAZY ABOUT CHOCOLATE, SERIOUS ABOUT PEOPLE