thinkThin Launches Protein & Probiotics Hot Oatmeal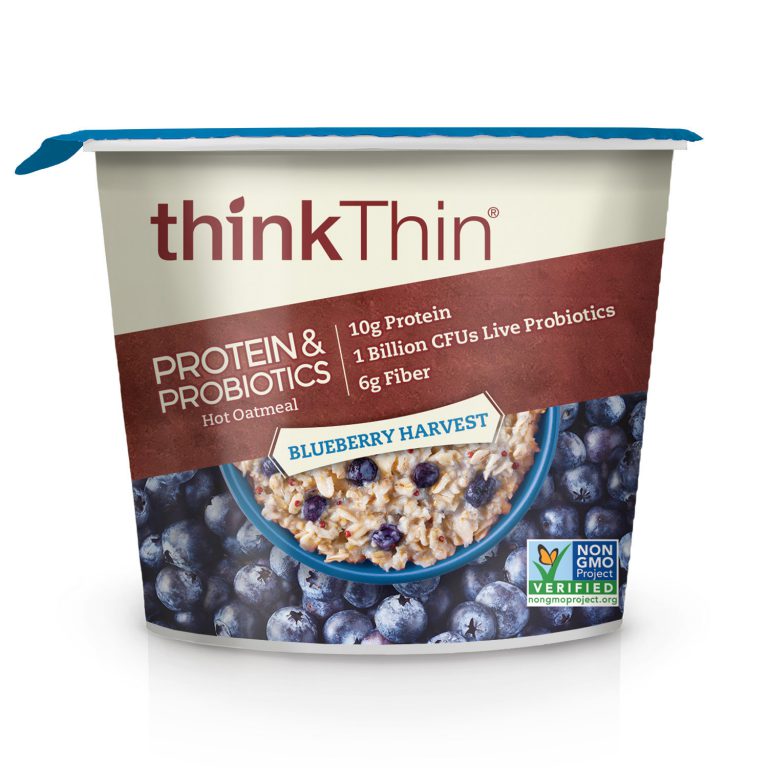 LOS ANGELES — Summer is heating up and so are probiotics! Capitalizing on one of the hottest trends found in foods like kombucha, kefir, and yogurt, thinkThin, a leader in protein bars and foods, is introducing its first line of Protein & Probiotics Hot Oatmeal. While many probiotics products are consumed cold, thinkThin has put an innovative twist on probiotics by offering a hot, tasty breakfast option complete with a trifecta of wellness benefits.
thinkThin Protein & Probiotics Oatmeal is specially crafted with 1 billion CFUs of live probiotics to support overall wellness, 6 grams of fiber to help support digestion, plus the benefit of 10 grams of protein to help provide satiety and energy to start the day. The line of delicious oatmeal is also Non-GMO Project Verified, Gluten Free, Kosher, with no artificial flavors or sweeteners, all at 200 calories or less.
"thinkThin was one of the first brands to bring the healthy combination of protein and added fiber in an oatmeal," said Michele Kessler, CEO of thinkThin. "We continue to innovate in the oatmeal category by launching our first hot probiotic format. Protein & Probiotics Oatmeal has been crafted for optimal nutritionals that support overall wellness."
Each serving features a wholesome blend of hearty rolled oats, steel cut oats, red quinoa, chia seeds and probiotic cultures. Served in an easy-to-use bowl that only requires hot water or a microwave, the three flavors available are:
Cinnamon Almond with real cinnamon, sliced almonds and a hint of brown sugar Maple Pecan with real maple syrup and pecan pieces Blueberry Harvest with sweet, whole blueberries
thinkThin Protein & Probiotics Hot Oatmeal will be debuting in retailers nationwide this summer, starting with Walmart. The full line can also be purchased on thinkproducts.com.
About thinkThin
Since launching in 1999, thinkThin has been committed to making food that is as nutritious as it is delicious. From High Protein Bars that are certified gluten-free to Protein & Fiber Hot Oatmeal made from non-GMO ingredients, thinkThin® believes in using high quality ingredients that provide a good source of protein. thinkThin has been recognized by media industry leaders such as The New York Times, Los Angeles Times and Forbes, as well as Entrepreneur Magazine, which named thinkThin as one of the most innovative consumer brands. For more information, please visit www.thinkproducts.com.