Taali Launches Water Lily Pops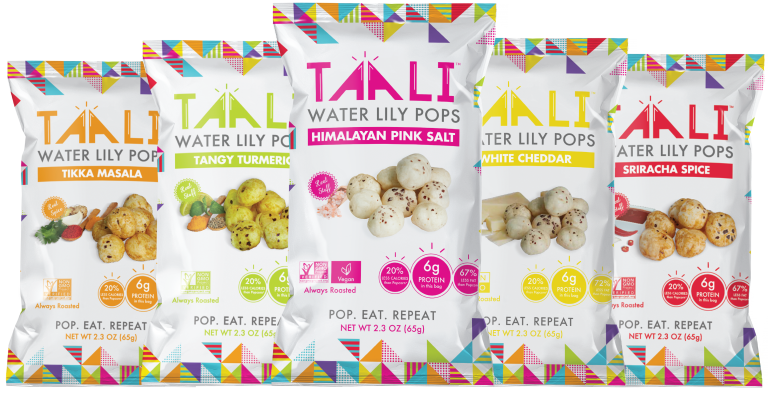 BOSTON — Taali brings you Water Lily pops, a light weight and crunchy superfood snack made from popped water lily seeds. The refreshing and delicious popped seeds are a great alternative to fat-filled snacks available today, packed with loads of flavor, simple ingredients and 6 grams of protein per bag.
"Having lived in the U.S. for most of the last decade, we found that most snacks are highly processed, fried or made of ingredients like potato, corn and wheat! It's time to change that," said Taali's Co-Founder Aditya.
In order to make this guilt free snack, the seeds produced by the water lily plant are popped and then slow roasted to perfection, giving them a naturally crunchy texture. Taali prides themselves on taking particular care to ensure that their water lily pops are lower in fat and calories and have higher protein than ready-to-eat popcorn servings. Taali water lily pops are made from all natural ingredients and not extruded.
"Our water lily pops have 20% less calories and 67% less fat on average than the leading popcorn brand," said Co-Founder Aarti.
Taali currently has 5 flavors and will sell on Amazon. Himalayan Pink Salt is a subtle classic, White Cheddar has a fresh and light taste without the guilt, Sriracha Spice is for the little extra kick, Tikka Masala closely depicts the flavor of the actual dish and Tangy Turmeric is loaded with benefits (finally a snack with the benefits of turmeric that tastes great).
"We wanted to create a product that is made from NON GMO, whole, natural and real ingredients. Every ingredient has been sourced carefully and responsibly," Aditya said.
Taali makes for a great snack and will leave you craving for more without guilt. Popped water lily seeds have long been a snack favorite in India, where the product is also referred to as Lotus seeds, Fox Nuts or Makhana. As a native plant in Northern India, it's an extremely important crop for farmers of that region, and Taali works closely with the farmers at the grass root level to make sure they get fair market value.
Besides being a delicious snack, water lily seeds have been used in Indian and Chinese medicine for many centuries and also find an important place in the practice of Ayurveda. And now Taali is excited to launch this appealing and healthy snack choice!
About Taali
Both Aarti & Aditya wanted to create a super fun brand that would relate to foodies constantly snacking, so they founded Taali, which translates to "high-five." After lots of trail runs and tastings, they finally perfected the product and Taali was born! With a simple vision for Taali and its offerings, both co-founders want their products to be a delicious and guilt-free snack that's loaded with flavor and beneficial ingredients. Their vibrant and fun packaging pops on the shelves. They hope that Taali will be a celebration of finally finding a snack that is healthy and tastes good, something that you can share and is worthy of a high five.
"It's all about spreading love, togetherness and high fives," said Aarti