Nutista Collaborates with Stone Brewing on w00tstout Nutbutter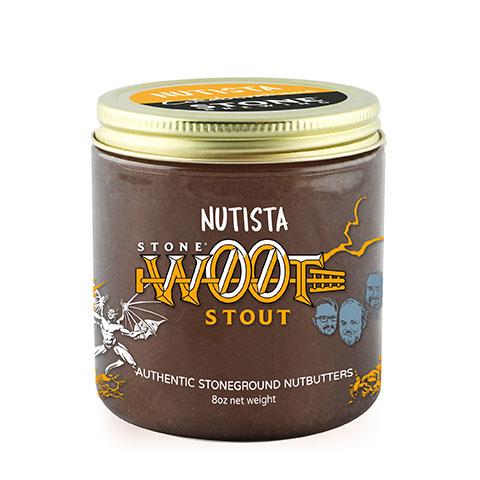 CARLSBAD, Calif. — Nutista — a new and innovative stoneground nutbutter company in Carlsbad, California — is releasing a new product in collaboration with Escondido, California's Stone Brewing.
Nutista / Stone w00tstout Nutbutter is the nutty counterpart to Stone Brewing's revered summer seasonal and Comic-Con tribute beer, Drew Curtis / Wil Wheaton / Greg Koch Stone Farking Wheaton w00tstout. The 11.5% ABV imperial stout is made with pecans, wheat and flaked rye and aged in bourbon barrels.
Echoing the ingredients of the beer, Nutista/Stone w00tstout nutbutter is made with raw pecans, dry roasted
peanuts, Belizian chocolate, bourbon-soaked malt, dry malt extract, Brazil Oberon coffee, malted rye, roasted barley, brewer's yeast, coconut, and Himalayan sea salt.
This dark brown nutbutter features a thick-cream texture, a rich chocolate aroma, and flavors of bourbon and chocolate. It has notes of coffee, coconut and roasted malts on its finish, and takes on a fudge-like consistency when refrigerated. Nutista / Stone w00tstout nutbutter is now available for purchase at nutista.com and shop.stonebrewing.com.
"Our company's goal is to make nutbutter much more accessible, fun, and delicious," said said Nutista co-founder Tristen Cross. "So we make innovative, nutritious flavors that have never been done before, that have culinary flair and are super clean. The w00tstout version checks all of those boxes for us."
Stone Brewing Executive Chairman and co-founder Greg Koch is also a co-founder of Nutista, and Koch says this new nutbutter fills an important role. "We created the w00tstout beer in honor of all things geeky and nerdy that go with Comic-Con," said Koch. "Now we have nutbutters worthy of geeking out, and this particular one has a geek-beer counterpart. Nerd on!"
Stone w00tstout debuted in 2013 in conjunction with that year's San Diego Comic-Con. The beer's other namesakes are Drew Curtis (creator of news aggregator Fark.com creator) and Wil Wheaton (an actor in Star Trek: The Next Generation, Big Bang Theory and other film and TV productions).
This year's San Diego Comic-Con takes place July 19-22 at the San Diego Convention Center. To celebrate the event, Stone Brewing will host its annual Hop-Con 6.0 at Stone Brewing World Bistro & Gardens – Liberty Station on July 19 from 7-11 PM. Nutista staff will be at the event to provide Hop-Con attendees with samples of w00tstout nutbutter and Nutista's other small-batch stoneground creations.
This is the third collaboration Nutista has done with Stone: In March the company released a limited-release Nutista / Stone Totalitarian Imperial Russian Stout nutbutter, in May it released Nutista / Stone Tangerine Express IPA nutbutter, which echoed the flavors of Stone's popular fruit-enhanced IPA.
Nutista sold its first creations in late 2017 and was founded by Cross, Koch and John Huber. A longtime advocate for healthy all-natural foods, Koch began experimenting with nut spreads six years ago. He joined forces with Cross and Huber to do for mass-market nutbutter what Stone did for "fizzy yellow" industrial beer.
"I look at nutbutter with a craft brewer mentality," Koch said. "We're making things ourselves and creating new versions that never existed. And we're doing it with carefully chosen ingredients, creativity, rigid adherence to quality, and a vigorous pursuit of incredible flavor."
Made in Carlsbad, Nutista creations contain no added cane sugar or palm oil and are slowly made in small batches (about 150 pounds) by a stoneground method. "We do things the hard way, but the right way," Huber says. "The stoneground method is a time-consuming process, but it delivers a flavor and texture that comes roaring through when you taste it. You can't get that quality with conventional modern-day methods."
About Nutista Authentic Stoneground Nutbutters
Say: /nuh•tea'•stah/. Experts in all things nutty and born in 2017, Nutista is on a mission to make nuts more fun and accessible for all. Cofounders Tristen Cross, John Huber and Greg Koch make small-batch, all-natural and innovative nutbutters designed for healthier and tastier living. Nutista creations are made by stone-grinding methods and crafted with passion, carefully sourced ingredients, and as much time as it takes. ("And nuttin' else.") Nutista products never include added cane sugar, palm oil, or artificial ingredients. For more information on Nutista Authentic Stoneground Nutbutters visit Nutista.com or the company's social media sites via @nutista on Facebook, Instagram, YouTube and Twitter.
About Stone Brewing
Founded by Greg Koch and Steve Wagner in 1996, the groundbreaking San Diego-based Stone Brewing is the 8th largest craft brewer in the United States. An award-winning industry leader, Stone operates breweries in Richmond, VA, Napa, CA and Berlin, Germany. Known for its bold and largely hop-centric beers, Stone has earned a reputation for outstanding and unique beers and an unwavering commitment to sustainability, business ethics, philanthropy and independence. For more information visit stonebrewing.com or the company's social media sites on Facebook, Instagram and Twitter.