Modern Muffin Releases Protein Muffin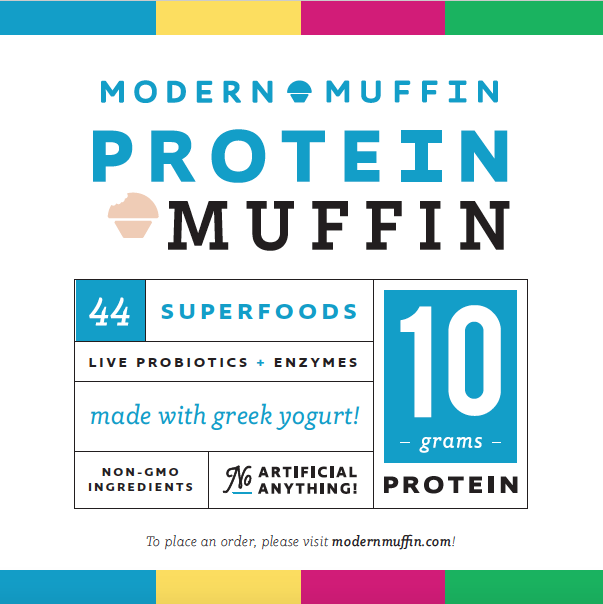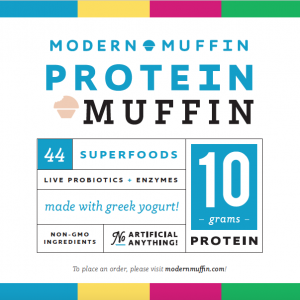 CHARLOTTE, N.C. — Seven years ago, Claire Putterman started baking all-natural muffins in her home kitchen and selling them by mail order.  Within two years, Claire was selling over 1600 muffins per week online and in three Harris Teeter stores in Charlotte, NC. She left her rewarding career as a high school French teacher to run Modern Muffin full-time. Currently, Modern Muffin services Harris Teeter, Earthfare and Whole Foods Market in the south region.
This month, Modern Muffin released the newest product in their muffin line up: Protein Muffins!
In each muffin, there are 10 grams of protein, 44 organic superfoods, and live probiotics. They are made with organic greek yogurt and no artificial ingredients! They are currently sold online in boxes of four but will be going in grocery stores as an individually wrapped single muffin.
There are four varieties of Protein Muffins available online – Apple Cinnamon Flax, Banana Walnut, Blueberry Hemp, and Chocolate Cherry Chip.
Putterman started baking muffins as a delicious way to incorporate wholesome fruits and vegetables into her children's diets. Putterman spent the next two decades perfecting the taste, texture, and nutritional value of her muffins, ultimately resulting in a product that has significantly less fat, calories, and sugar than the average muffin.
To learn more about our company and to purchase muffins, please visit www.modernmuffin.com