Kodiak Cakes Adds New Flavors to Oatmeal Unleashed, Power Cakes and Flapjack Unleashed Lines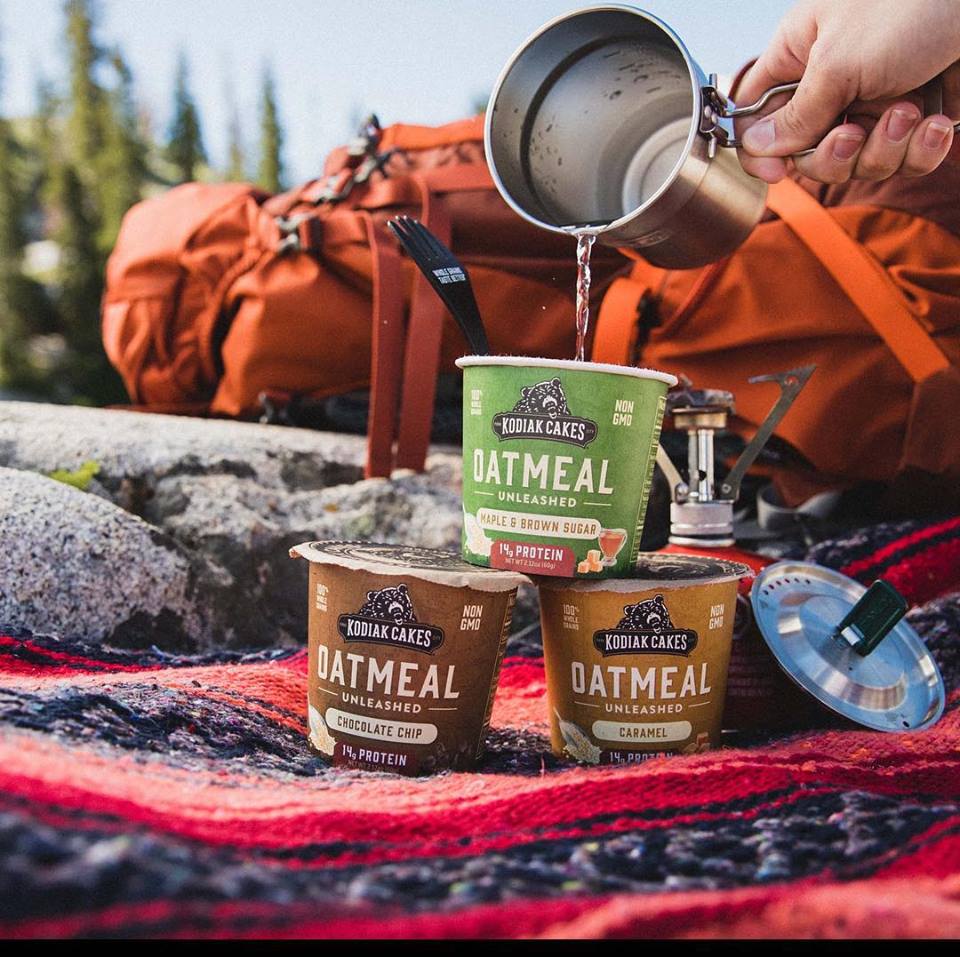 PARK CITY, Utah —  Everyone knows breakfast is the most important meal of the day, but all too often people sprint out of the house without it and by mid-morning their growling tummies are far from pleased. Kodiak Cakes, known for their protein-rich whole grain Flapjack & Waffle mixes, is excited to debut their new Oatmeal Unleashed cups in four flavors – Chocolate Chip, Maple & Brown Sugar, Caramel, and Peanut Butter Chocolate Chip. The brand will also be launching new flavors of its dry Power Cakes mix in Chocolate Chip and its new Flapjack Unleashed cups in Chocolate Chip & Maple to satisfy the sweet tooth without sacrificing nutrition.
Kodiak Cakes' Oatmeal Unleashed cups will be a new pantry staple and a quick and easy way to kick off even the busiest person's day. Made with whole grains and packed with 14 grams of protein, these portable breakfast options will keep individuals full and satiated all morning long. Just add water, stir, and microwave for 30-45 seconds and this Pinterest-worthy oatmeal is ready to devour. The scrumptious new flavors will have people tempted to eat these mouthwatering meals for breakfast and dessert.
If Kodiak Cakes fans are still partial to the pancakes, they're in luck! The new Chocolate Chip Power Cakes dry mix is the perfect bite for fit foodies who just can't say no to chocolate. This decadent mix contains mouthwatering chocolate chips sprinkled throughout and a whopping 14 grams of protein per serving.  Toss a few on the griddle for a super sweet pancake breakfast or create a fluffy waffle to serve as the base of the perfect ice cream sundae. This mix is also available in a microwaveable on-the-go cup option that contains 12 grams of protein for consumers who want a quick and portable meal. Simply mix up the batter, microwave for just one minute, and watch these flapjacks come to life.
"Today's consumers are constantly on the move, but here at Kodiak Cakes we know that providing your body with wholesome, nutritious foods doesn't need to take up your whole morning," said Joel Clark, Co-Founder and CEO of Kodiak Cakes.  "When we made the decision to explore new food items like oatmeal and our portable On-the-Go cups, we made sure to never sacrifice our brand's core values— providing whole grains and a hearty serving of protein without compromising taste. We're so excited to see the consumer response as we continue to expand our product range into new areas of the grocery store."
Kodiak Cakes' new flavors of Oatmeal Unleashed, Flapjack Cups, and Power Cakes Mix can be found on the Kodiak Cakes website, Amazon and nationwide at Target, HEB, and Publix, among others. SRP for Oatmeal Unleashed and Flapjack On-the-Go have an SRP of $2.25, and SRP for Chocolate Chip Power Cakes is and $5.50. For more information on Kodiak Cakes and to find a store near you, please visit www.kodiakcakes.com.
About Kodiak Cakes
Family-owned Kodiak Cakes is a Park City based producer of convenient, high protein baked goods that are superior in taste. From baking mixes to toaster-friendly treats and convenient microwaveable creations, Kodiak Cakes is made with wholesome non-GMO ingredients and whole grains. The line consists of an original recipe Frontier line, protein-packed Power line and superfood-packed Energy line to fuel the whole entire family or any outdoor adventure. For more information on Kodiak Cakes, please visit www.KodiakCakes.com or connect with them on Instagram @KodiakCakes.