Hershey Unveils Mobile Customer Insights Center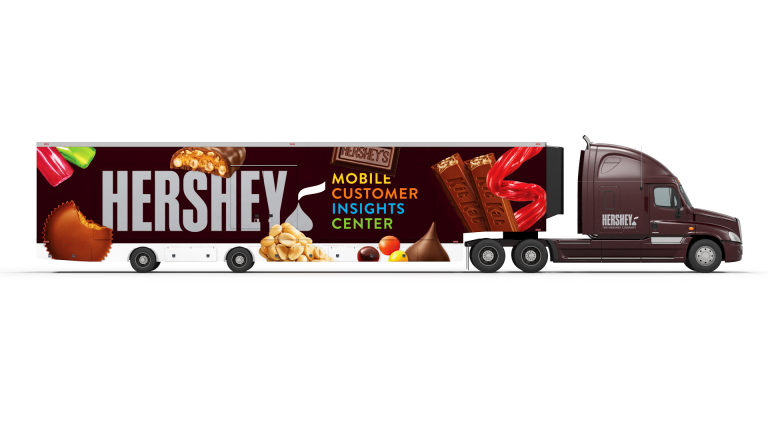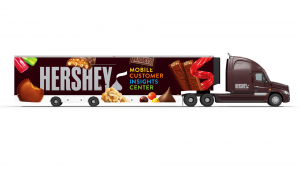 HERSHEY, Pa. — The Hershey Company (NYSE:HSY) today unveiled its new 53-foot, expandable Mobile Customer Insights Center (MCIC) tractor trailer during a ribbon-cutting ceremony at Hershey's headquarters. Beginning immediately, the MCIC will take Hershey's shopper insights and snacks category expertise directly to its retail partners across the country.
"The retail landscape is shifting at an unprecedented rate. To stay ahead, today's retailers need a new playbook and that's exactly what we're bringing to their front door," said Phil Stanley, Chief Sales Officer, The Hershey Company. "The MCIC is an important next step in our insight-driven journey to ensure Hershey provides our retail partners the most tailored, strategic insights we have to offer. And since we're bringing the MCIC right to our customers, we're able to set even more of our retail customers up for success."
The MCIC is an extension of Hershey's Global Customer Insights Center (GCIC), based in Hershey, Pa., that has been serving retail partners since 2006. As a slimmed-down version, the MCIC trailer includes four expandable panels and opens into a 22 x 53-foot collaborative work space that can seat up to 15 people. The MCIC provides an experiential opportunity for customers and the ability to discuss strategies and results with a team of subject-matter experts. Retail customers who visit the truck can expect to leave with insights and turnkey solutions that can be directly applied to their stores. Concepts include strategies for merchandising optimization and store layouts, queues, checkout counters, food service, product innovation and shopper marketing as well as how to successfully work across all shopping channels – from bricks to clicks and everywhere in between.
The MCIC is intended to deliver the same quality strategic insights and shopper expertise that retail customers have experienced at the GCIC in Hershey. It will be making stops in Washington, D.C., Chicago, San Francisco, and numerous cities in-between. Hershey has two dedicated MCIC subject-matter experts who will be at all MCIC stops and work directly with retailers to implement the latest and most productive shopper and category strategies.
"We're committed to helping retailers succeed and we do this by putting the shopper at the center of everything we do," explains Todd Tillemans, U.S. President, The Hershey Company. "The MCIC is a direct output of this strategy. With more than 25 visits planned before year end, we look forward to strengthening our partnerships with customers across the U.S. and helping these retailers better serve their shoppers' needs."
For more information on the MCIC, visit https://www.thehersheycompany.com/en_us/news-center/blog/driving-retail-solutionsliterallyintroducing-our-mobile-customer-insights-center.html.
About The Hershey Company
The Hershey Company, headquartered in Hershey, Pa., is an industry leading snacks company known for bringing goodness to the world through its iconic brands, remarkable people and enduring commitment to help children in need. Hershey has approximately 18,000 employees around the world who work every day to deliver delicious, quality products. The company has more than 80 brands around the world that drive more than $7.4 billion in annual revenues, including such iconic brand names as Hershey's, Reese's, Kit Kat, Jolly Rancher, Ice Breakers and SkinnyPop.
For more than 120 years, Hershey has been committed to operating fairly, ethically and sustainably. Hershey founder, Milton Hershey, created the Milton Hershey School in 1909 and since then the company has focused on giving underserved children the skills and support they need to be successful. Today, the company continues this social purpose through 'Nourishing Minds,' a global initiative that provides basic nutrition to help children learn and grow.
To learn more – Visit: www.thehersheycompany.com
Follow: http://www.twitter.com/hersheycompany
https://www.linkedin.com/company/the-hershey-company?trk=top_nav_home
http://www.facebook.com/hersheycompany
http://www.youtube.com/hersheycompany
http://www.instagram.com/hersheycompany