Haven Row Announces Rebrand as Do Anything Foods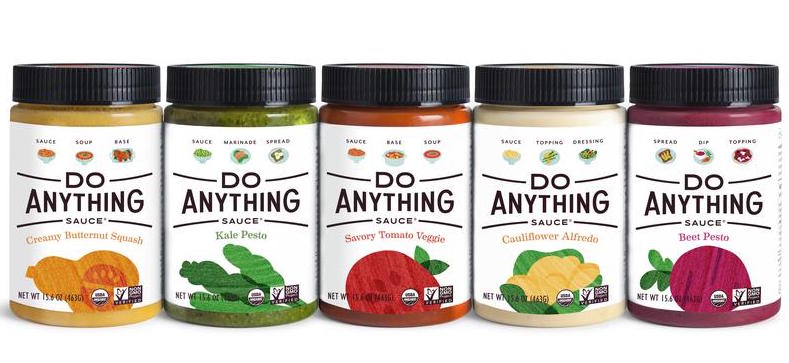 NEW YORK — The Expo West-NEXTY award winning brand and maker of the innovative, vegetable-based "Do Anything Sauce®", Haven Row, is thrilled to announce their relaunch as Do Anything Foods™, a platform brand aimed at giving consumers fresh, plant-based shortcuts in the kitchen. Alongside a packaging refresh, Do Anything Foods has launched their direct to consumer e-commerce platform and have reformulated their products to be completely vegan..
After winning the NEXTY Award for "Best New Organic Food" at Expo West in March only 3 weeks after launching the business, co-founders Monica Salhotra and Allie Shanholt point to consumer feedback and agile leadership as the catalyst for the rebrand. "We really struck a chord with our consumers when calling our products the 'Do Anything Sauces' – the comments we received were so compelling that we decided to elevate it to our primary brand" explains Salhotra. "As a newly launched business, we're are in a highly iterative and agile frame of mind, and we are carefully attuned to feedback from our customers; which is also why we removed all dairy from our products to make them vegan" Salhotra continues.
Haven Row launched with the mission to help families get delicious, veggie-rich meals on the table in a snap by providing healthy shortcuts and solutions. With this rebrand, the business is well positioned to expand their offerings in the space, with the goal of revolutionizing the fresh, plant-based eating category. "Do Anything Foods captures the spirit of our customer feedback — that these products are inspiring and empowering our customers to make great meals at home" says Shanholt.
The Do Anything Foods lineup of Kale Pesto, Beet Pesto, Cauliflower Alfredo, Creamy Butternut Squash Sauce and Savory Tomato Veggie Sauce are made with only the highest quality ingredients, and are HPP'ed to capture freshness and flavor. They are Organic, Non-GMO, Gluten Free, Nut Free and now Vegan. The 'Do Anything Sauces' are available to purchase at select retailers on the east coast, and nationwide on their website at www.doanythingfoods.com.
About Do Anything Foods:
Do Anything Foods was established in 2016, and produces high-quality fresh foods to make mealtime easier, healthier and more delicious. Do Anything Foods launched their line of "Do Anything Sauces" in 2018 to provide innovative meal solutions so healthy eating can fit in to everyone's life.