So Delicious Launches Dairy Free Frozen Mousse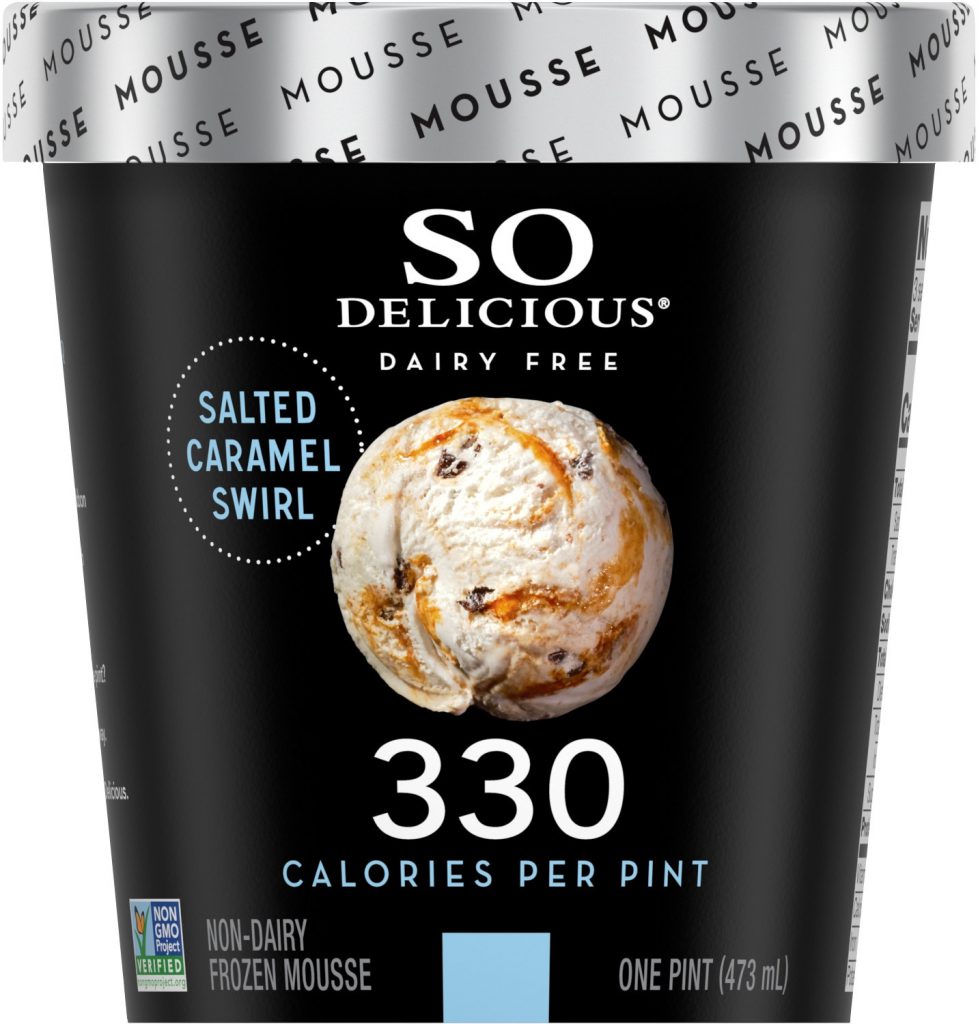 EUGENE, Ore. — Get ready to dive into deliciousness with new So Delicious Dairy Free Frozen Mousse, the latest treat from So Delicious Dairy Free, makers of delicious dairy free foods and beverages. So Delicious Frozen Mousse is a brand-new line of decadent frozen desserts that have 300-330 calories per pint (110 or less per serving). They are also Non-GMO Project Verified, certified gluten-free and vegan, and made with thoughtful, dairy free ingredients.
With seven indulgent flavors to choose from, the fun is in finding a favorite. There is something to satisfy any sweet tooth. Each flavor is swirled into a smooth, melt-in-your-mouth mousse that makes for an indulgent dessert with less guilt.
Available in a variety of delectable flavors, there is something sure to satisfy any sweet tooth:
Salted Caramel Swirl
Mango Swirl
Peanut Butter Swirl
Strawberry Swirl
Lemon Swirl
Chocolate Chip
Cranberry Cherry Swirl
"We are really excited about these new pints. There is so much to love; they are shamelessly decadent with 300-330 calories per pint so you can enjoy a serving for dessert and not compromise on taste. They really are So Delicious!" said Lauren Start, Sr. Brand Manager, So Delicious Dairy Free. "In developing Frozen Mousse, it was important for us to balance the right creamy, light mousse-like texture with indulgent swirls of flavor, all crafted with carefully selected ingredients for a delicious treat that can be enjoyed anytime."
So Delicious Dairy Free Frozen Mousse is available now at grocery stores nationwide for a suggested retail price of $5.49. To learn more about So Delicious Dairy Free and our Frozen Mousse, go to www.sodeliciousdairyfree.com or visit Facebook, Instagram or Twitter.
About So DeliciousDairy Free
So Delicious Dairy Free has been bringing joy to dairy-free lives for the last 30 years. We offer an array of delicious dairy-free delights you can feel good about sipping, biting, scooping, licking and chugging throughout your day. From our robust allergen testing program to the innovative work we do creating products made with the highest quality ingredients, we are committed to doing the right things for people, animals and the planet. Our entire line of foods and beverages is certified vegan and either enrolled in or verified by the Non-GMO Project. So Delicious Dairy Free sells products including dairy-free frozen desserts, beverages, cultured products, coffee creamers and more, and is proud to be part of the B Corp movement.