Chef'd Expands Distribution of Meal Kits in New York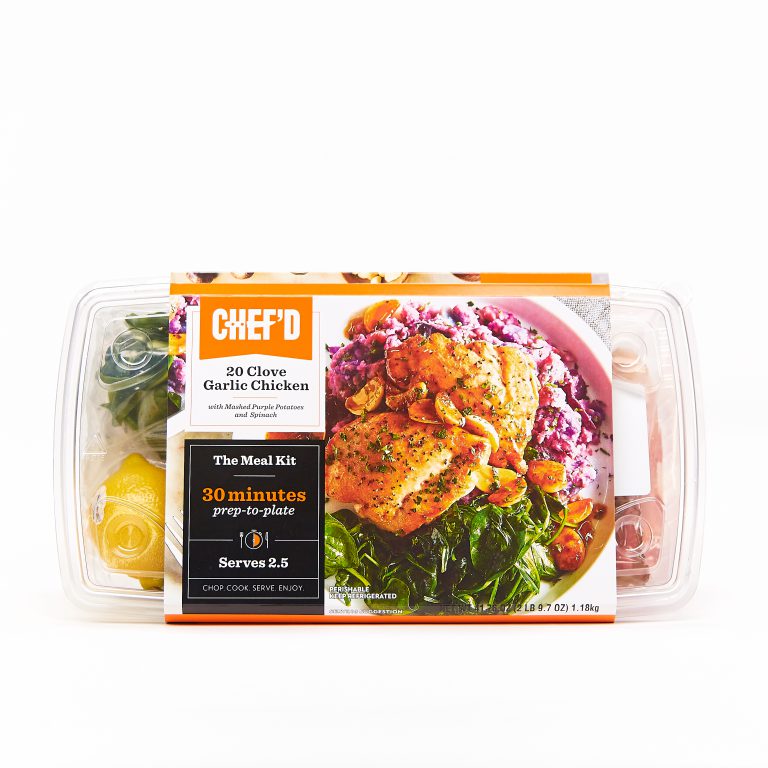 LOS ANGELES — Leading meal kit company Chef'd announces the arrival of its meal kits at 30 select Walgreens and Duane Reade stores in the metropolitan New York area, in partnership with Smithfield Foods. With the company's entrance into Walgreens, its first drug-store chain retailer, Chef'd continues its fast expansion into retail. By leveraging Smithfield's extensive experience at retail and vast distribution network, Chef'd now offers quick and easy recipes at more than a dozen retailers in 27 states.
A selection of Chef'd meal kits will now be available for last-minute pickup from refrigerated displays at convenient Walgreens locations including select stores in Brooklyn, Manhattan, Forest Hills, Hoboken, Jersey City, and Yonkers. The launch is a pilot program at 30 of the drug-store chain's locations in the metropolitan area.
Each Chef'd kit features ready-to-cook pre-portioned ingredients, including fresh herbs, leafy greens, and USDA Choice proteins. In-store Chef'd meal kits are designed for convenience, with total prep-to-plate times of 10 to 30 minutes, and 1-2 pan clean up. Meal selections at Walgreens will include, 20 Clove Garlic Chicken with Mashed Purple Potatoes and Spinach; Chicken Tikka Masala with Basmati Rice, Raita and Naan Bread; and Herb Crusted Flank Steak with Roasted Potatoes, Sugar Snap Peas, and Horseradish Cream Sauce.
"Since its launch as the only non-subscription meal kit company, Chef'd has been dedicated to providing customers with more quality meal kit offerings in more locations," said Kyle Ransford, CEO of Chef'd. "Through our expansion into New York area Walgreen's stores in partnership with Smithfield Foods, we are able to extend meal kits to new audiences and occasions."
In-store meal kits serve two or more and start at $15.99.
About Chef'd
Headquartered in Los Angeles, California, Chef'd is a high-quality ingredient meal kit company that was created to help consumers rethink the home-cooked meal by offering fresh, pre-portioned ingredients that aim to eliminate food waste and cut consumer grocery costs. Launched in April 2015, Chef'd is the only non-subscription-based e-commerce company in the meal kit industry that offers home chefs a variety of recipe options available any time and conveniently delivered as often as they desire. Chef'd also partners with celebrated chefs and culinary influencers to create a variety of delicious recipes that make it easy for home chefs to create memorable culinary moments. In addition to its e-commerce business, Chef'd offers national retail distribution in partnership with Smithfield Foods, enabling customers to conveniently incorporate Chef'd meal kits into their shopping lists. To ensure customers experience the freshest possible produce and proteins whether purchasing in-store or online, Chef'd has pioneered groundbreaking new packaging technology to create meal kits with unparalleled shelf life. Offering more than 1,000 recipes online, Chef'd allows shoppers to purchase the meal kits they want, when and where they want them. Follow on Twitter @get_chefd and Instagram @Chefd. Taste what's possible at Chefd.com.
About Smithfield Foods
Smithfield Foods is a $15 billion global food company and the world's largest pork processor and hog producer. In the United States, the company is also the leader in numerous packaged meats categories with popular brands including Smithfield, Eckrich, Nathan's Famous, Farmland, Armour, Farmer John, Kretschmar, John Morrell, Cook's, Gwaltney, Carando, Margherita, Curly's, Healthy Ones, Morliny, Krakus and Berlinki. Smithfield Foods is committed to providing good food in a responsible way and maintains robust animal care, community involvement, employee safety, environmental and food safety and quality programs. For more information, visit www.SmithfieldFoods.com.