Catania Oils Launches Bag-In-Box Oil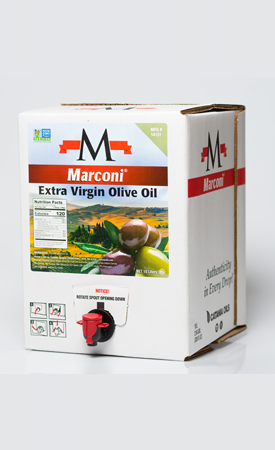 AYER, Mass. — Catania Oils, leading processors and packers of olive oil, vegetable, canola, sunflower, and various blended oils, has unveiled its brand new, "easy to store, easy to pour" Bag-In-Box packaging. This announcement highlights Catania's pledge to bring innovation and unique offerings to its customers. Two varieties have launched and are available today – the flagship non-GMO Marconi Extra Virgin Olive Oil and a Marconi 50/50 non-GMO Canola/EVOO blend. The Bag-in-Box concept has been used in the alcohol and spirits industry – popular among wines – however, it's beginning to make an impact in the food industry due to its many benefits and Catania is leading the way.
The Bag-In-Box packaging offers several advantages over traditional bottle packed methods. The box packaging and spout dispenser makes this a convenient way to store and pour olive oil – especially easy for container refilling in food service kitchens. Additionally, the box blocks harmful light from hitting the product directly, preserving the flavor and integrity of the oil; and the sealed bag helps retain the oil's freshness by keeping air away from the product. Both the bag and box are recyclable and easily disposed of for less environmental waste.
The Marconi Bag-In-Box is currently offered in 10 and 20 Liter sizes perfect for food service entities. First to market are the Extra Virgin Olive Oil and a 50/50 non-GMO Canola & EVOO blend, with plans to expand the offerings in the near future.
Catania Oils President, Joseph Basile is eager to roll out such an innovative product. He says, "Bag-In-Box has been a concept we've been exploring for a while, and we're excited to launch this item to create more value for all of our customers and prospective customers. This system keeps our expertly sourced oil fresher for a longer period of time."
The new packaging will continue to deliver on the company's brand promise, "Authenticity in Every Drop".
About Catania Oils
Catania Oils is a privately-held fourth generation family business that expanded from its modest roots in the early 1900's to a multi-million-dollar supplier of quality oils for retail, food service, and bulk customers. The company provides both branded and private label oils. The 250,000 square-foot operation located in Ayer, Massachusetts is one of the largest indoor bulk oil processing facilities in the country and combines the latest automation technology with efficient processes and warehouse space to ensure a good price for the high-quality oils it produces. The company's tagline, Authenticity in Every Drop, is supported by an in-house laboratory that tests the purity of each shipment. For more information visit www.cataniaoils.com