Brooklyn Bites Launches Cookie Brittle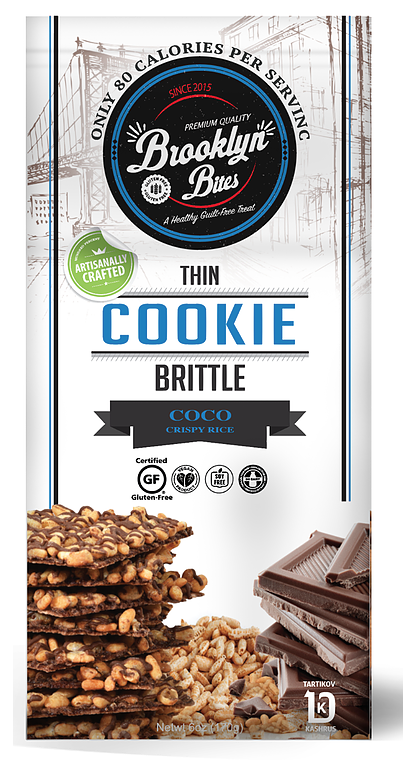 BROOKLYN, N.Y. — Brooklyn Bites, a manufacturer of premium artisan and specialty healthy snacks has launched its signature cookie brittle product in Wegmans and Fairway Markets. Made from oat flour, coconut oil, coconut sugar, almond milk and flax seeds Brooklyn Bites products use only the highest quality ingredients. Not only are their products delicious and unique but you wouldn't even believe they're gluten free, vegan, dairy free, soy free, Non-GMO and certified kosher. Their initial launch included 6 flavors such as coco crispy rice, nutty chocolate sea salt, chocolate drizzle, crunchy creamy pretzel, cinnamon coffee cake and white chocolate drizzle.
"We couldn't have asked for a better response from our customers and retailer partners. Straight out of the gate customers have emailed us and reached out on social media offering compliments on a fantastic product. Customers are going out of their way to recommend us to other local retailers in their area. We greatly appreciate all the feedback and support we've received. We've had immediate reorders from current retailers and new request to carry our products at many top supermarkets and grocery chains," said Eddie Dayan President of Brooklyn Bites.
Brooklyn Bites has a remarkable story. They are a woman owned company, having been started by a mother daughter duo out of their home kitchen in Brooklyn, NY. What put them on the map was another brand they own called Baked by Bibis aka "BBB". What was intended to be a cookie by default became a cookie brittle. Their product was so thin and crispy their customers who happened to be local friend and family couldn't get enough. BBB is an upscale brand primarily found in gourmet and boutique marketplaces. "Having seen the success of their cookie brittle product in these channels gave us the confidence and support to establish Brooklyn Bites and invest in our facility and machinery. This has enabled us to increase our capacity and make our products more accessible," says Dayan.
"Having two brands in two different outlets makes us unique and is what sets us apart from our competitors. This has allowed Brooklyn Bites to offer great tasting and healthier alternatives at competitive prices," said Rueben Bibi, Director of Sales.
"We are a family operated business which allows us to have a hands-on approach with immense customer feedback and communication," said Dayan. "We are extremely optimistic about the future and have many retailers in the pipeline ready to come on board."
Products are available through distributors UNFI, Kayco and River Valley Foods. Their mission has and will always be to produce healthier alternatives using the highest quality ingredients without sacrificing of taste and quality. Their success had enabled them to give back to their community as 10% of all profits are donated to helping others and providing support to those in need.