The Real Co Partners With Relay Resources To Provide Special Needs Employment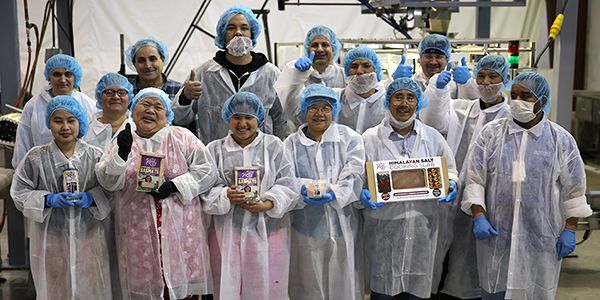 WILMINGTON, Del.– The Real Co™ has a vision to provide traceable, high quality and sustainably grown food at affordable prices to the masses. This vision has penetrated some of the top retailers in the US market, including Whole Foods, Shoprite, Amazon and H-E-B. This is the first 100% single-origin manufacturer and purveyor of the finest staple foods in the world. The Real Co™ is proud to announce an exciting new partnership with Relay ResourcesTM (formerly Portland Habilitation Center Northwest), a 501(c)(3)nonprofit located in Portland, Oregon. Specializing in custom food packaging, Relay Resources provides jobs & training to hundreds of adults with disabilities and barriers to employment. The Real Co™ products are packaged at Relay Resources, which is not just a manufacturing facility, but instead, a revolutionary 60,000 square-footstate-of-the-art facility, while making customized accommodations for its employees, who all earn a minimum wage. Both Relay Resources and The Real Co™ are strongly focused on providing employment, support and training for people with special needs.
The successful growth of Relay Resources is rooted in the individual commitments and efforts of their workforce. Their theme, "Beyond Limitations," happens when individuals go beyond societally imposed limitations, continually improving work performance and delivering value to their customers. Relay Resources' continual improvement is anchored in quality checks of activities and processes and on – going training, while honoring the work accommodations for diverse disabilities.
"The Real Co™ and Relay Resources make a perfect partnership because we both have a deep institutional connection to this kind of work," said Tiffini Mueller, Director of Marketing & Communications of Relay Resources. "Our companies are absolutely committed to an idea that all people deserve the chance to lead a healthy and productive life no matter what their circumstances might be. Our missions align perfectly as The Real Co™ andRelay Resources are both deeply committed to people, sustainability and making the world a better place for all people."
"We at The Real Co™ are extremely excited to have found such an excellent partner for our packaging needs," said Belal Elbanna, CEO of The Real Co™. " The CEO goes on to say "Our partnership with Relay Resources brings an important new dimension to our mission, empowering disabled people in America who face steep challenges and extreme inequality in the American job market." With this new arrangement, The Real Co™ has found a winning partner in their mission of manufacturing products in an ethically advanced and environmentally sustainable way.
The product line packaged at Relay Resources comes straight from farms in Costa Rica, Pakistan and the Himalayan Mountain Range. The products packaged are 100% Single Origin and include a unique Organic Raw Cane Sugar, White Basmati Rice and Himalayan Pink Rock Salt.
The Real Co™ aim to have all products packed at this facility to carry the Relay Resources logo and identify the person that carried out the packing. The Real Co™ products are all organically grown, Non–GMO Project Verified, Vegan, Gluten-Free and Kosher Certified.
About The Real Co
The Real Co™ has developed an exciting and transparent new food category and method of sourcing products globally to be delivered at a local level. The company enters partnerships with farmers and growers around the world that don't have an established route to distribute their products and creates a way to share their commodity with the world. The company brings full transparency and sustainability to the U.S. food industry. The Real Co™ products are carefully inspected and sourced by company representatives, and go straight from farm to shelf, eliminating the need for any middlemen. This unique 100% single method allows everyone in the world to enjoy what is usually impossible to experience: unique, tasty, freshly farmed/mined products at affordable prices.They offer transparency to the consumer, and is developing the first Certification of 100% Single Origin Foods in the U.S. The companypays fair wages and reinvests in both the land and the community that grows their products. The Real Co™ is available nationwide in numerous stores in most states including; Whole Foods, Shoprite, H-E-B, Natural Grocers Vitamin Cottage, Mrs. Greens, Kings and Balducci.
About Relay Resources
Relay Resources is committed to doing things differently in order to make a difference. We don't just place people in jobs, we partner with our customers to identify business needs and create customized solutions. We engage with a community of willing and able workers who have faced barriers, and help them to lead more fulfilling and independent lives through training, employment, and housing. Because success isn't just about putting people to work. It's about all of us. Working. Together. For more information, visit relayresources.org.