Praim Group Launches 'Boss Baby' Chocolate Bars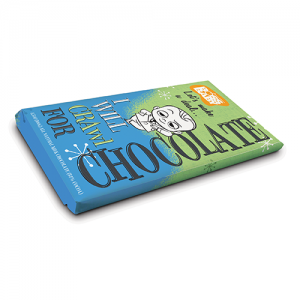 BOSTON– In time for the release of the DreamWorks movie Boss Baby, Praim Group (www.PraimGroup.com), a food licensing, marketing and distribution company, has introduced two chocolate bars featuring Boss Baby Templeton, the lead animated character voiced by Alec Baldwin. Available in two designs: "I Want Chocolate" and "Lets Make a Deal I Will Crawl for Chocolate," the Boss Baby bars are 3.5 ounces, all-natural, kosher, milk chocolate and have an MSRP of $1.99-$2.49.
"These chocolate bars are delicious and hilarious," says Paul Pruett, Praim Group founder. "For fans of the original book, Alec Baldwin, the movie and chocolate, this is a great party favor, movie keepsake and gift."
Boss Baby is loosely based on a book with the same name written and illustrated by Marla Frazee. The film stars the voices of Alec Baldwin, Miles Bakshi, Steve Buscemi, Jimmy Kimmel abs Lisa Kudrow with Tobey Maguire as the narrator.
Other designs in the Praim Group /DreamWorks chocolate collection include: Trolls, Where's Waldo?, Frosty the Snowman, Casper the Friendly Ghost, Underdog, Hot Stuff, HOME, Santa Claus is Coming to Town, Shrek, and more. All the DreamWorks bars are available in twelve bar shelf and counter displays measuring 3.5'' W × 6" H × 7" D and in 60 bar shipper floor displays that measure 13'' W × 42" H × 14" D
Please contact Praim Group www.Praim Group.com for more information.
About Praim Group
Established in 2006 and creator of CHOXCARD, Praim Group is a one stop resource solution for helping successful consumer brands expand their reach into the tricky world of food logistics, marketing and sales. With offices in Boston and Los Angeles, Praim Group represents such brands as DreamWorks®, Build-A-Bear Workshop®, Entenmann's®, Friendly's®, Mary Phillips Designs®, French Bull®, Bloomsberry & Co®, Garfield®, Happiness Is.. ®, The Andy Warhol Foundation®, Pan Am®, Bosco® and others. For more information, please visit www.PraimGroup.com. Follow us on Twitter at https://twitter.com/PraimGroup and Facebook http://www.facebook.com/PraimGroup.