Mera Bites Announces Their Official Company Launch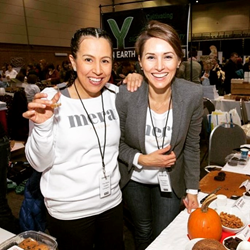 CHICAGO, ILLINOIS– Mera Bites, a healthy snack company is pleased to announce their official business launch and nationwide debut of its sweet-snack product line.
Mera Bites is working to encourage a healthy lifestyle with their creation of a gluten-free, guilt-free cookie packed with nutrients and flavor. "We believe good food sets you free," said Anna Hagopian, cofounder of Mera Bites. After having seen firsthand what healthy eating can do for overall wellness and what happens when one's health fails, Hagopian and co-founder Sol Solis made it a mission to provide nutrient-rich alternatives to traditional sweet treats. Choosing only the highest-quality ingredients, this cookie is a great option for those who want to satisfy their desire for a delicious bite, while also freeing themselves from dietary limitations.
The handmade treats are a great way to enjoy a snack or dessert, including for those with dietary restrictions, who want to savor pure, wholesome foods as nature intended. Mera Bites has created a cookie that can be included in every lifestyle, including those who follow gluten-free, grain-free, dairy-free, sugar-free, preservative-free, and Vegan diets, as a natural and delicious snack on-the-go, making healthy choices easier.
People of all walks of life are enjoying the guilt-free, clean-food deliciousness of Mera Bites. "Mera Bites is the only baked-good treat that both satisfies my sweet tooth and my desire to eat a healthy, grain-free diet. A bunch of alternative healthy snacks exist but very few taste as good as Mera Bites, and absolutely none satisfy my cookie craving like this one. Be good to yourself and have a Mera Bite!" John Lee – Owner & Trainer, South Loop Strength & Conditioning
Founded in 2015, Mera Bites is run by Anna Hagopian and Sol Solis, two women who share a passion for healthy eating and fit lifestyles, which compelled them to create a sweet snack that they could enjoy. They offer Chocolate Chip & Coconut, Vegan Double Chocolate Brownie, a seasonal Paleo Pumpkin Spice, and their new No Sugar-Sugar Cookie flavors. Anna and Sol are working hard to build a clean-food company with a focus on nutrition and wellness. Mera Bites can be found in many locations around Chicagoland and neighboring states, and have immediate plans to expand into new markets. These bites are catching the eyes and taste buds of many people; to learn more about the company, the cookies and the brains behind the baking, go to http://www.merabites.com.