KRAVE Launches Better-For-You Meat Stick
SONOMA, CA– On the heels of the KRAVE Bar launch in December, KRAVE, the renowned Sonoma-based brand of culinary-inspired jerky, will continue to elevate the protein snack space with the launch of its newest line of meat snacks: the KRAVE Stick. The KRAVE Stick will hit retail shelves this month in three unique flavors: Spicy Red Pepper Pork with Black Beans, Rosemary Lemon Turkey with White Beans and Sesame Garlic Beef with Sweet Potato.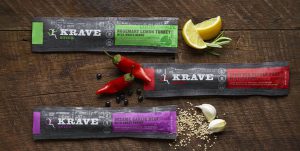 With the brand's wine country roots in mind, the KRAVE Stick was thoughtfully crafted with the prestigious Culinary Institute of America's consulting group in Napa Valley to create a unique twist on the traditional meat stick. Layered with unexpected ingredients like whole beans or sweet potatoes, the KRAVE Stick is an evolution of the typical meat snack that provides consumers with a good source of protein and less fat than the leading sticks on the market.
"Meat sticks are a well-established snack item, and there's no shortage of competition in that area; however, the KRAVE Stick combinations that we created with the Culinary Institute of America's consulting group are a game-changer. With visible vegetable inclusions, the KRAVE Stick is a well-rounded, nutritious snack in a convenient stick format," said Shane Chambers, General Manager at KRAVE. "We are confident that these better-for-you sticks are going to continue to deliver the delicious fuel that our consumers have come to expect from KRAVE, and we look forward to continuing to disrupt the category with elevated meat snack options."
The KRAVE Stick will be available at KRAVEjerky.com, CVS and other retailers nationwide for an SRP of $1.79. For more information on KRAVE, visit http://www.kravejerky.com/.
About KRAVE Pure Foods, Inc.
From the celebrated vineyards, coveted micro-climates and renowned gourmet outposts of California wine country comes, of all things, KRAVE. Founded in 2009, KRAVE is a leading producer of artisanal jerky, located in Sonoma, CA. KRAVE represents a jerky renaissance, providing a natural snack that contains no artificial ingredients and is only minimally processed. Filled with protein and low in fat, it's a better for you choice that's also, gluten-free and full of flavor. It's made using high-quality ingredients and a proprietary process that produces a signature moist and tender texture. Ranging from sweet and tangy to savory and spicy, the innovative KRAVE flavor profiles will appeal to the everyday jerky lovers and to the discerning palates of today's food-savvy, health-conscious gourmands. KRAVE is now part of The Hershey Company after its acquisition in 2015 and continues to be headquartered in Sonoma. For more information on KRAVE, please visit www.kravejerky.com.