gimMe Adds Sriracha Sweet Chili To Seaweed Snack Lineup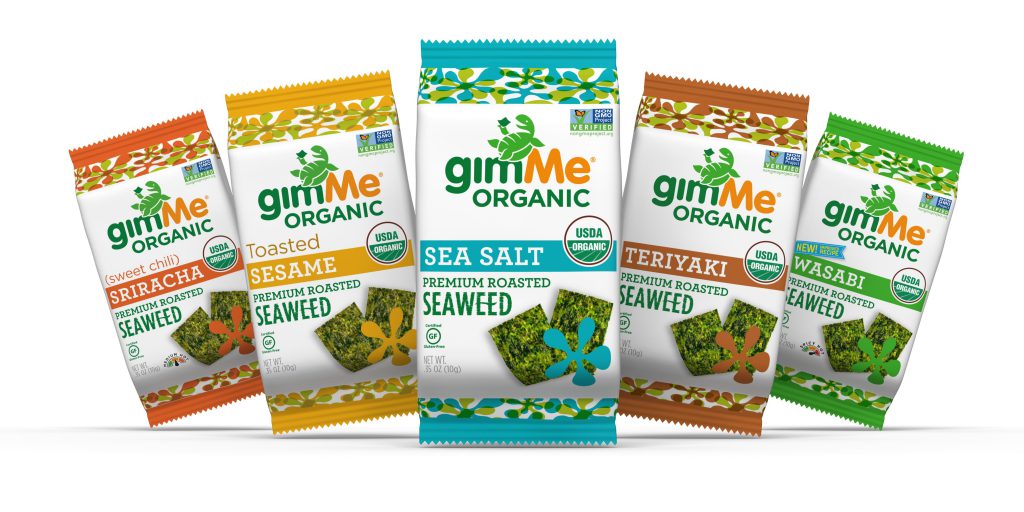 San Rafael, CA – gimMe snacks, the seaweed expert, is pleased to introduce the newest flavor, Sriracha, to its line of certified organic and non-GMO verified seaweed snacks.
Heating up the Seaweed Snacks Category with an Organic Spicy New Addition
gimMe's award-winning Roasted Seaweed Snacks are USDA certified organic, gluten-free, non-GMO Project Verified and vegan. The newest addition to the organic seaweed snack family is dusted with the bold spices from America's favorite condiment flavor, Sriracha hot sauce. With a hot, tangy and sweet flavor profile, this robustly delicious new flavor spices up even the most tired snack routine. In addition to Sriracha, gimMe's organic roasted seaweed snacks are also available in Sea Salt, Toasted Sesame, Teriyaki, and Wasabi flavors (MSRP $1.99/10 grams).
gimMe's roasted seaweed snacks are made from premium organic seaweed that is roasted and seasoned to perfection with only the finest organic spices. These convenient tasty veggies from the sea help healthy snackers reach their daily veggie quotas on the go. They're a well-balanced snack for kids, dieters, and even road warriors. gimMe's seaweed snacks are vitamin-rich, only 25 calories per serving, and are a crowd-pleasing addition to a packed lunch, desk drawer snack stash or to keep on hand in a purse or gym or travel bag.
Seaweed offers the broadest range of minerals of any food on the planet, containing 10 to 20 times the mineral concentration of land plants, plus protein and fiber. Seaweed is one of the most sustainable foods according to a World Bank study that illustrated how seaweed farms could actually produce a negative carbon footprint because it is possible for these farms to absorb more carbon dioxide than they omit.
A serving of gimMe organic Roasted Seaweed Snacks has 10% of the recommended daily value of vitamin C and 12% of the recommended daily value of iodine, a mineral which 74% of 'healthy' adults may be deficient in (Journal of the American College of Nutrition). gimMe can even help your waistline; according to the American Journal of Clinical Nutrition, those who consume umami-rich foods such as seaweed eat fewer calories but feel just as satisfied. gimMe's organic Roasted Seaweed Snacks are the first seaweed snack product in the world to be certified organic and verified Non GMO.
About gimMe
gimMe snacks are unlike any other. Based in Northern California, gimMe is the pioneering healthy snack brand that harvests and curates the world's best tasting, healthy organic seaweed-based snacks. gimMe's seaweed is grown organically, thoughtfully, and sustainably in an agriculturally protected region off the South Korean coast which ensures superior nutrition and delicious taste. gimMe is led by its founders and visionary food entrepreneurs Annie Chun and Steve Broad who, in 2012, recognized an opportunity to adapt a traditional yet convenient and healthy Korean favorite to a healthy snack in flavors that would entice American palettes. Annie and Steve's vision, combined with their expertise gained in building the most successful Asian inspired packaged food brand Annie Chuns, has led to gimMe becoming the #1 seaweed snack brand driving the growth of the entire seaweed snack category. gimMe is the only brand growing sales and distribution and gimMe Roasted Seaweed Snack Sea Salt flavor is the #1 top selling item in the entire seaweed snacks category. In Korea, crispy seaweed is known as "gim"– and because it's so good everyone always wants more! Learn more about gimMe at www.gimmesnacks.com and on social media: on Facebook at gimMe Seaweed and on Instagram at gimmegrams.