Bare Snacks Launches Organic Chia Coconut Bites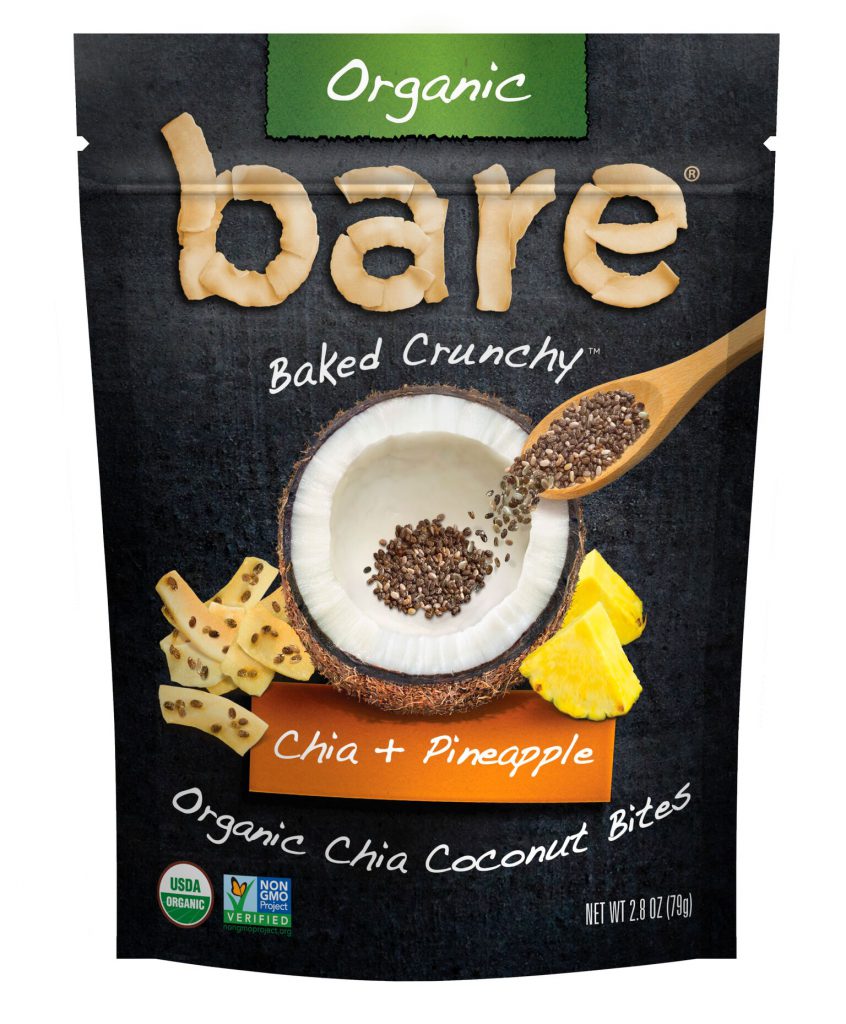 SAN FRANCISCO — Bare Snacks, creator of delicious Snacks Gone Simple, has announced the launch of bare Organic Chia Coconut Bites, a USDA Certified Organic spin on the snack leader's beloved line of bare Chia Coconut Bites. Available in the same crave-ably crunchy flavors, including Chia + Vanilla, Chia + Pineapple and Chia + Flax, bare Organic Chia Coconut Bites give consumers an organic superfood snack that combines the power of chia and coconut into one tasty bite.
"When we launched bare Chia Coconut Bites earlier this year, we wanted to introduce a new kind of superfood snack – one that follows our "less is more" ingredient philosophy, while still delivering on nutrition, incredible flavor and maximum crunch appeal," said Santosh Padki, chief executive officer at Bare Snacks. "The launch was met with wide-open arms from both consumers and retailers, so developing an organic version that appeals to ingredient-conscious shoppers was only natural. We're excited to upgrade the snack aisle with our new organic line and offer everyone a superfood option for snacking wherever their day takes them."
Bare Organic Chia Coconut Bites are made from delicately sliced coconuts that are sustainably harvested, lightly seasoned with whole-food ingredients and perfectly baked with a generous sprinkling of mighty chia seeds. In addition to touting USDA Organic certification, the crunchy new snacks are Non-GMO Project Verified, gluten-free, and contain no trans fats, added oils or preservatives. Flavor details include:
Chia + Vanilla – Thin slices of organic coconut are slow-baked with authentic Madagascar vanilla and coated with organic chia seeds for an exotically satisfying and crunchy bite.
Chia + Pineapple – Tropical organic pineapple complements the naturally sweet flavor of organic coconut, all finished with a dusting of organic chia seeds before being baked to perfection.
Chia + Flax – This nutrient-dense combination of two powerful organic seeds, chia and flax, results in a super healthy and crunchy duo.
Bare Organic Chia Coconut Bites are available now at natural and specialty retailers with a retail price of $5.69/2.8 oz. bag. Like all bare snacks, the organic bites are baked, never fried, using bare's proprietary slow-baking process, which creates an undeniable crunch from simple, real ingredients.
To learn more about the full lineup of bare snacks, including bare Chia Coconut Bites, Coconut Chips, Organic Coconut Chips, Apple Chips, Organic Apple Chips, and Banana Chips, please visit www.BareSnacks.com.
About Bare Snacks
Bare Snacks is a line of delicious Snacks Gone Simple, including bare Apple Chips, Coconut Chips, Banana Chips and Chia Coconut Bites. Crafted using only real, whole-food ingredients, Bare Snacks helps consumers enjoy truly good-for-you snacking any time of day. Bare Snacks is on a mission to create a snacking revolution nationwide, motivated by a founding philosophy of creating delicious snacks with simple ingredients and nothing artificial ever. The company is also deeply committed to sustainability, and has been a Certified B Corp since 2013. To learn more, please visit www.BareSnacks.com, follow us on Instagram, Pinterest, or Twitter or 'Like' us on Facebook.