Quaker Brings New SuperGrain Varieties To The Breakfast Table And Beyond
CHICAGO, April 20, 2016 /PRNewswire/ — To Quaker, all whole grains are super in their own right and oats will always be the original super grain. As more consumers look to diversify their grain intake and add variety in taste and nutrition[1], Quaker, a subsidiary of PepsiCo, Inc., introduces Quaker SuperGrains Instant Hot Cereal andReal Medleys SuperGrains Granola. With a hearty blend of grains like oats, barley, rye and more, these new offerings are a powerful way to help start the day.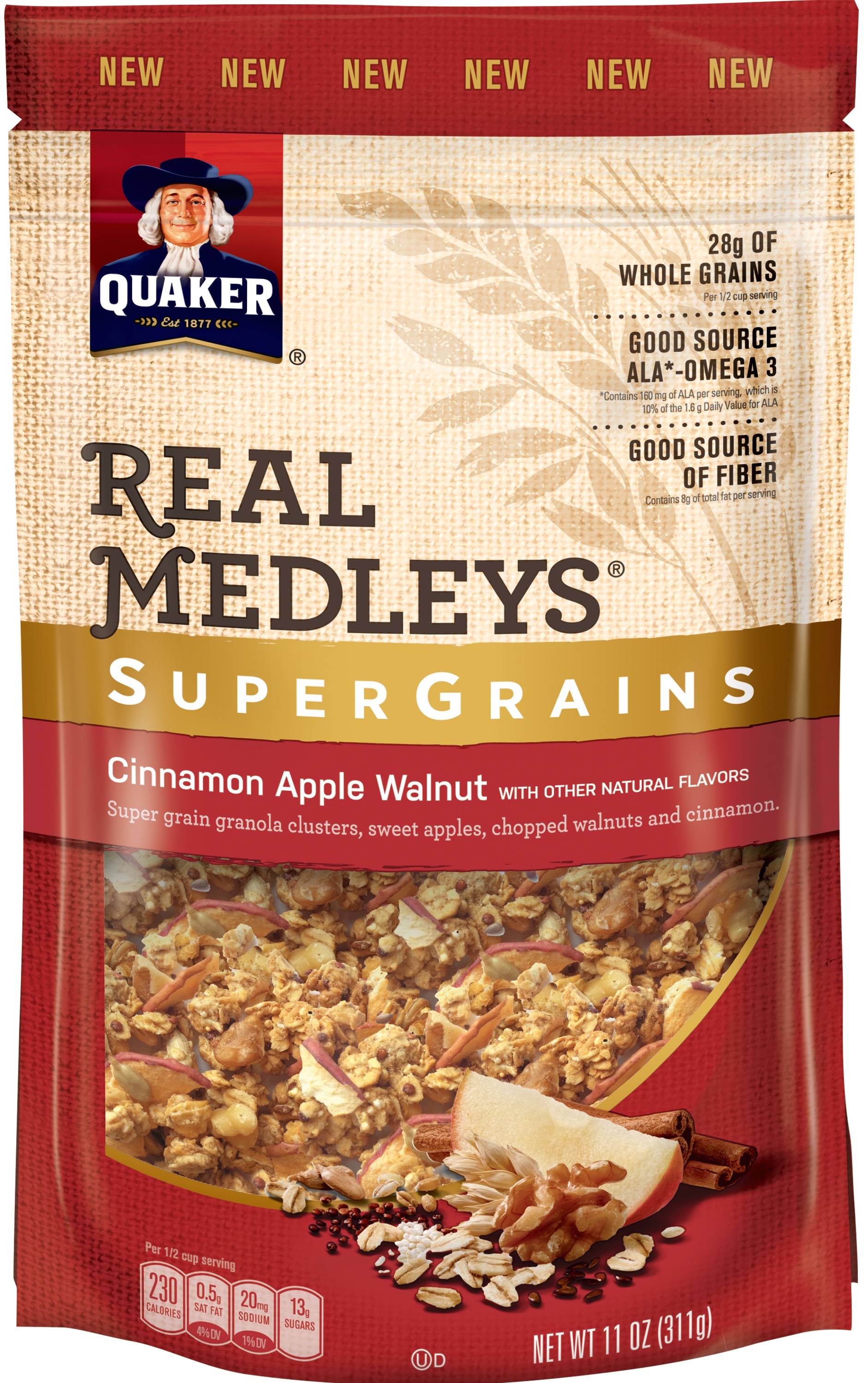 For nearly 140 years, Quaker has been a grain expert, bringing the goodness of oats to consumers through everything from hot oatmeal to snack bars. Now more than ever, desire for grain variety is increasingly important as the 2015 U.S. Dietary Guidelines recommend more nutrient dense and plant-based foods – including whole grains[2] – as part of a healthy lifestyle. Quaker understands that grains can provide health benefits[3], and by mixing up grain intake, there is more potential for consumers to enjoy an assortment of nutrients[4].
"We're committed to uncovering the power of the whole grain oat to help fuel the busy lives of families, while at the same time offering delicious varieties," said Lesley Butler, senior marketing director, Quaker Foods North America. "That's why we're excited to introduce these new SuperGrains products with even more grain variety, tastes and textures."
Instant Morning Grains for a Flavorful Start
Give your morning a kick-start with satisfying Quaker SuperGrains Instant Hot Cereal. With a tasty blend of oats, barley, rye, flax and quinoa, Quaker SuperGrains Instant Hot Cereal is offered as a convenient instant oatmeal pouch in Honey Almond or Apples & Cinnamon flavors. Each serving contains 7 grams of protein from a blend of grains, whey and seeds, five grams of fiber (with 3-4.5 grams of total fat per serving, depending on variety) and a good source of ALA Omega-3 from flax (contains 160mg of ALA per serving, which is 10% of the 1.6g daily value for ALA).
Crunchy, Delicious Granola Clusters to Help You Get the Best Start to Your Day
Every bowl of Quaker Real Medleys SuperGrains Granola contains a delicious blend of super grains and seeds, along with sweet fruit pieces and crunchy nuts. With oats, wheat, flaxseed, quinoa, sunflower seeds, amaranth and barley in every bag, enjoy Quaker Real Medleys SuperGrains Granola with milk, topped on yogurt, or on its own as a satisfying snack. Available in Cinnamon Apple Walnut and Blueberry Pecan, each serving of Real Medleys SuperGrains Granola contains 28 grams of whole grains and a good source of fiber (contains 8 grams of fat per 1/2 cup serving).
New Quaker SuperGrains Instant Hot Cereal and Real Medleys SuperGrains Granola are available at grocery stores nationwide for a suggested retail price of $4.19 and $3.99 respectively. For more information about Quaker's latest innovations, visit www.QuakerOats.com, www.Facebook.com/Quaker or follow the brand on Twitter @Quaker.
About The Quaker® Oats Company The Quaker Oats Company, headquartered in Chicago, is a unit of PepsiCo, Inc., one of the world's largest consumer packaged goods companies. For more than 135 years, Quaker's brands have served as symbols of quality, great taste and nutrition. Holding leadership positions in their respective categories, Quaker® Oats, Quaker® Rice Cakes and Quaker Chewy® Granola Bars are consumer favorites. For more information, please visit www.QuakerOats.com, www.Facebook.com/Quaker or follow us on Twitter @Quaker.
About PepsiCoPepsiCo products are enjoyed by consumers one billion times a day in more than 200 countries and territories around the world. PepsiCo generated more than $63 billion in net revenue in 2015, driven by a complementary food and beverage portfolio that includes Frito-Lay, Gatorade, Pepsi-Cola, Quaker and Tropicana. PepsiCo's product portfolio includes a wide range of enjoyable foods and beverages, including 22 brands that generate more than $1 billion each in estimated annual retail sales.
At the heart of PepsiCo is Performance with Purpose – our goal to deliver top-tier financial performance while creating sustainable growth and shareholder value. In practice, Performance with Purpose means providing a wide range of foods and beverages from treats to healthy eats; finding innovative ways to minimize our impact on the environment and reduce our operating costs; providing a safe and inclusive workplace for our employees globally; and respecting, supporting and investing in the local communities where we operate. For more information, visit www.pepsico.com. Follow PepsiCo:
[1] Parade, Stay Healthy, Taste the Grainbow, 2016
[2] U.S. Dietary Guidelines, A Closer Look at Current Intakes and Recommended Shifts, 2015
[3] Food Navigator USA, 10 Ancient Grains to Watch: From Kamut to Quinoa, 2013
[4] Parade, Stay Healthy, Taste the Grainbow, 2016