The Republic of Tea Expands Collection of Downton Abbey Teas
NOVATO, CALIF. (PRWEB) SEPTEMBER 22, 2015: The Republic of Tea, leading purveyor of premium teas, is proud to expand its collection of Downton Abbey® teas. Each of these premium all-natural, calorie-free and gluten-free teas are inspired by the award-winning TV series, which is debuting its sixth and final season in the U.S. this January. The three new flavors are: Afternoon Garden Tea, Crawley Sisters Tea and Downton Abbey Holiday Cheer Tea. In addition, a new Downton Abbey Christmas Gift Set, featuring Downton Christmas Tea and the new Holiday Cheer Tea, is also now available. On October 1, The Republic of Tea will launch a Downton Abbey five-tea Custom Gift Set and, on November 1, a collector's edition Downton Abbey Legacy Tea.
Downton Abbey is home to the aristocratic Crawley family and their servants. The award-winning show has become the most watched series on PBS ever.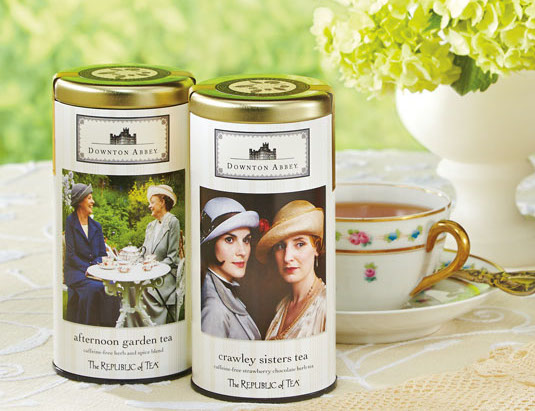 The Republic of Tea's line of Downton Abbey teas can be served hot or over a tall glass of ice:
AFTERNOON GARDEN TEA – Lady Violet, the Dowager Countess, and Lady Isobel Crawley do not agree on much when they have their afternoon tea — but they would agree on this delightful caffeine-free blend. Fragrant garden herbs such as orange bergamot mint, lemon thyme and blackberry leaves add depth and sweetness to a pleasant conversation.
CRAWLEY SISTERS TEA – Like any sisters, Lady Mary and Lady Edith have their share of disagreements. But below their ongoing rivalry lies a bond that can never be broken. Like the strawberries and chocolate found in this caffeine-free rooibos tea, sisters are better when they are together.
DOWNTON ABBEY HOLIDAY CHEER – 'Tis the season for only the finest tea for the entire family. Taste buds delight with this caffeine-free blend of red rooibos, sweet vanilla and lovely cinnamon. This cuppa is particularly perfect after one of Mrs. Patmore's epic festive feasts.
DOWNTON ABBEY LEGACY TEA – A heartfelt cup of this tea is the perfect send-off to six seasons of love and drama. The Crawleys, with the support of their loyal staff, have not only survived but prospered to the delight of us all. So bottoms – and pinkies – up as we say farewell to Downton Abbey. This tea is available for a limited time in limited supply. When it's gone, it's gone.
The new teas join the already popular Downton Abbey English Rose, Grantham Breakfast Blend, Downton Estate, Butler's Pantry, Mrs. Patmore's Blueberry Scone, Lady Cora's Evening, Bates' Brambleberry, Mrs. Patmore's Pudding and Downton Christmas teas. The new all-natural premium teas are certified gluten free. Each flavor comes in colorful tins featuring beloved Downton Abbey characters and holds 36 round, unbleached tea bags free of unnecessary tags, strings and staples.
Downton Abbey Afternoon Garden Tea, Crawley Sisters Tea and Holiday Cheer Tea retail for $12.00, while the Downton Legacy Tea will be available for $13.00 through the company website, mail-order catalogue and by calling 800.298.4TEA (4832). New Afternoon Garden Tea and Crawley Sisters Tea are available exclusively at http://www.REPUBLICofTEA.com and at ShopPBS.org. Downton Abbey Custom Gift Set is available at http://www.REPUBLICofTEA.com and mail-order catalogue. The remainder of the Downton Abbey tea collection is also available at Embassies (retailers) nationwide.
About The Republic of Tea: The Republic of Tea enriches people's lives through its premium teas, education and innovation, as it emphasizes a "Sip by Sip Rather Than Gulp by Gulp" lifestyle. Founded in 1992, The Republic of Tea sparked a specialty tea revolution. Today the brand offers an unequaled selection of the highest-quality teas, herbal blends, books and nature-inspired sip ware, available exclusively at specialty retailers throughout the U.S. Further, The Republic of Tea is mindful of how its actions impact the greater community and actively supports worthy organizations like Action Against Hunger, The Ethical Tea Partnership, The Prostate Cancer Foundation and The Whole Planet Foundation. Certifications include Demeter USA Certified Biodynamic, Fair Trade certification, Gluten-Free certification, Non-GMO Project verification, OU Kosher certification, Rainforest Alliance certification and USDA Organic certification. For more information, please visit http://www.REPUBLICofTEA.com or call 1.800.298.4832.
Follow The Republic of Tea on Twitter and Like us on Facebook.