I Heart Keenwah Launches New Quinoa Puffs
New York, NY (May 05, 2015)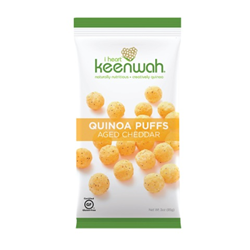 Enjoy a healthier version of the traditional cheese puff with I Heart Keenwah's new Quinoa Puffs, available in Aged Cheddar, Sea Salt Truffle, Sweet Chili and Herbes de Provence flavors. Light, airy and portable, these snacks are ideal for people looking for a healthy snack with nutritional value that still tastes delicious. Like I Heart Keenwah's flagship product, Quinoa Clusters, these new Quinoa Puffs are all-natural, Non-GMO Project Verified and Certified Gluten-Free. These snacks are made with quinoa flour and pack five grams of protein per one ounce serving (each pack is three servings), ensuring a hearty snack sure to satisfy the most discerning snacker.
The Aged Cheddar Quinoa Puffs are made with real cheddar cheese, Sea Salt Truffle Quinoa Puffs are seasoned to perfection with sea salt, parsley and dried truffle. If you are looking for something spicy, then try the Sweet Chili Quinoa Puffs flavored with habaneros, jalapeños, citric acid and lime extractives. For a more sophisticated twist, Herbes de Provence Quinoa Puffs are delicately flavored with sea salt, thyme, rosemary, basil, parsley, black pepper, oregano and garlic.
"It's been our mission from the beginning at I Heart Keenwah to make delicious and healthy snacks with simple ingredients and real food," explains Ravi Jolly, co-founder of I Heart Keenwah. "These new Quinoa Puffs make it easy to get quinoa into your day-to-day diet, without any cooking or preparation required. We are big fans of quinoa and are excited to be changing the way that people incorporate this superfood into their diet!"
Quinoa, pronounced "keen-wah", hails from South America and is the only grain that is a complete protein, meaning it contains all nine amino acids. It's also gluten-free, low-glycemic, high in fiber, packed with vitamins and minerals, and has a high protein content.
I Heart Keenwah Quinoa Puffs are available now for $3.49 per bag or $11.87 for a four-pack sampler at Wegmans, Heinens, and The Fresh Market and online at amazon.com, abesmarket.com and http://www.iheartkeenwah.com.
About I Heart Keenwah
I Heart Keenwah is a quinoa company, dedicated to bringing a delicious, healthy snack to the market. The company cooks up quinoa snacks with great flavors and simple ingredients, making it easy for you to get quinoa, a super food, into your day-to-day routine. Ravi Jolly and Sarah Chalos, I Heart Keenwah's founders, chose quinoa because of its numerous health and nutritional benefits – it's the only grain that is a complete source of protein, containing all 9 essential amino acids. I Heart Keenwah's mission is to create healthy, delicious snacks made with real food that have a short ingredients list that is easy to understand. Learn more at http://www.iheartkeenwah.com.